Xi's vision hailed as a booster to global growth
By MO JINGXI in Beijing and REN QI in St. Petersburg | China Daily Global | Updated: 2022-06-21 09:17




Share - WeChat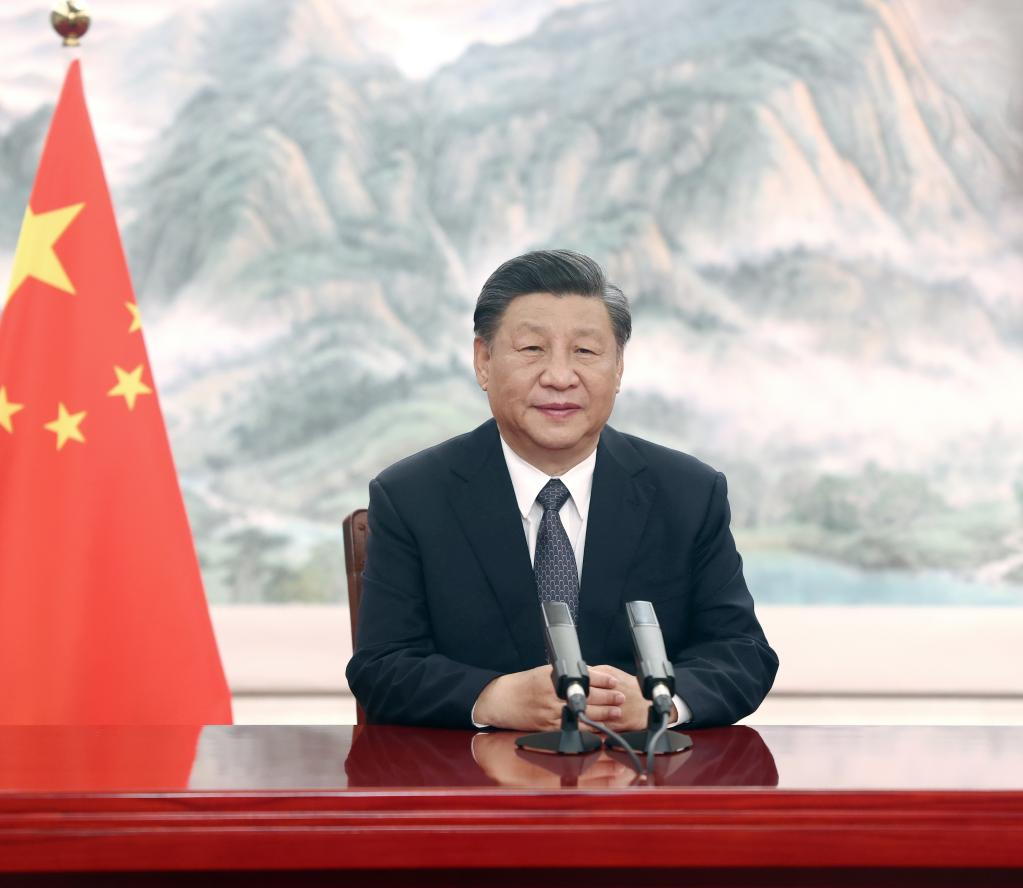 President calls for increased representation of developing nations in economic governance
Experts and scholars from many countries believe that, at a time when the world is facing multiple challenges, President Xi Jinping's remarks at a recent forum will inject positive energy into the world's joint creation of a peaceful, prosperous and bright future.
While addressing the plenary session of the 25th St. Petersburg International Economic Forum in Russia via video link on Friday, Xi called on the international community to increase the representation and voice of emerging markets and developing countries in global economic governance, in order to make global development more balanced, coordinated and inclusive.
The forum was held from Wednesday to Saturday.
Xi pointed out in his speech that the world is facing the COVID-19 pandemic as well as major changes not seen in a century, while economic globalization is facing headwinds and there are unprecedented challenges to the implementation of the United Nations' 2030 Agenda for Sustainable Development.
With the international community so keen to achieve more equitable, sustainable and secure development, "we should seize opportunities, meet challenges head-on and work on the implementation of the Global Development Initiative to build a shared future of peace and prosperity", he said.
To foster an enabling environment for development, it is important to follow true multilateralism, respect and support all countries' pursuit of development paths suited to their national conditions, and build an open world economy, Xi said.
The president added that attempts at decoupling, supply disruption, unilateral sanctions and maximum pressure should be rejected and trade barriers should be removed in order to advance economic globalization.
He also emphasized that the fundamentals of the Chinese economy-its strong resilience, enormous potential and long-term sustainability-remain unchanged.
"We have full confidence in China's economic development," Xi said.
In addition, China will continue to promote high-quality development, expand high-standard opening-up with firm resolve, and pursue high-quality Belt and Road cooperation, he said.
China stands ready to work with Russia and all other countries to explore development prospects, share growth opportunities and make new contributions to deepening global development cooperation and building a community with a shared future for mankind, Xi said.
Russian media paid great attention to Xi's address to the forum, with state news agency Tass noting that Xi called for economic globalization as well as solutions to food and energy crises.
The president asked for removing trade barriers, keeping global industry supply chains stable and tackling the worsening food and energy crises, which will help revive the world economy, Tass said.
Sputnik news agency said it is important to note China's willingness to build an open world economy and increase emerging markets' and developing countries' voice in global governance.
Sputnik said that cooperation between China and Russia is developing in various spheres. The trade volume between the two countries reached $65.8 billion in the first five months of this year, and is expected to break a record by the end of 2022, which shows the high resistance to pressure and the potential of the bilateral relations, it said.
Russian news agency RIA Novosti said that Xi had shared wisdom from ancient China when talking during the forum about dealing with global challenges.
Oleg Timofeev, an associate professor at RUDN University in Russia, said Xi's speech showed China's idea about opening-up. The Belt and Road Initiative arose from the idea, and the concept is important to boosting sustainable global development, Timofeev said.
Andrei Ostrovsky, head of the Center for China Socio-Economic Research at the Institute of Far Eastern Studies of the Russian Academy of Sciences, said China has been committed to helping build an open world economy, adding that under the current conditions, the BRI is of particular importance.
Sergey Lukanin, an expert of China studies at the Russian Academy of Sciences, said that as today's world faces many challenges, it will not work for some countries to unilaterally pursue their own interests.
The Global Development Initiative proposed by President Xi once again proves that practicing real multilateralism can help fully leverage the resources and strengths of various countries and regions and unleash more comprehensive potential for development, Lukanin said.
Amadou Diop, a Senegalese expert on China, said Xi's speech demonstrated China's commitment to international solidarity and the country's willingness to promote common prosperity and maintain world peace.
Joseph Matthews, a senior professor at BELTEI International University in Phnom Penh, Cambodia, said Xi's remarks reflected China's unwavering commitment to upholding multilateralism and win-win cooperation and promoting global economic recovery and common development.
As a global economic stabilizer, China has been playing a key role in helping to remove trade barriers and keeping global industrial and supply chains stable, Matthews said.
Muhammad Asif Noor, director of the Institute of Peace and Diplomatic Studies in Pakistan, said Xi's proposals are very fair for solving common challenges such as global uncertainty, poverty, inequality and financial crises.
He called for global efforts to strengthen development partnerships and increase assistance for other countries in development projects.
Ahmed Kandil, an Egyptian expert on Asian affairs and head of the International Studies Unit at the Al-Ahram Center for Political and Strategic Studies, said he agrees with Xi's proposal to cooperate on innovation and make the fruits of innovation available to all, adding that China's voice is important, as it speaks for all developing countries.
"It calls for continuous dialogues and exchanges among thinkers, scientists and research centers to lead to creating new technologies that help the progress of humanity and overcoming the challenges and threats facing the world today," Kandil said.
Other leaders attending the plenary session of the St. Petersburg International Economic Forum included Russian President Vladimir Putin, Egyptian President Abdel Fattah el-Sisi and Kazakh President Kassym-Jomart Tokayev.
Xinhua contributed to this story.