Campuses welcome back job seekers
Share - WeChat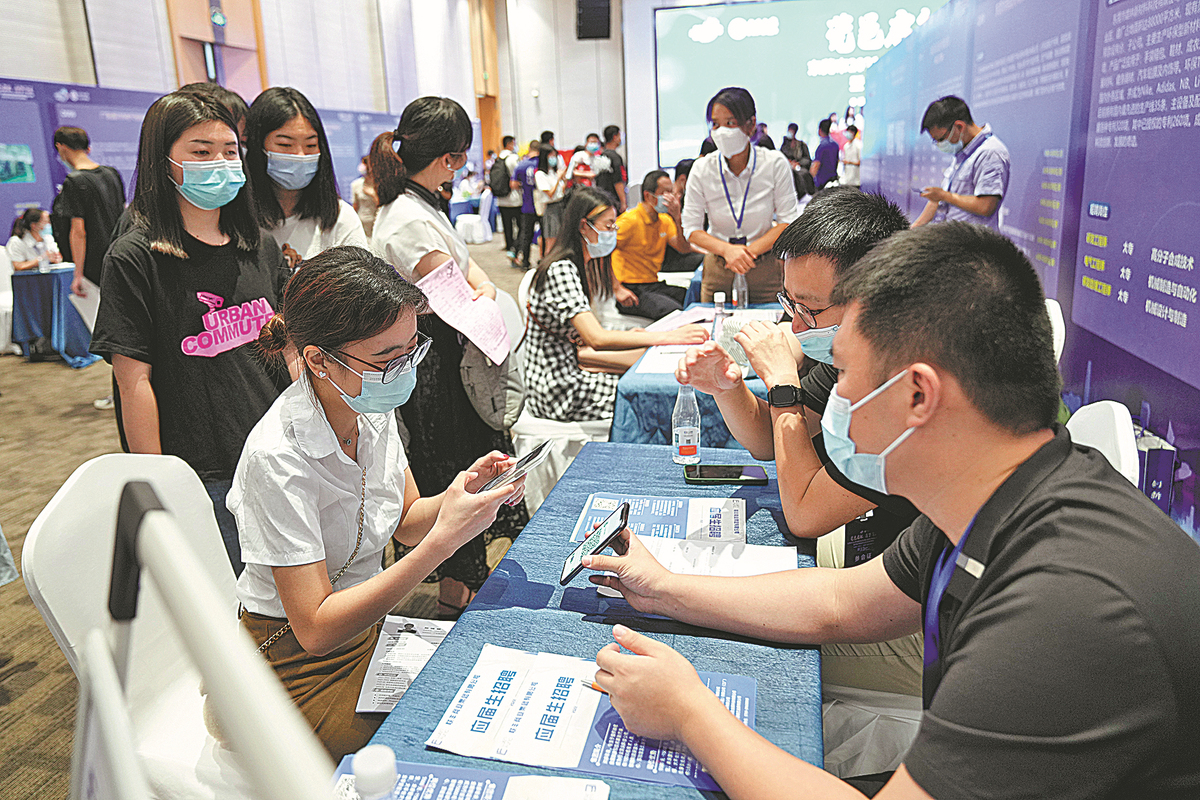 Employment recruitment drives may now be held at universities in areas at low risk for COVID-19 transmission-a major boost for recent graduates whose job-seeking activities have been dampened by COVID-19, authorities said on Friday.
As college job fairs are the main means for graduates to find employment and the domestic epidemic situation has become more stabilized, the Ministry of Education recently decided to adjust virus control measures on campuses to facilitate such events, said Liu Peijun, deputy director of the Ministry of Education's department of physical, health and arts education.
"If the city where a university is located reports no new cases outside controlled areas for seven consecutive days or longer, campus recruitment events can be organized," Liu said during a news conference held by the State Council's Joint Prevention and Control Mechanism.
He added that recruiters arriving from outside campus should have no travel history in medium-or-high risk areas within seven days and provide negative nucleic acid test results taken within 48 hours.
"Universities and employers are also encouraged to communicate more closely with each other and work together to address potential virus risks associated with holding on-campus job fairs," he said.
Many universities had reportedly suspended in-person job fairs due to the recent round of COVID-19 cases. But in recent weeks, new infections have been trending downward, providing a crucial prerequisite for the policy adjustment, according to officials.
He Qinghua, an official with the National Health Commission's bureau of disease prevention and control, said on Friday that local daily infections had been below 100 for two straight days.
In Beijing, new cases over the past two days had all been detected among isolated groups, so the risk of the novel coronavirus further spreading is not high. "But rigorous epidemiological investigation and screening of key groups and sectors should be in place to root out potential risks," he said.
In addition to campus recruitment events, the Ministry of Education is also planning a range of online and offline activities to help new college graduates find gainful employment.
Official data show that China will have a record 10.76 million new college graduates this year, up 1.67 million from the previous year.
Wu Aihua, deputy director of the ministry's department of college students affairs, said that it is offering targeted employment services for graduates struggling to land positions and encouraging publicsector employers to accelerate recruitment procedures.
The ministry has also upgraded its official recruitment website that is now integrated with other recruitment agencies and college-based platforms. "Surveys show that 31 percent of new college graduates this year managed to find jobs via the website," Wu said.