Demographic change not always bad
Share - WeChat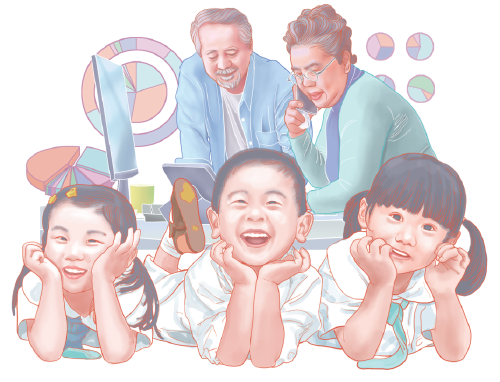 Even one year after the implementation of the three-child policy in May 2021, not much seems to have changed for China on the demography front. In particular, the low fertility rate and negative growth in the numbers of permanent residents in many provinces in 2021 have been cited by some experts as issues of serious concern.
Yet to fully understand the demographic issues, we need to have a scientific point of view.
China's declining population growth rate is the result of the decreasing birth rate over the years. Demographic data for 2021 show 10.62 million births and 10.14 million deaths in China, meaning a net population growth of 480,000, a growth of just 0.34 per 1,000, the lowest since 1960. This suggests China has entered the zero-population growth period and will gradually move toward negative population growth.
China's fertility rate reached the replacement level in 1991 and the birth rate has stayed at a relatively low level ever since, which means the intrinsic population growth rate turning from positive to negative.
China's rural population has been decreasing for 26 years, although the birth rate in rural areas remains higher than that in cities. For example, the fertility rates in rural and urban areas were 1.9-2.0 and 1.2-1.5 respectively from 2010 to 2016. Yet the urban population grew much faster than the rural population-the urban population increased from 57.65 million in 1949 to 914.25 million in 2021, while rural population increased from 484.02 million to 489.35 million, thanks to the waves of migration caused by reform and opening-up.
The country's urbanization rate (comprising permanent residents) hit 64.72 percent last year and its migrating population (people living in areas other than their household registration) increased from 6.57 million in 1982 to 385 million in 2021-about 80 percent of it being rural-urban migrating and working-age population.
Population growth, affected by natural changes and migration of people, is unbalanced across China. For instance, the fertility rate in the three northeastern provinces and the country's metropolises started declining earlier than in the western provinces and autonomous regions. More precisely, the populations of 16 provincial-level regions in the country contracted in 2021 but the collective negative population growth rate was low, because the top six provincial-level ones accounted for 76.62 percent of the overall negative population growth.
First, most of the provinces and regions experiencing negative population growth have a low fertility rate and suffered massive brain drain. In contrast, provinces with positive population growth have a relatively high birth rate and migrant inflow.
Second, the declining population growth in places such as Shanghai, and Hubei, Jiangsu and Hainan provinces has been more than offset by the inflow of migrants, resulting in an increase in the numbers of their permanent residents. On the other hand, large numbers of people from provinces such as Yunnan, Gansu, Guizhou, Shanxi and Shaanxi have migrated to other provinces and regions in search of better livelihoods. As a result, these provinces have seen a decline in the numbers of their permanent residents despite having relatively high fertility rates.
Given these facts, it is necessary to adapt to and deal with declining population growth trend in a scientific way. To begin with, there is no need to be overly pessimistic. A healthy population growth rate is important, but it doesn't determine the rise or fall of a country. China is a big country with the world's largest population, and its uneven regional development prompts huge migration of people, which actually helps the country to reap the demographic dividends to the maximum. Take Shanghai for instance. It faced negative population growth for the first time in 1993, yet its number of permanent residents has increased, thanks to the inflow of migrants.
According to the seventh national census, China's migrating population was 376 million in 2020, with 331 million, or 88.12 percent, of them living in urban areas. In terms of the direction of migration, people continue to flock to the Yangtze River Delta and Pearl River Delta regions, and the Chengdu-Chongqing city cluster.
Yet the wealthier coastal region, as well as the less-developed western region had relatively high fertility rates and saw positive population growth in 2021. China's less-developed central region, however, is still experiencing negative population growth mainly due to migrant outflow-even though migration along with judicious allocation of human resources can help boost productivity.
However, migration alone cannot offset the negative impacts of a negative population growth rate and shrinking populations in many provinces and regions. Therefore, the government needs to take immediate measures to address the issue.
China's total population reached about 1.41 billion at the end of 2021. And the country is entering a zero-population growth rate period. In other words, China's population has peaked. But despite the negative population growth rate (and fertility rate of 1.3 to 1.5), China's population will still be about 1.3 billion by 2050-although in 2100, it will have a population of about 700 million, the largest after India.
Since it is difficult to identify and address all the demographic challenges, it is necessary to assess the short-term and long-term impacts of negative population growth. True, China's working-age and 0-14-year-old populations, fertility rate, as well as overall population will decline in the short term. But the country won't see a cliff-like drop in its population.
Still, China should take serious measures to deal with the short-term impacts of the negative population growth and maintain a healthy fertility rate. For instance, it could consider introducing more favorable policies to encourage couples to have more children.
Population aging is a phenomenon. It shouldn't be regarded as a social burden. The social problems arise when economic and social development cannot catch up with population changes. Therefore comprehensive measures are much more needed to overcome the demographic challenges.
The author is a professor at the Institute of Population and Development, School of Economics of Nankai University. The views don't necessarily represent those of China Daily.
If you have a specific expertise, or would like to share your thought about our stories, then send us your writings at opinion@chinadaily.com.cn, and comment@chinadaily.com.cn.
Most Viewed in 24 Hours
China Views