Shanghai quenches its thirst for coffee again
Share - WeChat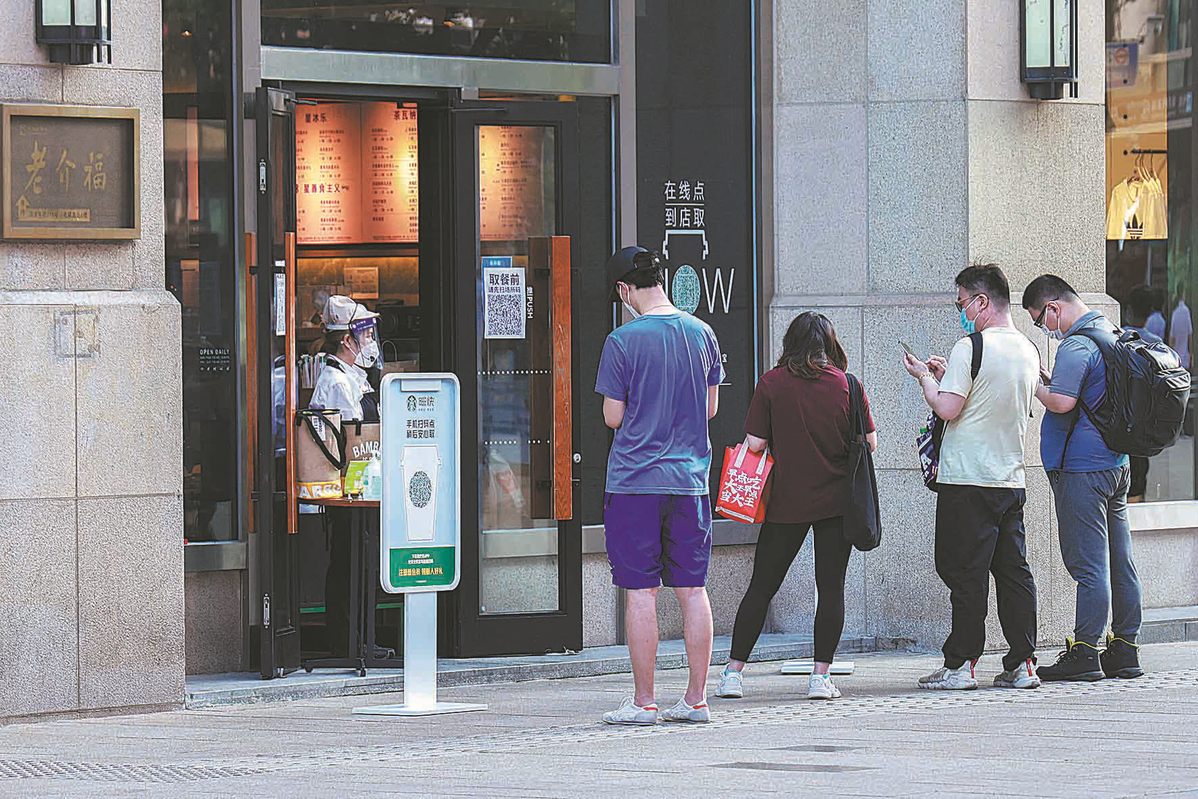 Group purchases
Manner Coffee, which originated in Shanghai in 2015 and has witnessed rapid expansion in recent years, has run online business on delivery platforms since March, while other coffee chains such as Seesaw and Tim Hortons offer community group purchases.
Yin Jiong, Seesaw's senior operations director, said that since April 8, the brand has provided coffee beans, drip-bag coffee and other products through community group purchases, helping residents enjoy coffee at home.
"As of the end of May, we have cooperated with more than 3,000 group purchase coordinators and served over 5,000 communities in the city. At peak times, 200 group-buying orders are placed per day," Yin said.
On April 22, the business resumed sales of fresh coffee.
"Nearly 300 group orders were received in the first three days. Later, reservations for on-site coffee needed to be placed three to five days in advance," Yin said.
As of Friday, a total of 55 Seesaw offline stores had resumed business. Yin added that the overall number of takeout and delivery orders received was higher than the total before the closed-loop management system was put in place.
"Ordering a cup of coffee had become a daily ritual for most customers before the COVID-19 outbreak, but closed-loop management limited business, resulting in strong demand, as evidenced by the popularity of group purchases of on-site coffee and the coffee-related products we provide," Yin added.
At Yeast, He and her husband sold about 150 cups of coffee a day during the lockdown, "which was better than we expected, but we also faced increased costs," she said.
For example, supplies of disposable bags, cups and cup lids were quickly exhausted.
Despite the rising cost of such items, the price of the coffee remained the same. "That's my reward for coffee addicts, and it's also my way of thanking those who supported my business during the outbreak," He said.
Some cafe owners found new ways to survive as more residents made fresh coffee at home by ordering coffee beans. Selling store-roasted beans instead of drinks became a new retail strategy for storekeepers.
In the Buna & Pate WeChat group, the main talking point among customers was how to get a good homemade cup of coffee just like that produced by the business, which has been flooded with questions about coffee bean deliveries in recent months.
Xu, the manager, said: "During the lockdown, we received orders for coffee beans every day from customers, with each one worth 100 to 200 yuan. During the outbreak, we generated more revenue from coffee beans than from selling coffee."
To help customers during the outbreak, Xu roasted beans and delivered them to clients. She also taught customers how to make quality coffee at home.
One client even asked if it was possible to use a garlic pounder to mash coffee beans.
Such custom helped the store survive the lockdown. "We are now also starting to sell bags of freshly roasted coffee beans and drip-bag coffee," Xu said.
However, recent average turnover at the business is 50 percent down on that before the outbreak, as customer flow at the shopping center where the Buna & Pate outlet is located is not as high as before.
Xu said enthusiasm among customers and a rent exemption from the local government have eased pressure on the store to a certain extent and given her confidence for the future.