Washington trampling on rights of immigrants
Share - WeChat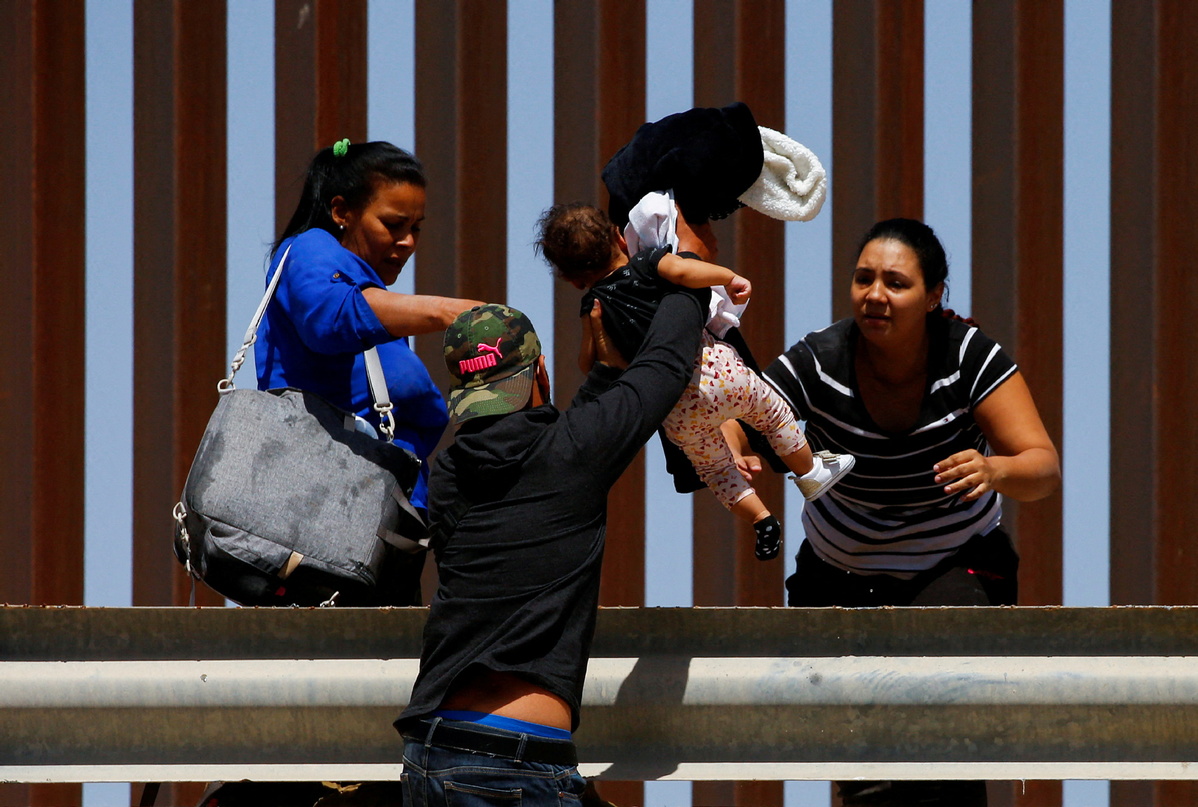 The United States administration has expelled millions of immigrants over the past century in the name of safeguarding national security and/or maintaining social order. Worse, the number of expulsions has increased in recent years, with many immigrants being deported without due legal process, which is blatant violation of their rights.
Despite being a nation of immigrants, the US deported about 56,000 immigrants between 1908 and 1980. The number increased dramatically to 188,000 in 2000-and 310,000 in 2001 following the Sept 11, 2001, terrorist attacks. From 1996 to 2015, the total number of expelled immigrants exceeded 5.4 million.
While previous US president Donald Trump was singularly focused on restricting immigration and his administration expelled about 337,000 immigrants in 2018, the Joe Biden administration hasn't done much to make the immigration system more humane. For example, a record number of 1.7 million migrants were arrested at the US' southern border in 2021.
Although immigration law is formally termed "civil", the system lacks nearly all of the procedural safeguards, including judicial values, which American people rely on. On arrest, immigrants are not given the "Miranda warning" which includes "you have the right to remain silent", "you have the right to talk to a lawyer…" and "if you cannot afford to hire a lawyer, one will be appointed to represent you before any questioning…"
Moreover, after getting an expulsion order, immigrants have little chance of challenging their deportation in court. For a country that prides itself on fair treatment under the law, the lack of due process is an embarrassment. Due to the longstanding belief that "deportation is not a punishment for a crime", expelled immigrants are not entitled to the same constitutional rights provided for defendants facing a trial.
Furthermore, during the past decades, the US Congress has progressively expanded the number of crimes for which an immigrant can be deported, and immigration law violations often lead to criminal prosecution. The development in the immigration enforcement system has empowered officers to arrest any immigrant at any time.
In fact, there are separate systems of justice for criminals and immigrants, with the former enjoying more rights. For example, unlike criminal offenses and many civil claims, deportation rules under the federal immigration laws have no statute on limitation, meaning an immigrant can face expulsion for a misconduct even if it was committed years ago, or he or she has atoned for it.
Official data show the deportation of unauthorized immigrants reached a record high of 430,000 in 2013, and a large number of the immigrants were deported for reasons other than criminal conviction. In 2013, about 240,000 deported immigrants didn't have a criminal conviction record, compared with 218,000 in 2012.
Not only individuals, immigrant communities as a whole, too, are under attack. Hate crimes against Muslims increased drastically after 9/11. According to FBI data, 1,552 incidents of hate crimes against Muslims were reported from 2001 to 2009, with their number soaring by 50 percent in 2010.
A new research shows that anti-Asian hate crimes in the US increased by 339 percent in 2021 compared with the year before, with New York City, San Francisco, Los Angeles and other cities surpassing their record numbers in 2020. The surge in anti-Asian hate crimes last year was significantly higher than in 2020, when they increased by 124 percent year-on-year. New York City saw a particularly drastic rise in anti-Asian hate crimes-from 30 to 133. San Francisco also experienced an alarming jump, from nine to 60 anti-Asian hate crimes.
History shows the US has always made minority groups a scapegoat in a bid to overcome social and political crises. But the US should realize that blame shifting runs counter to the Declaration of Independence.
White supremacy, and the resulting exploitation and oppression of Native Americans and African Americans, is rooted deep in US society. And the capitalist system has further widened the wealth gap in the US. That's why it has become easy for the US administration to shirk its responsibility of sincerely addressing the economic and social problems, and blame immigrants for all the ills plaguing the country.
The views don't necessarily represent those of China Daily.
The author is the director of the Institute of American Studies at Northeast Normal University.
If you have a specific expertise, or would like to share your thought about our stories, then send us your writings at opinion@chinadaily.com.cn, and comment@chinadaily.com.cn.
Most Viewed in 24 Hours
China Views