Biden sells 'strong' economy, Americans not buying it
Share - WeChat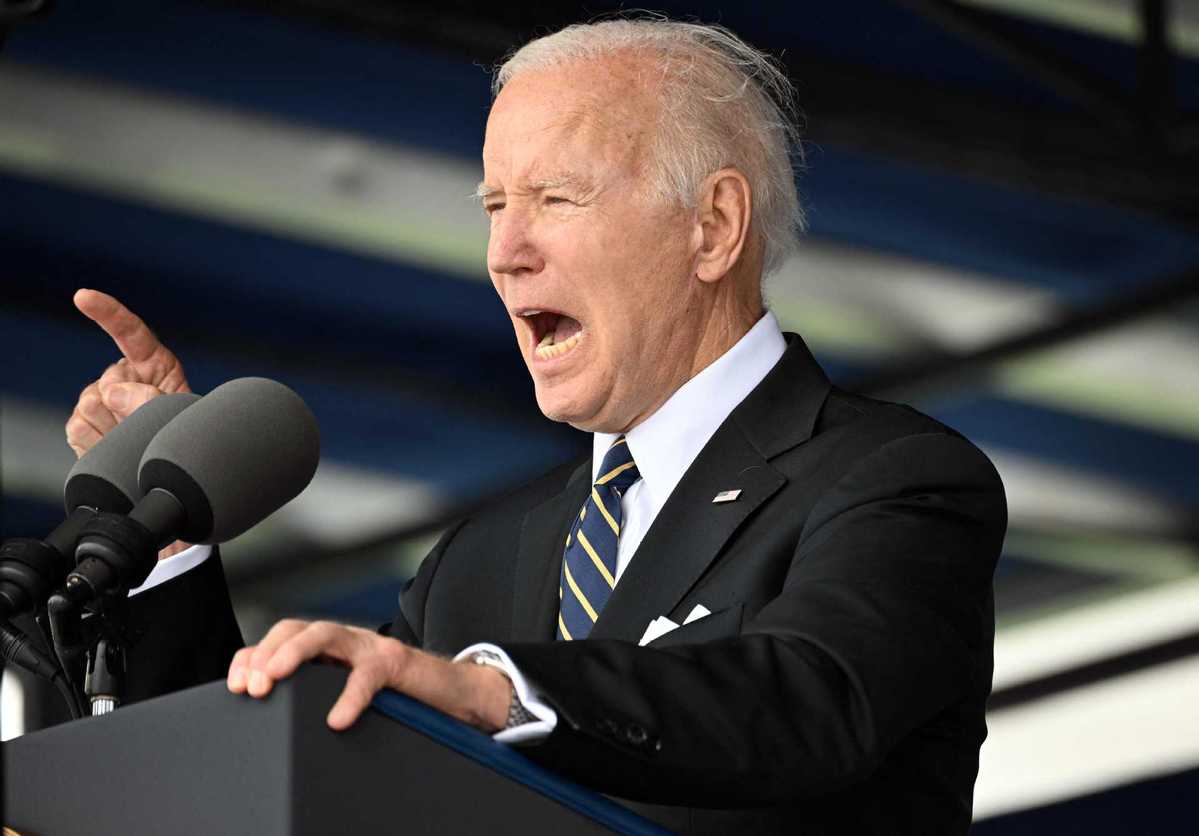 The global landscape is bubbling over with turbulent times. The conflict in Ukraine has resulted in growing uncertainties over food and energy security. Inflation rates in nearly all countries have soared to heights unseen before in the past few decades and severe supply chain disruptions have become much more common.
Meanwhile, US President Joe Biden continues to ignore the pressing problems that he's expected to address at the White House, since he spends way too much time at his Delaware home for vacation time. Last week was the Memorial Day holiday in the US with a three-day weekend (May 29-31) but Biden only appeared at the Oval Office from May 31 to June 2 and gave himself another three-day weekend (June 3-5).
Apparently, Biden believes he deserves to celebrate more personal vacation time since the US Labor Department reported the country has added over 390,000 new jobs in their May Labor report, while hourly earnings per hour had risen 5.2 percent compared to the same time a year earlier.
Yet despite the good news on the domestic job front, the Biden administration has shown a massive disconnect with the overall sentiments of ordinary Americans. Biden and the ruling Democrat Party believe the US economy is headed in the right direction but their optimistic attitudes wildly contradict the feelings of most other Americans.
The US unemployment rate stands at 3.6 percent, the lowest in half a century for the country but the US inflation rate has hit 8.3 percent compared to the prior year. So Americans have little to cheer about as they must pay much more for their daily necessities.
Biden's optimism looks awkward
According to a Pew Research Center poll this year, which surveyed likely US voters, about 70 percent of Americans have expressed serious concerns on inflation. Only 14 percent of respondents believe the US economy is in "excellent" or "good" condition. But the Biden administration keeps saying they are steering America's future in the right course. Media reports quote Biden as saying last Friday:
"I know that even with today's good news, a lot of Americans remain anxious, and I understand the feeling. But there's every reason for the American people to feel confident that we'll meet these challenges."
Well that's highly doubtful when reviewing the Biden administration's past record. Last year, US Secretary of Treasury Janet Yellen was describing the big jump in inflation rates as just "transitory," and this was before Russian President Vladimir Putin launched a "special military operation" in Ukraine on February 24, 2022, which had caused oil and gas prices to skyrocket. Secretary Yellen finally issued her public apology to Americans over such comments last week.
A month ago, Biden pledged to fix the baby formula shortages in the country but after his big announcement the problems had gotten even worse. According to Datasembly, a research firm following sales and inventory records of 130,000 grocery stores in the US, on May 28, out-of-stock rates for baby formula climbed to 74 percent for the week nationwide. That's a rise from 71 percent for the week ending May 21 and it was 45 percent in the week prior to that. Also, 10 states are reporting out-of-stock rates at 90 percent or higher with Georgia the hardest hit at 94 percent.
But much worse challenges could be on the horizon. Most Americans should be very concerned with the US economy.
Rolling blackouts during heat waves
When Biden campaigned for president in 2020, he said he would lead the country to "transition away from fossil fuels." The US President has not kept many of his promises but on this account, he has already started to fulfill his pledge.
But his efforts to shut down coal-run power plants, while also blocking permits for new oil pipelines, exploration and drilling projects, have all resulted in record-high gas prices for drivers, as well as hitting homeowners with sky-high charges on their utility bills.
And if that's not bad enough, climate change is causing every summer to get hotter and hotter with each passing year. Washington will suffer a rising number of rolling blackouts as the transmission grids get hit with swelling demand along with sizzling temperatures.
The North American Electric Reliability Corporation (NERC) issued its annual summer assessment for 2022 and warns of "high risk of energy emergencies" for the "entire western US" John Moura, the NERC's director of reliability assessment and performance analysis, is quoted in a media report as saying:
"The entire Western US also could face a power outage emergency in the event of spikes in energy use. We've been doing this for close to 30 years. This is probably one of the grimmest pictures we've painted in a while."
Moura says the Midwest energy grid stands at the greatest risk because there's a major transmission grid line shut down for maintenance. The region has also lost 2 percent of its energy capacity to generate electricity, compared to the prior year.
Be wary and be prepared
America's future looks far from bright and Biden's policies and actions appear to be causing more harm than good. Nevertheless, the White House keeps thinking, if they say, "The US economy is doing great," that might fool the American public. But ordinary Americans are not stupid. They know what's happening in the real world because they are confronted daily with it.
The high inflation rates, empty shelves at shops and impending food and energy shortages could upend their lives. Many Americans see Biden as "out of touch" and their assessment of him is 100 percent accurate.
The Biden administration wants to paint a rosy picture of the US economy but as the saying goes, "that's like putting lipstick on a pig." Biden and the Democrat Party think they are smarter than American voters but that's far from true.
Thomas W. Pauken II, the author of "US vs China: From Trade War to Reciprocal Deal," is a consultant on Asia-Pacific affairs and a geopolitical commentator.
Most Viewed in 24 Hours
China Views