Ticket to write
Share - WeChat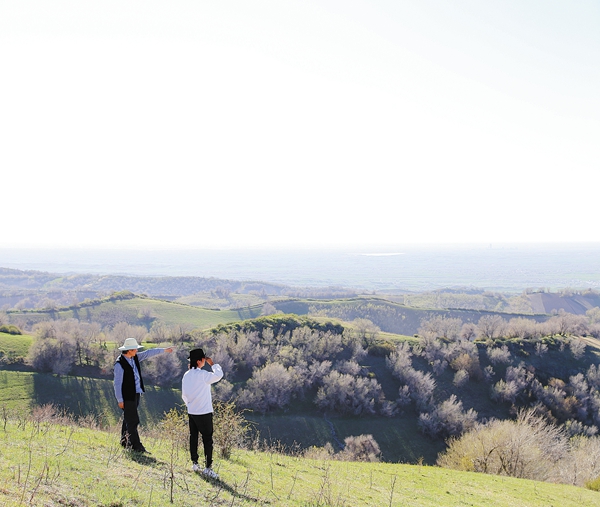 Documentary series delves into the minds of prominent authors as they travel with their closest friends, Zhang Lei reports.
"We can describe a dandelion simply in a hundred words in botany, but the real dandelion growing in soil can't be summed up in a few lines," says Liu Liangcheng in the documentary Being a Writer.
"When you stand next to a dandelion, you can smell its fragrance; when you blow its seeds off, some of your thoughts fly off with them."
Liu, 60, who has been described as "China's last exponent of prose of the 20th century", says scientific knowledge blocks the cognition humans use to communicate with plants and animals.
"Our language was initially created to communicate with all life," he tells his friend, the singer Hong Qi, standing on the grasslands of the Xinjiang Uygur autonomous region, after trying to talk to a lizard he had just encountered.
"First we name them, then we describe their appearances and postures. By doing this we get closer to a plant or animal little by little. This language system has gradually disappeared."
The second season of Being a Writer began airing on the mainland TV channels Straits TV and Southeast TV, and the streaming platform Youku, on April 21. The six-episode documentary chronicles the trips of six well-known Chinese authors with their friends, during which they discuss their understanding of life.
Wang Shengzhi, 47, director of the series, says that sometimes writers are zoologists, sometimes botanists and sometimes specialists in life, because the way they see life is different from that of others.
"Writers definitely love life. There are too many details that are worth their love," he says.
Wang is known for directing food documentaries such as Breakfast in China and Xiafancai (dishes that go well with rice). They tell the stories of ordinary people who make food.
Wang, who has a master's degree in Chinese literature, turned his lens to Chinese writers in 2019 and presented the first season of the documentary the following year.
Even though his documentaries cover different fields, all of them look at the way people, be they chefs, writers or something else, live.
"When I made the first series, I was bereft of confidence, but I was surprised to see the thousands of comments on (review website) Douban, and I realized that many people really do still read books."
In both seasons, Wang invited authors who enjoyed reading their works to join the show, but not all accepted the offer, with some saying they wanted to leave their readers with a sense of mystery.
Wang says he is happy that Liu is satisfied with the documentary, because everything the writer wanted to express is fully presented.
What Wang says he values the most in the program is the writer's ability to dream. As people become more immersed in the digital world, communication, one would think, would be easier, whereas, in actuality, people are becoming more isolated, he says.
Most Popular