Repairing the sound of music
Share - WeChat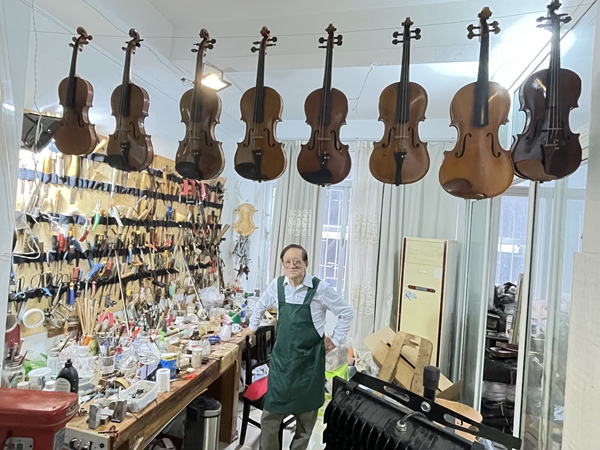 Technician's love of instruments sees him travel the world to restore them to their original splendor, report Wang Ru in Beijing and Hu Meidong in Fuzhou.
An impromptu, and, literally, customized "concert "was held in Frankfurt Airport in 1990. Chen Gong was laboriously carrying more than 30 of his instruments through the terminal. This unusual and physically demanding trek naturally attracted the attention of customs officers. Unsurprisingly, they demanded to examine his luggage. Upon seeing the various instruments, the officers had some doubts as to the veracity of his claim that they were all his. Chen was asked to play them, to ensure that no prohibited articles were concealed inside the instruments.
Upon that demand, beautiful melodies from flute, violin, oboe and horn drifted through the terminal and attracted travelers who took the opportunity to relax and enjoy the moment. The officers quickly apologized and actually helped him check in.
That was an unforgettable experience for Chen, a 76-year-old technician, who has been collecting and repairing old instruments for decades.
Born in Fuzhou, Fujian province, in 1946, Chen has had a strong interest in music from childhood and learned to play the piano at primary school. "There were many churches in Fuzhou. When I was young, I often bent over, putting my head on the windowsill of a church to listen to the music from inside. The singing of choirs and the solemn melody of the piano sowed a musical seed in my heart," says Chen.
In 1967, he was enrolled into the Shanghai Conservatory of Music to learn to repair musical instruments, and in the following year, he made his first cello. He was excited to see that the instrument he made could really create melodies, and he realized "I was born for this".
He was employed by an art school in Fuzhou in 1974, responsible for repairing more than 100 instruments. In 1990, Chen got a chance to pay academic visits to a number of countries. When he visited a village in Germany, famous for making instruments, he was impressed by the fact that some elderly people animatedly discussed aspects of an instrument. They were so excited that they seemed ready for their discussion to degenerate into a fight.
Chen found the world of instruments fascinating. He learned that, since repair and maintenance costs in foreign countries were very high, some damaged instruments were put aside without being fixed. As a result, he started to buy them, transporting them to his hometown to repair them himself.
"I buy some instruments that are still good in essence, but worn-out or damaged, and then I repair them. In this way, I can afford more instruments that I like," says Chen.
Chen has paid frequent visits to Europe to improve his skills, and search for worn-out instruments. In the 1990s, when he didn't have much money, he often went traveling with just bags of instant noodles and a thermal jug in his luggage. He grabbed sleep on trains or in railway stations so that he didn't need to find a hotel.
Most Popular