Fans flock to Belgian zoo to help Tian Bao celebrate
Share - WeChat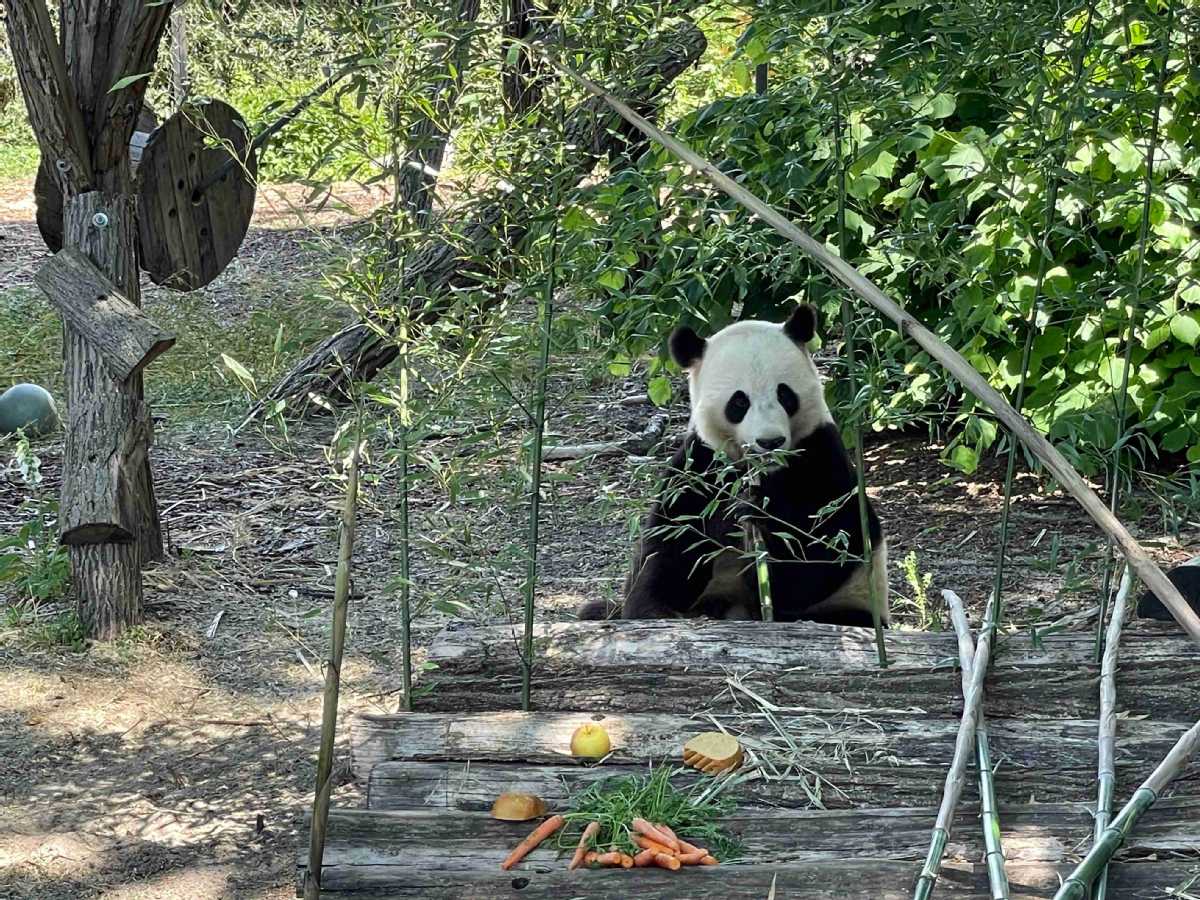 As giant panda Tian Bao walked toward the feast placed in his enclosure on Thursday at Pairi Daiza zoo in Brugelette, in Belgium's Hainaut province, fans waiting outside began to sing Happy Birthday in Dutch and French.
One of the fans, Nora Verhoeyen, said she traveled there for the birthday party from the city of Oudenaarde, transferring between three trains in the process.
Verhoeyen has visited Tian Bao and four other giant pandas at the zoo many times. She also came after Tian Bao was born on June 2, 2016-the first giant panda cub born in Belgium.
"I like pandas. I like Tian Bao very much," she said.
She said she cried a year ago, knowing that Tian Bao would go to China later last year. Under the loan agreement with the Chinese government, giant panda cubs born outside China to parents loaned from China belong to China and should go there by the age of four to join the breeding program as part of the conservation of the species.
Tian Bao's departure for China has been delayed by the COVID-19 pandemic. He is now expected to go to China at the beginning of next year, according to the zoo's founder and president, Eric Domb.
Verhoeyen said, "I'm so grateful that he will stay here until the end of this year, so I can come to see him whenever I want."
Giant panda keeper Robin Bouttefeux said that he prepared bamboo shoots, carrots and a cake made of soybeans, rice and corn for Tian Bao's birthday.
He said that every visitor loves Tian Bao. "He is my best friend," he added.
Bouttefeux, who has held the post for eight years, said that taking care of five giant pandas is a big job. "But it's a nice job working with pandas every day," he said.
Domb described Tian Bao as "probably the most popular living being in Belgium".
"I am serious. He is very popular," Domb said.
Tian Bao weighed only 171 grams when he was born. He weighed 100 kilograms on Thursday.
Domb said that everyone will be sad when Tian Bao departs next year. But he and his colleagues also know that Tian Bao's siblings, the twins Bao Di and Bao Mei, who will be 3 years old on Aug 8, should be separated soon from their mother, Hao Hao. So Tian Bao's space will be available once he leaves for China.
Giant pandas are solitary animals. Mothers and cubs do not stay together for long in the wild. If they were kept together beyond the point when a cub is self-sufficient, it would eventually cause aggression, according to giant panda researchers.
Hao Hao and the cubs' father, Xing Hui, arrived in Belgium on Feb 23, 2014, under a 15-year loan agreement with the Chinese government.