Photovoltaics to power up change
Share - WeChat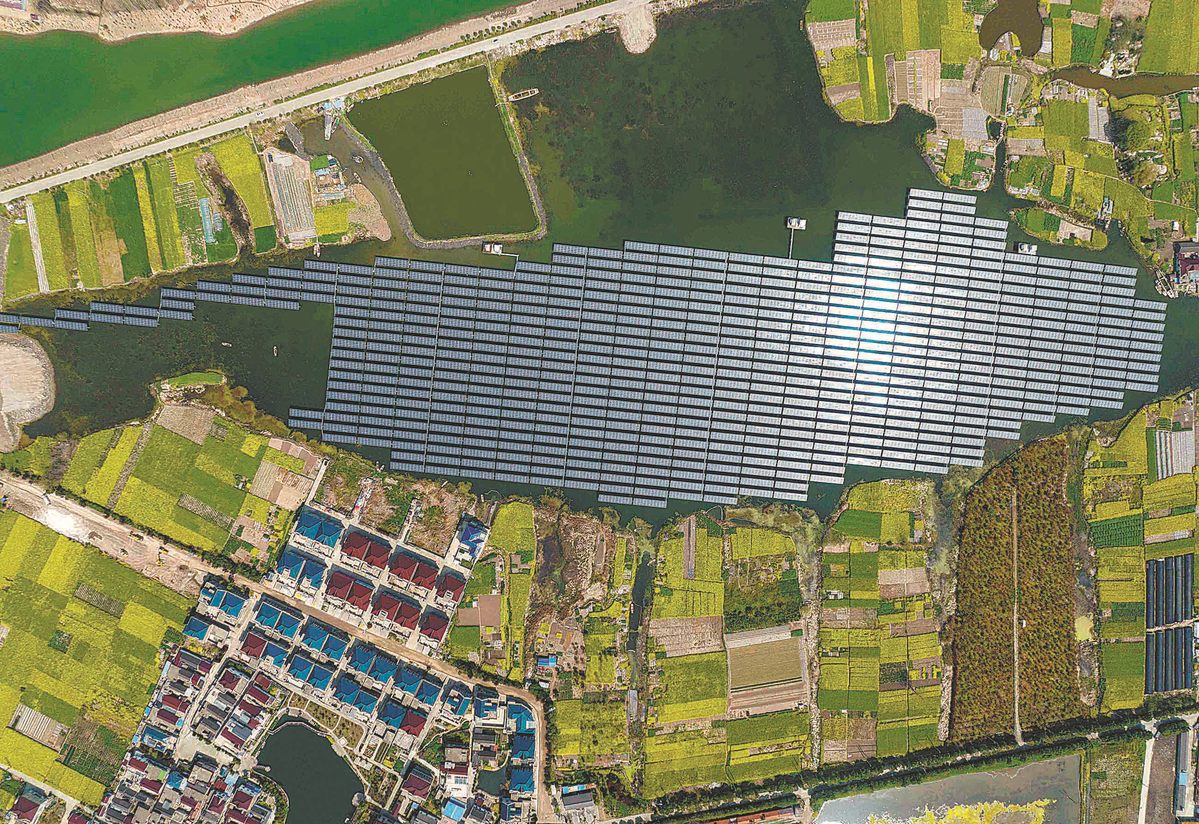 Buildings constructed with solar panels in place could ease energy concerns
When seen from a distance, the huge factory of Changshu Longteng Special Steel in Changshu, Jiangsu province, impresses many people.
With a width of up to 234 meters and a height of 58 meters, the workshop with its arched roof is larger than the National Stadium, also known as the Bird's Nest, in Beijing.
However, the complex is important for more than just its size. In addition to providing shelter from the wind and rain like other buildings, it can generate 48.5 million kilowatt-hours of electricity a year, meaning it can meet the annual power demand of more than 9,100 people. Last year, China's per capita power consumption stood at 5,317 kWh.
Moreover, covered by 68,000 monocrystalline photovoltaic panels, the factory can help reduce carbon dioxide emissions by about 38,000 metric tons a year.
Completed last month, the factory is just one of the latest examples of Building Integrated Photovoltaics, known as BIPV in the industry, as China works hard to achieve its climate targets of peaking carbon dioxide emissions before 2030 and realizing carbon neutrality before 2060.
According to the Action Plan for Carbon Dioxide Peaking Before 2030, unveiled in October by the State Council, China's Cabinet, the country will promote the use of renewable energy in buildings and expand the integration of photovoltaics into buildings.
By 2025, renewable resources will account for 8 percent of the alternative to conventional energy used in buildings, the plan said.
The country will also strive to reach 50 percent photovoltaic coverage on the roofs of newly constructed public buildings and factories.
Currently, almost 20 percent of China's carbon dioxide emissions are generated by the operations of buildings. That means making use of roofs and facades for the development of solar energy is a viable approach to reduce emissions, according to experts, who said that compared with other developmental approaches, BIPV is greener and safer.
However, China still needs to reform the construction standards for BIPV modules, or panels, to unleash its huge potential and help the country reach its climate targets.
According to the China Association of Building Energy Efficiency, 4.9 billion tons of carbon dioxide were generated in the country in 2018 by building processes, from producing construction materials to construction and operations.
Meanwhile, the operation of buildings generated roughly 2.1 billion tons of emissions, accounting for 22 percent of the country's total that year, it said.
Chen Pengfei, president of the BIPV section at LONGi Green Energy Technology, a leading industry player, said that for decades, China has mainly depended on the development of energy-efficient buildings to reduce energy consumption.
As standards have regularly been upgraded since the 1980s, "there has been no further potential to tap into traditional technologies for energy-saving buildings", he said.
Against this backdrop, the development of solar energy in buildings has a big role to play in further reducing emissions.