Blueprint to improve national health
Share - WeChat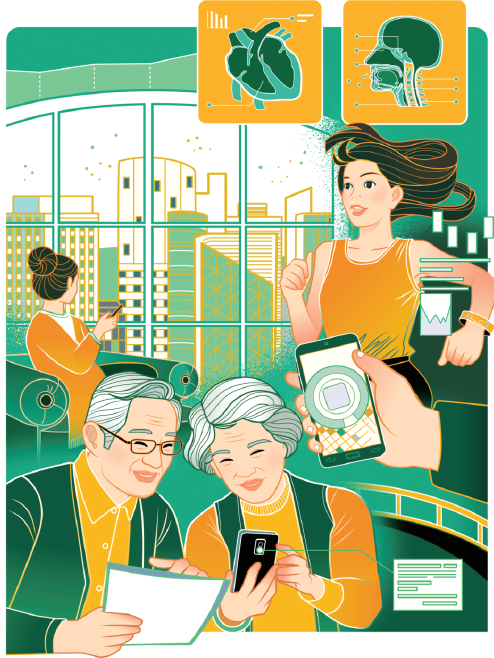 SHI YU/CHINA DAILY
Five-year scheme is China's first to focus on boosting public wellness
China has unveiled its first five-year blueprint to improve the health of its residents through 2025, pledging to lift the average life expectancy by another year and make the public health network better able to respond to major outbreaks and other public health emergencies.
The plan, published by the General Office of the State Council, China's Cabinet, on May 20, highlighted the importance of significantly ramping up national public health service capacities and improving the quality of medical services, including steps to control a number of major diseases.
One key measure is building up the national response to major outbreaks and public health emergencies, with steps to improve early monitoring, smart early warnings, quick response and efficient treatment.
Greater priority will be given to prevention. The government will work to curb the transmission of HIV, reduce incidences of tuberculosis and eliminate parasitic and key endemic diseases, the plan said.
Analysts said the blueprint marked the latest efforts by China to learn from its fight against COVID-19 and enable a better response to future outbreaks.
Liu Yuanli, executive dean of the School of Health Policy and Management at Peking Union Medical College, said the blueprint is of milestone significance as it seeks to integrate health in all relevant government policies.
He noted that the document has 21 goals, including a plan to lift average life expectancy by another year, from 77.93 in 2020 to 78.93 in 2025, and to lower the mortality rate for infants and pregnant women. The plan also set the goal of increasing average life expectancy to 80 by 2035.
It listed six targets to be met over the next three years, including ensuring that over 90 percent of eligible children are covered by the national vaccination plan and reducing the incidence of myopia among children by 2.5 percentage points from 52.5 percent in 2020.
Liu noted that the plan takes into account all health-related factors and presents targeted measures to promote healthy lifestyles, offer better health services, build a healthy environment and develop health industries.
Li Ling, a professor who has conducted research on medical reform at Peking University, said the document placed stronger emphasis on prevention than any of its predecessors, especially in terms of the prevention and containment of epidemics.
"China has thrown an effective safety net around the COVID-19 epidemic. While the fight against the virus posed a major challenge, it also presented valuable lessons for improving the national control and prevention system," she said, adding that a key target is to strengthen that system going forward.
To improve early monitoring and epidemic warning systems, the plan proposed steps to explore the development of cross-regional monitoring stations to enable the prompt analysis and reporting of contagions of unknown cause.
It pledged to improve departments for infections and high fever at second- and third-tier hospitals-the best hospitals in China's three-tier hospital grading system-including steps to enhance capacities in emergency treatment, severe cases, respiratory diseases, testing and rehabilitation.
The capacity for county-level hospitals to test and treat infectious diseases will also be improved, as will the testing capacity of laboratories at medical institutions.
Liu said the plan will help cement hard-won results from the national fight against COVID-19 and enable China to better prepare for future epidemics.
"We have all come to the realization that the fight against COVID-19 will be a long-term battle that requires persistent effort, as it will be almost impossible to eliminate the virus," he said.
He noted that the world is now experiencing much shorter intervals between outbreaks of new infectious diseases, and it is imperative that the government normalize measures.
"Early detection remains a crucial step. Any new infections can be contained if it is discovered at an early stage," he said.
Analysts said that another highlight of the document is that it sets in motion measures to encourage childbirth after the national leadership unveiled a policy to allow couples to have up to three children last year to cope with an aging society.
The latest national census data, published in May 2021, showed a fertility rate of just 1.3 in 2020, which was on par with aging societies like Japan.
The plan pledged to offer one-stop services to couples for the registration of newborn children, step up antenatal diagnosis and services and focus on preventing birth defects.
Liu said another highlight is the lifting of health protection to unprecedented heights, with the document pledging to ensure that at least 85 percent of workplaces meet national standards to prevent occupational disease by 2025.
As Chinese society continues to age, the plan makes services for seniors a priority, pledging to step up screening for key diseases and improve health management.
China will encourage the research, development, innovation and use of new medicines and expedite the commercialization of pharmaceuticals urgently needed in clinical procedures.
Private investors will be encouraged to establish nonprofit institutions centered on rehabilitation, nursing, mental health and other sectors where healthcare resources can be strengthened, and experienced medical practitioners will be encouraged to open their own clinics.
Chang Feng, a professor at the School of International Pharmaceutical Business at the China Pharmaceutical University in Nanjing, Jiangsu province, said that the five-year blueprint underscores the need for national pharmaceutical products to be safe, effective and accessible.
Despite having established the world's largest basic healthcare network, China still faces challenges in the development of healthcare security amid the economic slowdown and the COVID-19 epidemic, he said.
The blueprint paves the way for improving the national healthcare system as it rolls out steps to develop different types of insurance products, improve support policies for long-term coverage and expand financing channels, he said.