Ministry denounces US lies about Xinjiang visit
Share - WeChat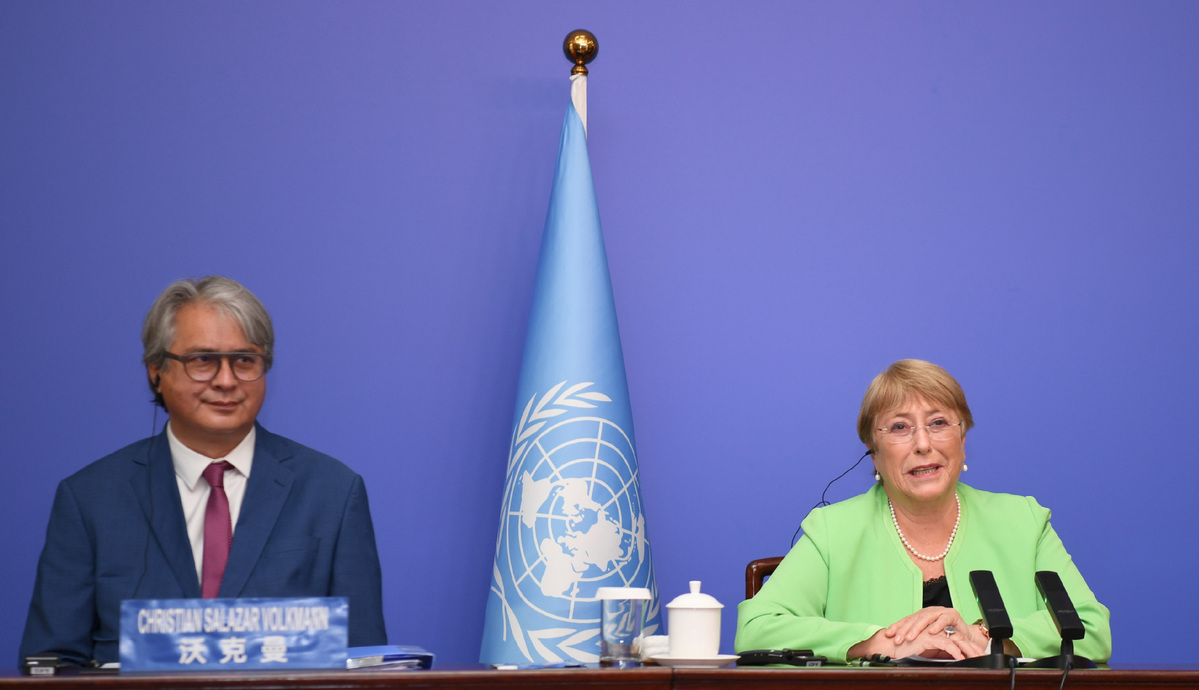 Beijing denounced the United States on Monday for fabricating new Xinjiang-related lies to smear and attack China, saying it is Washington that is attempting to manipulate United Nations High Commissioner for Human Rights Michelle Bachelet's visit to China.
Foreign Ministry spokesman Zhao Lijian made the remark at a daily news briefing, after US Secretary of State Antony Blinken raised concerns over the UN human rights chief's visit, saying China tried to "restrict and manipulate" her visit.
Bachelet concluded a six-day trip to China on Saturday and said in an online news conference that there were extensive and unsupervised exchanges during her visit.
Bachelet made field trips in Guangzhou, Guangdong province, and in the Xinjiang Uygur autonomous region. The visit enhanced understanding of China's path on human rights development and provided an opportunity to see the real Xinjiang, Zhao said.
All activities in China for Bachelet were arranged according to her will and based on thorough consultation by both sides, Zhao added.
"Where is the manipulation and restriction to speak of?" he asked, adding that the truth will debunk all lies.
"In fact, it is the US that truly wants to manipulate the visit," Zhao said.
"From the very beginning, it was the US that insisted on Bachelet visiting China, and it was also the US that set various conditions and now attacks and smears the high commissioner's visit," Zhao said.
"The US does not care about human rights at all, and it just uses human rights as a pretext to continuously denigrate, suppress and contain China," Zhao said, adding that the world has long seen through the hypocrisy and political plots of the US.
As the US turns a blind eye to its own severe human rights violations, it is not qualified to point fingers at other countries, Zhao said.
"China advises the UN Human Rights Office to conduct investigations over US human rights problems and submit relevant reports," said the spokesman.
Referring to the shooting on May 24 at an elementary school in Uvalde, Texas, that left 22 people dead, including the gunman, Zhao said the US cannot even guarantee the right to life of its people.
According to Zhao, the US has waged wars or launched military operations in the name of anti-terrorism in about 80 countries since 2001, leading to more than 800,000 deaths, including those of 300,000 civilians.