Rampage puts gun-friendly Texas laws in firing line of activists
Share - WeChat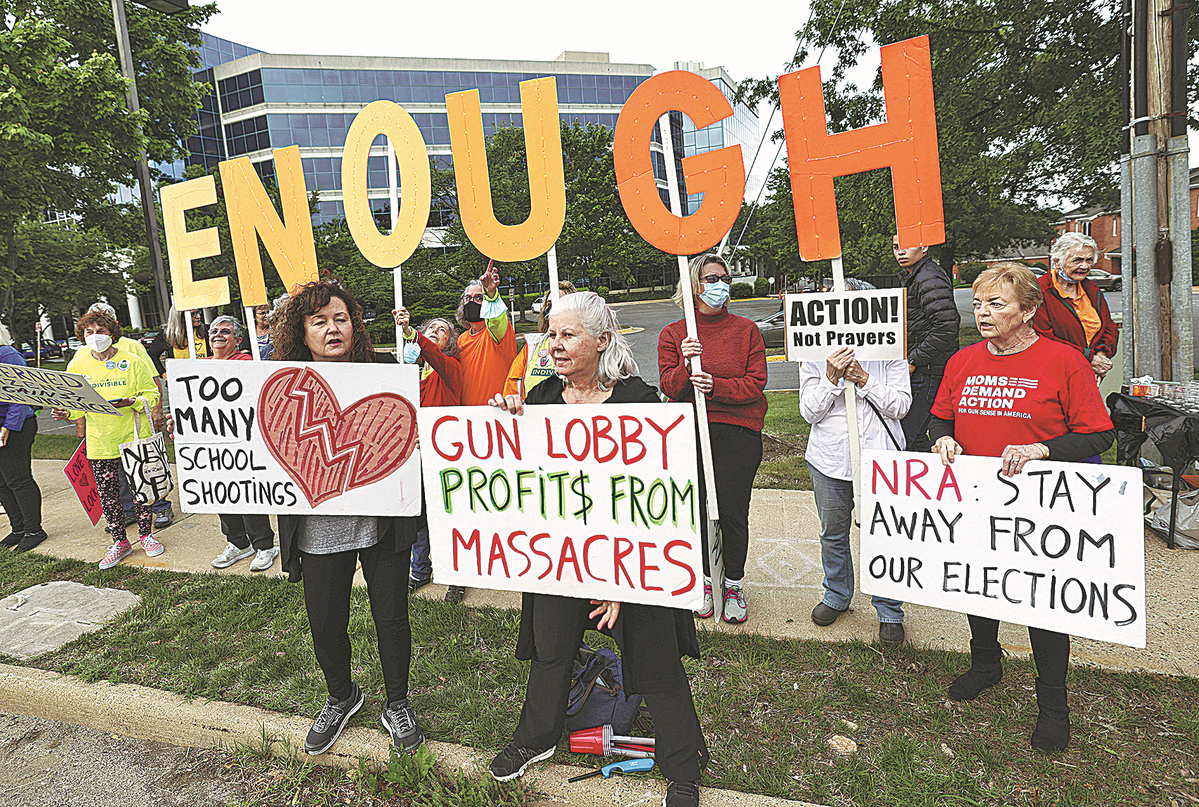 In the wake of the deadly shooting at a Texas elementary school on Tuesday, the state's pro-gun laws have come under increased scrutiny for making it easier for people to buy and carry guns.
The shooting at the school in the small town of Uvalde - killing 21 people - occurred just a year after state legislators worked with the National Rifle Association, or NRA, to expand gun rights.
In June 2021, Republican Governor Greg Abbott, a pro-gun advocate, vowed to keep Texas a "bastion of freedom" and signed several pieces of legislation that made it easier for people to buy, use and carry guns in the state, including one that gives people the right to carry a gun without a license.
At the signing, Abbott, alongside members of the NRA, said: "Texas will always be the leader in defending the Second Amendment, which is why we built a barrier around gun rights this session."
The state's Unlicensed Carry Law, which took effect in September 2021, allows anyone aged 21 and over to carry a handgun in most places without the need for a license, training or a permit.
Another law that went into effect then allows people aged 18 to 21 to buy a handgun if they are under an emergency protection order by a magistrate. Anyone fearing family violence, a stalker or forced prostitution also can apply for a gun license.
One law allows hotel guests in the state to store guns in their rooms. Foster homes also can store guns and ammunition together, rather than separately. Other gun-friendly laws allow gun owners to display their weapons while in a vehicle.
Abbott signed the Second Amendment Sanctuary Act against new federal gun-control regulations last year. It prevents federal agencies in the state from signing contracts with businesses that discriminate against the firearms industry.
At a news conference on Wednesday, Abbott spoke emotionally about the "kids that will never attend school again".
'Shaken to its core'
He said the town of Uvalde had been "shaken to its core" and all Texans were grieving with its residents.
The governor and a stage full of representatives from state agencies didn't address gun reform. Instead, Abbott and others spoke at length about the need for Uvalde to access mental health services.
Abbott said that although the gunman, 18-year-old Salvador Ramos, had no known history of mental issues, he believed that "anybody who shoots somebody else has a mental health challenge".
Asked whether an 18-year-old should have access to weapons like the AR-style gun used in the shooting, Abbott said people of that age have been able to purchase a "long gun" in his state for more than 60 years.
The news conference was interrupted by Democrat Beto O'Rourke, who is running for governor. He was escorted out after shouting at Abbott: "You are doing nothing! This is totally predictable when you choose not to do anything for the kids of this state."