First class honors
Share - WeChat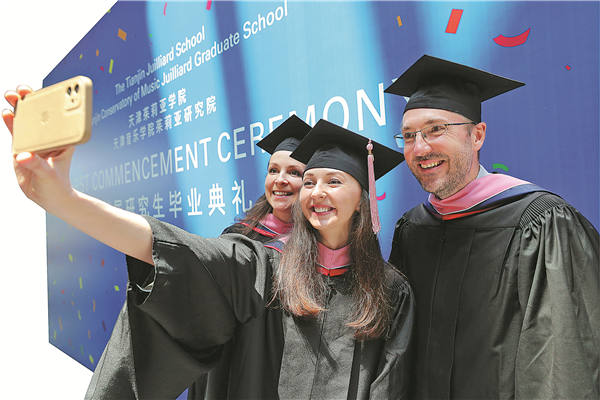 Tianjin Juilliard School holds the commencement ceremony for its maiden batch of graduates, Chen Nan reports.
Wearing caps and gowns, 33 students from eight countries, including China, the United States, South Korea and Uzbekistan, graduated from the Tianjin Juilliard School after two years of study. On Friday, the Tianjin school hosted a commencement ceremony for those graduates, the first time for the school.
As the first overseas campus of the Juilliard School in New York, and the first such institution in China that confers a US-accredited music degree, the Tianjin school confers a master's degree from the world-renowned performing arts academy upon all its graduates.
The commencement ceremony also featured performances by the students and faculty of the Tianjin school, including an arrangement of Edward Elgar's Pomp and Circumstance for brass trio, Antonin Dvorak's String Quartet in F Major, Op 96 by the MILA Quartet and Jacques Ibert's Allegro from Trois Pieces Breves for wind quintet performed by resident faculty member Akio Koyama and graduating students.
It ended with Dvorak's Slavonic Dance Op 46 No 8, which was recorded and performed online by the inaugural class of the Tianjin school's graduate students, led by another resident faculty member Shen Yiwen.
"We are not just celebrating today. We celebrate how you have been studying and taking on the challenges of the past two years. Many of us have witnessed how you have transformed as artists and how far you have come. We are proud of you," says violinist He Wei, who is the artistic director and dean of the Tianjin school. "The commencement marks the end of one chapter in your life's journey. The end of this chapter is the beginning of the next, even more exciting one, where you will connect with people of various backgrounds through music."
One of the graduates, Xu Jinzhao, a pianist with a major in chamber music, was awarded the Tianjin Juilliard School Prize for his artistic achievement and academic excellence in all areas of endeavor at the Tianjin school.
Most Popular