Expanding agri-nexus
Share - WeChat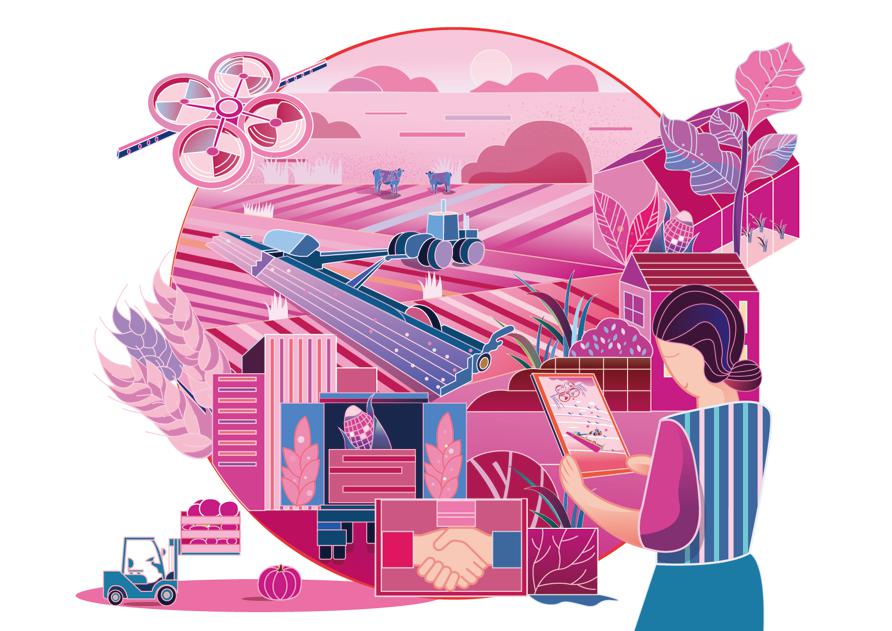 Bond forged between China and Africa through agricultural cooperation continues to be strengthened
Agriculture has an enormous social-economic footprint in Africa and it is by far the single and most important economic activity in Africa. Yet 281.6 million people on the continent, over one-fifth of the population, faced hunger in 2020, which was an increase of 46.3 million more people than in 2019, according to a report titled "Africa-Regional Overview of Food Security and Nutrition", released by the Food and Agriculture Organization in December 2021.
China is aware of the above-mentioned challenge and is willing to play an important role in the achievement of food security goals and to support Africa to achieve the Sustainable Development Goals and the African Union Agenda 2063.
Due to the significance of agriculture to economic development and social upliftment, the sector has always been given special priority by the Chinese government in its aid pledges. For instance, China has launched a multi-faceted program that includes the construction of 23 agricultural technology demonstration hubs in more than 20 African nations. The purpose of these demonstration hubs is to capacitate small-scale farmers on the continent to improve their grain production and enhance food security in Africa.
The demonstration hubs have been successfully implemented in Africa by transferring Chinese technology via demonstration in farms. For example, in Zambia, over 200 small-scale farmers have been trained at the hubs every year. In Zimbabwe, over 3,000 farmers have been trained. The farmers usually spend between five and 10 days in each training session, learning integrated farming, weed management, mushroom farming, rice breeding techniques and other things.
As for infrastructure development, China has continually bolstered its agricultural support in Africa by constructing processing plants and infrastructure such as farmland water conservancy facilities, rural roads and agricultural product storage facilities, providing materials such as seeds and fertilizers, and dispatching experts to share China's agricultural technology and development experience.
As for trade, while commodities will remain relevant, trade between China and African countries is going through a diversification process. China is increasing its imports of agricultural products, while exporting more technology. African agricultural exports to China are dominated by oil crops and fruits, as well as industrial raw materials such as lint and rubber, and some preliminarily-processed products. On the part of Africa, to facilitate this, Rwanda and Ethiopia, for instance, are using creative marketing approaches to attract e-commerce users in China and increase their exports to China. In January 2022, James Kimonyo, the Rwandan ambassador to China, rode a bike to deliver Rwandan coffee to a customer who had ordered it online. Within this same period, Teshome Toga, the Ethiopian ambassador to China, participated in a livestream on the e-commerce retailer Alibaba's e-shopping platform to launch and sell a brand of Ethiopian coffee in China.
China, on its part, wants to import more goods, especially agricultural products, from Africa. According to the Food and Agriculture Organization of the United Nations, in 2019 African agricultural exports to China were up by more than 25 times compared to the 2000 level. In 2020, more varieties of African agricultural products entered the Chinese market, despite a decrease in the volume because of the COVID-19 pandemic. China is currently Africa's second-largest agricultural exports destination because of the cooperation platforms such as the Belt and Road Initiative and the Forum on China-Africa Cooperation.
At the eighth ministerial meeting of the FOCAC in November 2021, China announced it will strengthen cooperation to help Africa's agricultural development and poverty eradication efforts, including sending 500 agricultural experts to the continent over the next three years. This move and the above initiative by China to promote more imports of agricultural products from Africa are connected to the core principle of China-Africa economic cooperation, a principle of attaining mutual economic benefits, which is destined to help not only China, but also African nations in terms of growth and development. This engagement includes bilateral mixed aid-trade-investment packages to Africa. It is closely related to the approach China has taken to modernize its own rural economy.
China and Africa pursuing economic development will help enhance the common welfare of the over 2 billion people living in China and Africa. The agricultural complementarity between them has linked China and Africa with an inseparable bond that leverages their respective strengths.
The author is executive director of the Center for Nigerian Studies at the Institute of African Studies at Zhejiang Normal University. The author contributed this article to China Watch, a think tank powered by China Daily.
The views do not necessarily reflect those of China Daily.
Contact the editor at editor@chinawatch.cn
Most Viewed in 24 Hours
China Views