Homage to hometown
Share - WeChat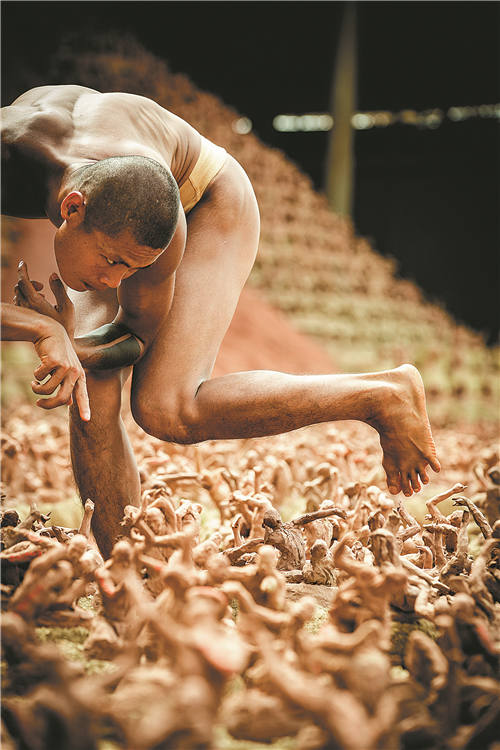 Dancer from a southern village stages show with thousands of figurines in different poses, Chen Nan reports.
When dancer-choreographer Yu Jinying talks about his latest project, he calls it a "ceremony" instead of a performance that he usually gives. On May 5, the show, titled Afflatus, took place at 5:05 pm in front of an old stage located in a small village, named Shuiyang, on Donghai Island in Zhanjiang, Guangdong province.
Yu was born and raised in the village. More than 500 villagers, including his family members, childhood friends and neighbors, watched the show. On an empty square, which is about 600 square meters, Yu danced through 10,693 figurines made of clay, ranging in heights from 25 to 36 centimeters. The figurines, in different poses, were arranged on the ground in circles. As Yu danced around them, he reached a cone-shaped stage made of clay, which, about 4.8 meters tall, stood in the center of the ground. On the top of the cone-shaped stage, Yu kept on dancing until his body was fully covered in mud. Then a fire was lit around the stage, which gradually dried the mud on Yu's body, turning him into the"10,694th figurine".
Then he walked down the clay stage and toward the old stage slowly. The show ended at 6:45 pm before sunset.
"After I finished the 'ceremony', I naturally walked to the water pipe nearby the stage and took a shower in front of the audience. I was not ashamed and I felt very happy. That's exactly what I did as a child and I still belong to this village, wherever I go," says the 29-year-old.
Most Popular