World kite capital set to soar with rich heritage, industry advantages
By ALEXIS HOOI in Beijing and ZHAO RUIXUE in Weifang, Shandong | China Daily Global | Updated: 2022-05-19 07:50





Share - WeChat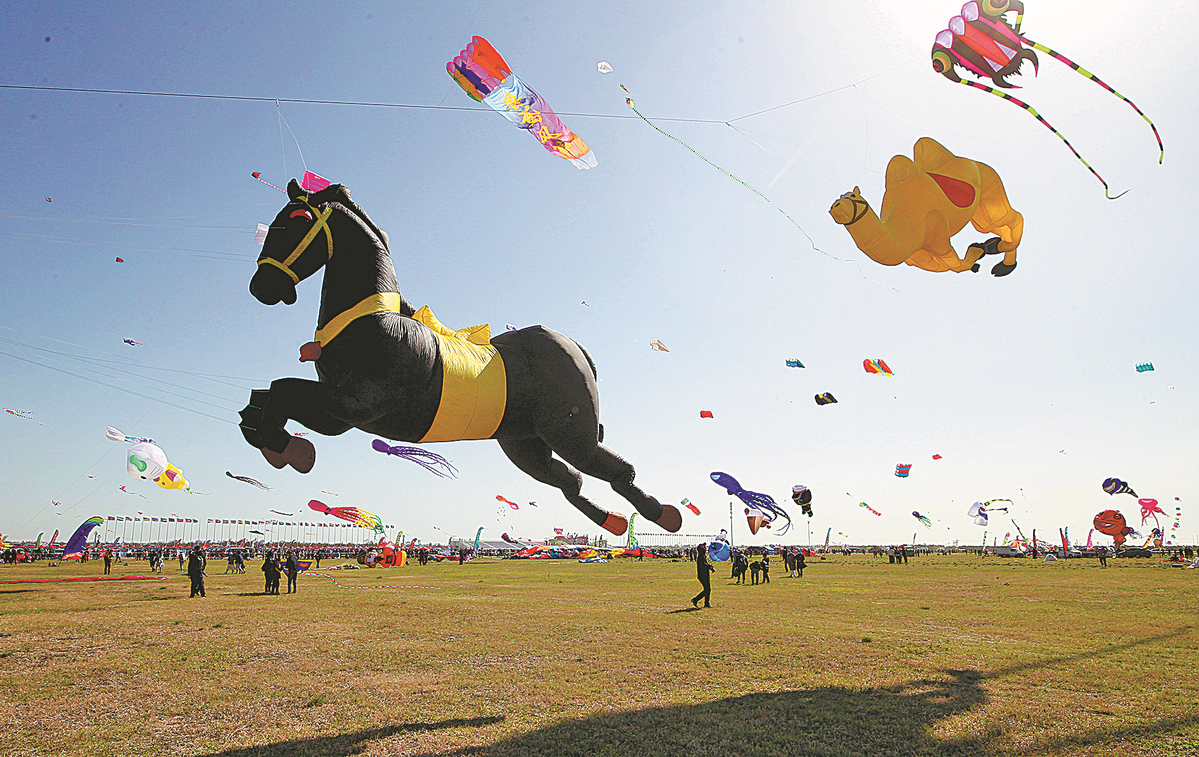 Wang, chairman of Weifang Kaixuan Kite Manufacturing, said that in 2002, the company exported about 100,000 kites, mostly simple ones with small, triangular frames that cost about 10 yuan. The company now exports millions of kites of all makes and sizes each year, Wang said. A premium kite can cost more than 7,000 yuan.
"All kinds of kites are exported and most of them are used by children," Wang said. They are mainly made of carbon fiber and nylon and have sturdy frames.
Many kites in foreign countries are used not just as toys but also for advertising purposes, so there is great demand, Wang said, adding that the company can fill orders from multinationals for more than 100,000 kites each.
"Weifang's kites not only bring economic benefits to the local people, they also carry traditional Chinese culture to the world," Wang said.
A traditional Weifang kite is made of bamboo and features Chinese painting. Traditional kite-making focuses on the four arts of tying (using bamboo for a frame), pasting (placing paper, silk and other material onto the frame), painting and "letting go" (flying). In 2006, Weifang kites were added to China's intangible cultural heritage list.
Yang Hongwei, 56, is a leading inheritor of Weifang's kite tradition. Yang, who was born into a kite-making family, often saw up close the brightly colored kites of different shapes and sizes in her grandfather's workshop. At the age of 16, she learned kite-making skills from her grandfather, and after 10 years' practice of the craft, Yang set up her own workshop in 1992.
"Many parts of the world have a tradition of flying kites, but I think the cultural background behind our kites is unique," Yang said.
Yang's creations include common butterfly and swallow patterns, as well as patterns and images from Chinese mythology, legends and history.
She once made a kite painted with a phoenix head, adding to it the painted portraits of 50 famous Chinese women through history. Each woman had her own characteristics in appearance, clothing and makeup, Yang said.
In order to create the portraits, Yang spent a lot of time checking historical records and discussing details with specialists.
"It's very time-consuming," Yang said. "But when I explain our kite story to foreign guests, I get a great sense of accomplishment."
Yang has also traveled to countries including Germany, Australia, the United States and New Zealand to share with people there the Chinese stories related to kites and to teach them the traditional craft.