Saddling up for adventure
Share - WeChat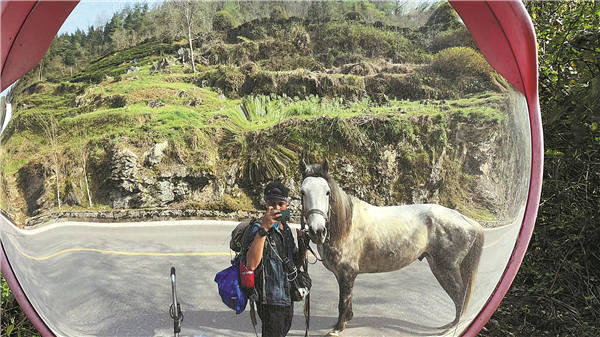 Traveler and his trusted steed hit the road on quixotic quest, Tan Yingzi and Deng Rui report in Chongqing.
In January, a chivalrous young man who just finished traveling by horse and foot from Northwest China's Xinjiang Uygur autonomous region to the southwestern city of Chongqing-nearly 4,400 kilometers-in an adventure spanning more than half a year, set off on his second arduous journey by hoof and foot from Chongqing to Yunnan province.
While millions of young people in China are tied up with a nine-to-five job and a mortgage, increasing numbers have the courage to seek a different lifestyle.
For 29-year-old Yue Xiaoyun, with his tanned skin and cool smile, the adventures would be lonely but for the presence of his sole companion-a horse named Hotpot.
In May 2021, Yue gave up his business in Chongqing to embark on his quixotic quest-the first leg by train to Yining, Ili Kazak autonomous prefecture in Xinjiang.
There, with the help of a Kazak herdsman, he bought a locally bred horse which cost 32,000 yuan ($4,710), and rode it from Horgos-on the border with Kazakhstan-to Chongqing's Fengjie county, his hometown.
The pair got across the Tianshan Mountains in Xinjiang, the Hexi Corridor, the Qilian Mountains and the Qinling Mountains in Northwest China's Gansu province, passing through Sichuan province and finally reaching Chongqing. The journey was roughly 4,400 km.