Suspect in racist shooting detained last year
Share - WeChat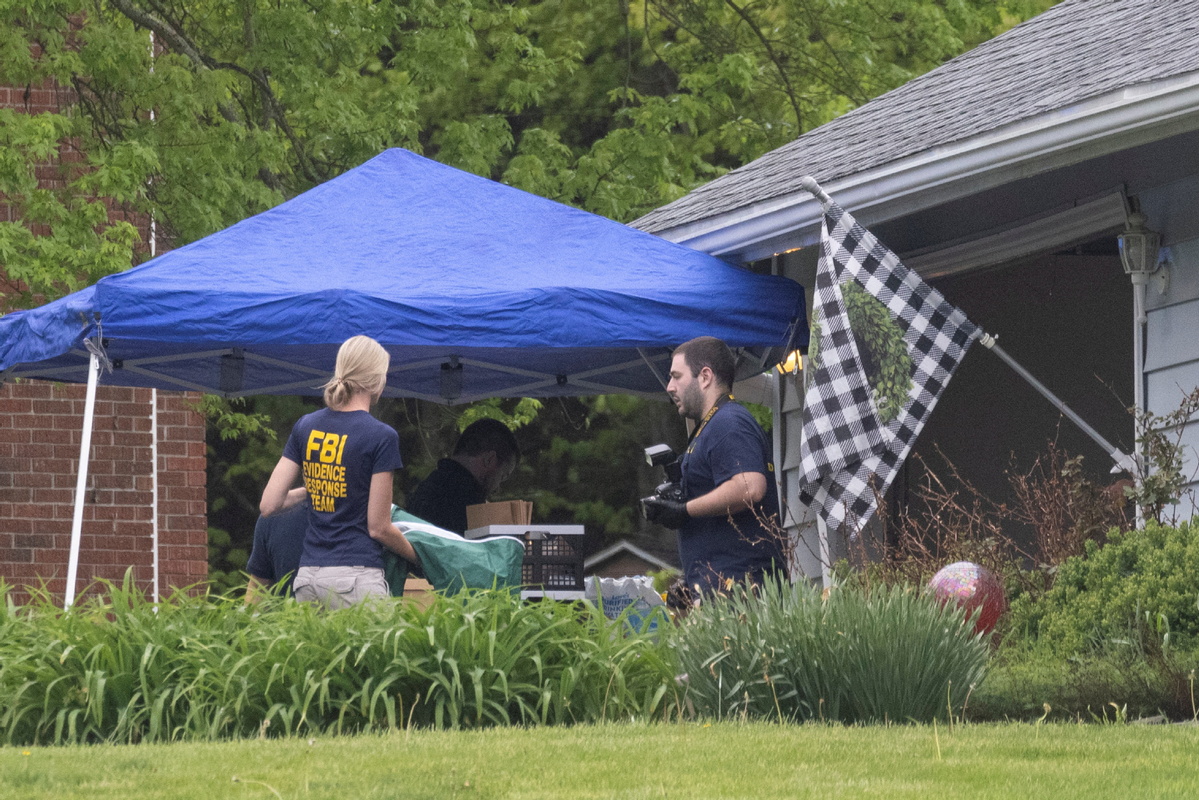 The 18-year-old suspect in a racially motivated murderous rampage at a supermarket in a black neighborhood of Buffalo, New York, was held for a mental health evaluation a year ago but released a day later.
The suspect, Payton Gendron, who is white, surrendered to police on Saturday at the grocery store where 10 people were fatally shot. Thirteen people were struck by gunfire — eleven of them black and two white, officials said.
Buffalo Police Commissioner Joseph Gramaglia told reporters that Gendron had been taken into custody and given a mental evaluation over a day and a half in June 2021 but was released.
New York state police said in a statement Sunday that they had been called to a high school in Gendron's hometown of Conklin, New York, at the Pennsylvania border, on June 8, 2021, in response to a 17-year-old student making a threat.
Authorities said Gendron drove to Buffalo — which is the state's second-largest city and is located on the eastern end of Lake Erie — from his home several hours away to launch the attack Saturday, which he broadcast in real time on the social media platform Twitch, a live-video service owned by Amazon.com. The video was taken down less than two minutes after it was posted, the video company said.
"This individual came here with the express purpose of taking as many black lives as he possibly could," Buffalo Mayor Byron Brown said at a news conference Sunday.
Conklin is more than 230 miles southeast of Buffalo.
The suspect opened fire at the Tops grocery store using a gun that he legally purchased but had an illegally modified, high-capacity magazine.
Gendron bought his assault weapon at a store in Endicott, New York, and said online that he also purchased a shotgun in Pennsylvania, The New York Times reported.
New York Governor Kathy Hochul told ABC News on Sunday that an investigation would focus on what could have been done to stop Gendron, because he had advertised his views online and had been on authorities' radar.
"I want to know what people knew and when they knew it," she said.
Federal law bars people from owning a gun if a judge determines the person has a "mental defect" or has been placed into a mental institution. An evaluation alone, however, would not bar such a person from acquiring a gun legally.
While the mayor praised the police response, some questioned how the suspect was taken into custody.
"We don't know how the hell he made it out of here alive," said Jeffrey Watkins, motioning toward the Tops Markets parking lot. "If a black person would have had a screwdriver in his hand, he'd have been killed," the Buffalo News reported.
"For him to come out of there yesterday … they shouldn't have let him come out like that after he had just killed all of those people," Betty Maclin told the newspaper.
Gramaglia, the police commissioner, said police "responded as we were trained. Any opportunity that we have — and that's what we teach to de-escalate a situation — we are not looking to shoot anyone."
Kolton Gardner, 18, of Conklin, New York, a former classmate of the suspect, said he was "definitely a little bit of an outcast".
President Joe Biden on Sunday described the attack as a "racially motivated act of white supremacy".
In Buffalo on Sunday, Sharon Doyle, a 55-year-old security guard with the Erie County Public Library, led a chant of "Black lives matter, my life matters."
At the True Bethel Baptist Church, a minister led a service for a large crowd of worshipers, including some of the victims' family members and some people who were in the store at the time of the shooting.
Charles Everhart Sr, 65, said his grandson Zaire Goodman, 20, worked at the store. The young man was shot in the neck but survived.
"He was pushing the carts back to the store and he was one of the first to get hit," Everhart said.
Portions of the Twitch video showed the gunman firing multiple rounds in less than a minute as he raced through the parking lot and then to the store, pausing to reload. At one point, he points the gun at a white person cowering behind a checkout counter, but says "Sorry!" and doesn't shoot, The Associated Press reported.
The video also showed a racial epithet carved into the gun.
A retired police officer who worked as a security guard at the supermarket and died in a shootout with the suspect was praised for his bravery, with officials saying his actions likely saved the lives of others.
Aaron Salter Jr, who worked at the Buffalo Police Department for decades before retiring several years ago, confronted the suspect inside the store, the Buffalo News reported.
Salter's shots could not penetrate the armored vest of the suspect, and the gunman returned fire, killing Salter.
Ruth Whitfield, 86, a grandmother, was one of the people killed at the Tops grocery store, her daughter-in-law Cassietta Whitfield confirmed, The New York Times reported.
"She was a religious woman who cared deeply for her family," Cassietta Whitfield said. "She'll be truly missed."
"Somebody filled his heart so full of hate that he would destroy and devastate our community," the Reverend Denise Walden-Glenn said.
A 180-page manifesto circulating online on Saturday, believed to have been composed by Gendron, outlined "The Great Replacement Theory" — a conspiracy theory that white people are being replaced by minorities in the United States and other countries.
Another document circulating online sketched out a to-do list for the attack, including cleaning the gun and testing the livestream.
Hochul told reporters she was dismayed that the suspect managed to livestream his attack on social media, which she blamed for hosting a "feeding frenzy" of violent ideas.
Gendron was arraigned hours after the shooting in state court on first-degree murder charges, which carry a maximum penalty of life in prison without parole, said Erie County District Attorney John Flynn.
Gendron entered a plea of not guilty and is scheduled to return to court on May 19.
Agencies contributed to this story.