Daily tests continue in capital
Share - WeChat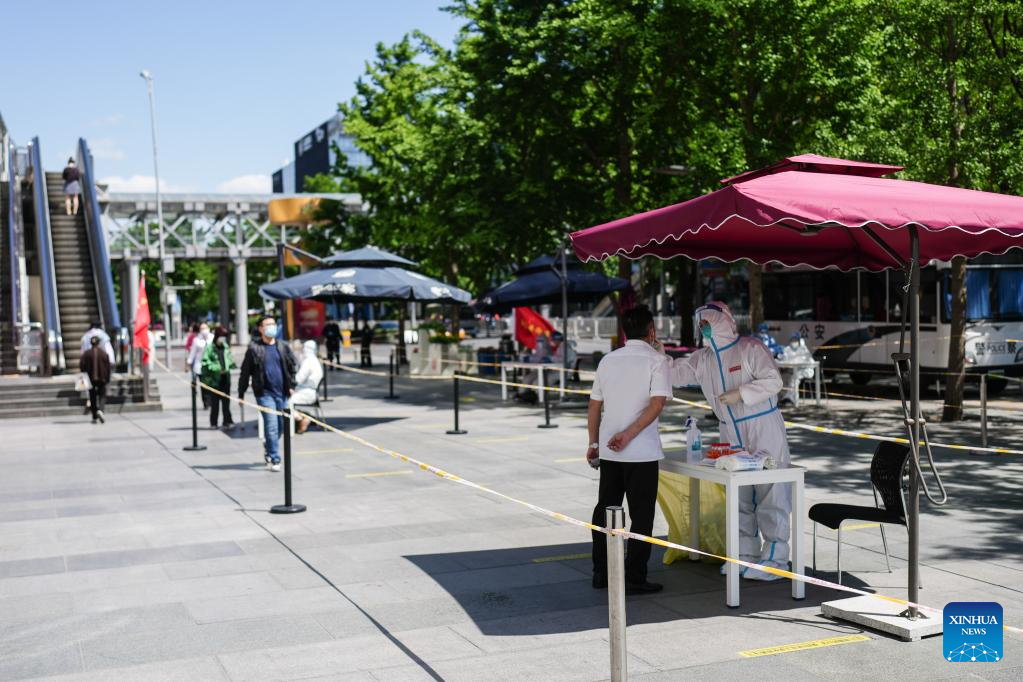 Three rounds of screenings ordered for 12 districts as 55 new cases reported
Twelve districts in Beijing will continue to carry out three rounds of daily nucleic acid screening from Monday to Wednesday to curb the spread of the COVID-19 outbreak in the city, a senior health official said on Sunday.
Wang Xiao'e, an official with the Beijing Health Commission, said the testing will be conducted in districts including Dongcheng, Xicheng, Chaoyang, Haidian and Fengtai.
These five districts were among 12 where three rounds of mass nucleic acid testing took place from Friday to Sunday.
A total of 21.19 million people participated in the testing on Saturday, with 11 tube samples showing up positive for COVID-19, Wang said at a daily news conference.
Residents in Chaoyang, Fengtai and the districts of Fangshan and Shunyi should continue to work from home, said Xu Hejian, a spokesman for the Beijing city government.
The epidemic situation in Beijing remains severe and complicated, he said. There have been sporadic cases and cluster infections, and the transmission chains have not yet been completely cut off.
The city reported 55 new locally transmitted COVID-19 cases between 3 pm on Saturday and 3 pm on Sunday, bringing the total number of infections to 1,074 since April 22, said Pang Xinghuo, deputy director of the Beijing Center for Disease Prevention and Control.
Of the newly reported infections, 45 were reported in controlled zones and 10 were found from mass nucleic acid testing conducted at the community level, she said.
Cases are being discovered in clusters in the capital.
According to Pang, as of Sunday afternoon: testing at the Yuegezhuang market in Fengtai district has revealed 15 cases; 21 have been identified in an express delivery center cluster; and 68 have been found in a cluster related to a subway renovation project by China Railway 11th Bureau Group Third Corporation.
Six administrators with the railway group have been punished due to lax implementation of epidemic containment measures, according to a news conference on Saturday. Five administrators at Beijing Rural Commercial Bank, where a cluster has yielded 37 positive cases as of Saturday, have also received punishment.
Kong Gangcheng, deputy head of Fengtai district, said the Yuegezhuang market has suspended operations temporarily and epidemic containment measures have been carried out.
Some cases of infection reported at the market had recently been to Xinfadi, the capital's largest wholesale vegetable market, where an outbreak was reported in June 2020.
The district has taken swift epidemic containment measures at Xinfadi. The areas where the positive cases have been put under temporary control measures. People who work in those areas are required to quarantine at home for four days, and all close contacts have been transferred to centralized quarantine sites, he said.
Epidemic control workers have taken nucleic acid samples from 700 people, 913 environment samples and 730 samples taken from goods, with all results showing negative, he said.
The district has tightened epidemic containment measures at the Xinfadi market. All people entering the market are required to show a negative nucleic acid test result from within 24 hours, and people working at the market need to self-administer rapid antigen tests every 10 hours, Kong said.
Fengtai will also make sure Xinfadi continues to expand its supply chains to make sure the supply and prices of vegetables remain stable in the capital, he added.