Rural schools bring families closer through learning initiative
Share - WeChat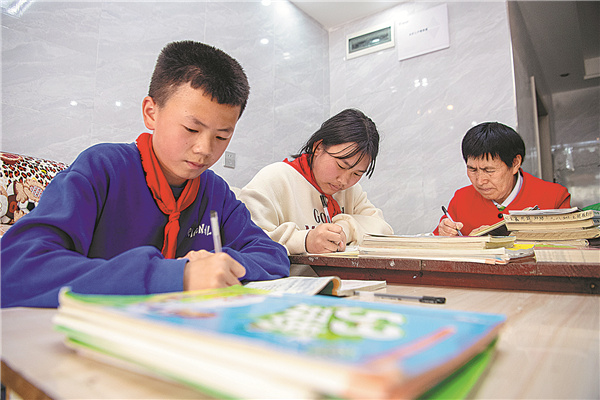 The reading salon was advocated by the newly released Family Education Promotion Law of China, which took effect at the beginning of this year.
The new law stresses that parents or other guardians need to promote the comprehensive and healthy growth of minors in moral quality, cultural accomplishments, behavioral habits, among other aspects.
As the first teacher in the school to give classes to the guardians of children, Cui Xiaolan says she and her colleagues are glad to see the law's promulgation, which proves the direction they have taken over the past seven years has been the right one.
In 2015, Cui found that many children in the school were "left-behind "as their parents left home to make a living. She realized how easily this may result in a lapse in family education, prompting her to organize such reading salons for the children's guardians.
Apart from elderly people like Tan, young full-time mothers are also among the attendees.
As Peng Dongqing, 33, didn't make it to college, her daughter had to bear the brunt of her anxiety. Peng was overly concerned about her daughter's grades and has constantly pushed her to go beyond her limits.
But after attending the salon, Peng realized that nobody is perfect, including her own child. "I need to care more about my daughter's happiness and focus on finding her talents in other fields, rather than only caring if she excels in the exams," she says.
In seven years, the number of participants in the reading salon has grown from 10 to over 500, and teaching sessions have been successfully held 158 times, Cui says.
This "guardian education" model has already been carried out in 89 public schools in Shizhu Tujia autonomous county.
"Be it theory, or in practice, a good education needs effort from both the school and the family. We hope every child can grow in a healthy environment filled with love," says Tan Lamei, deputy director of the county's education department.
Xinhua
Most Popular