Shanghai residents question accuracy of firm's tests after receiving multiple false-positive results
Share - WeChat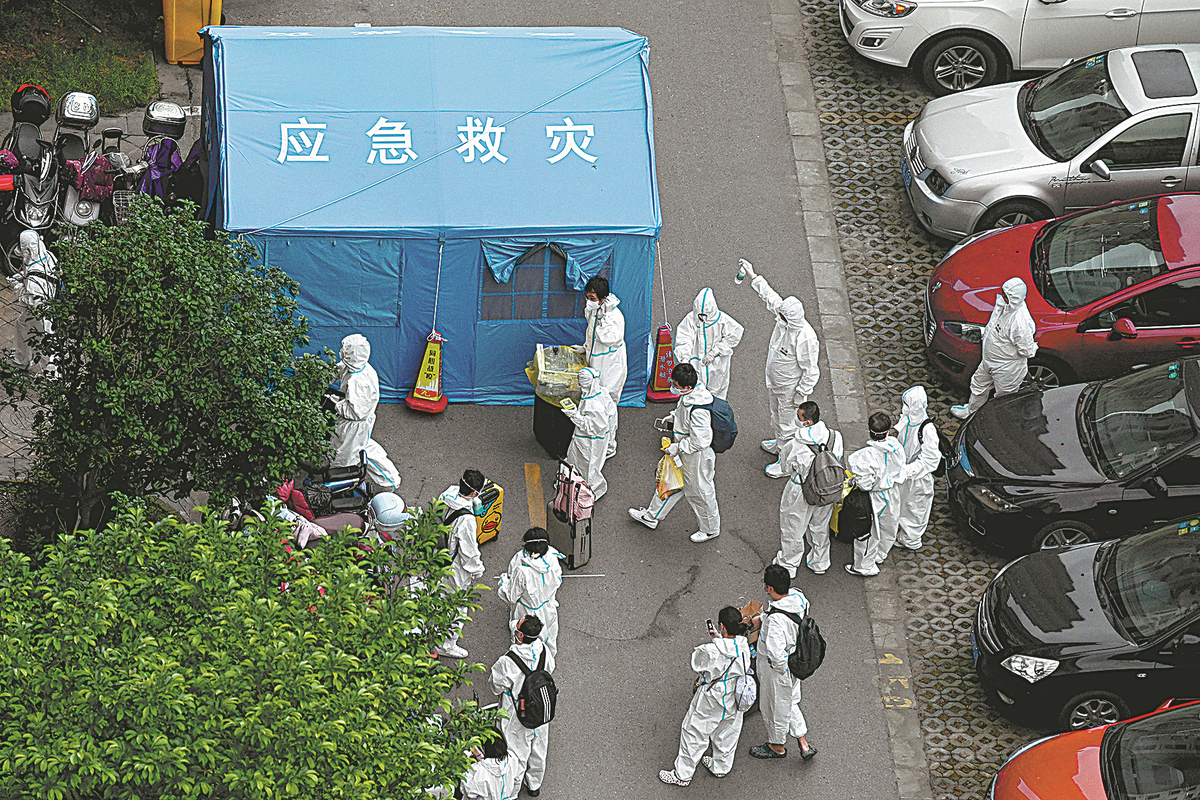 The Shanghai Stock Exchange on Wednesday issued a supervision notice for Runda Medical Science and Technology, the listed company behind Zhongke Runda, after local media reported that some residents had questioned the precision of the testing agency's data.
Runda Medical Science and Technology responded on Wednesday morning that it had noticed the reports and has demanded its subsidiary company Zhongke Runda, which conducts nucleic acid testing, to initiate internal examinations and cooperate with official investigations.
Some residents reported on Monday that their nucleic acid test results provided by Shanghai Zhongke Runda's lab were false positive.
The residents, all from the city's downtown Huangpu district, said their test results turned out negative after a second test at makeshift hospitals.
"Our daily testing is carried out in strict accordance with lab specifications," said the listed company in a public notice.
"All the business lines of the company are currently operating normally. We'll continue maintaining high testing standards and abiding by strict requirements to assist the city to win the battle against COVID-19," read the notice.
The Shanghai Health Commission said on Tuesday that it has launched investigations into a third-party testing agency involved in nucleic acid test screening.
"The enterprise will be strictly dealt with if any violations of laws and regulations are found," Zhao Dandan, deputy director of the commission, said at a news briefing.
Shanghai Zhongke Runda was established in 2017 as a comprehensive medical testing laboratory.
Public data from the company showed that it is responsible for nucleic acid test screening at around 300 sites in the districts of Huangpu, Hongkou, Pudong and Baoshan.
The Shanghai government on Wednesday announced that eight of the city's 16 districts have basically eliminated the community transmission of COVID-19 cases.
They are Xuhui, Fengxian, Jinshan, Chongming, Qingpu, Songjiang, Putuo and Jiading.
"Shanghai's focus of bringing down new infections and preventing a rebound is working ... but we must still refine our measures and identify blind spots, including dilapidated neighborhoods and villages, make every effort to achieve zero transmission in communities, and win the battle to defend Shanghai resolutely," said Zhao.
Shanghai registered 228 confirmed cases and 1,259 asymptomatic infections on Tuesday.
All new infections were discovered inside quarantine and lockdown populations.
As of Tuesday, there were 379 severely ill COVID-19 cases and another 71 in critical condition receiving medical treatment in Shanghai.
The city also reported seven COVID-19 deaths on Tuesday.
The cases, aged 87 on average, suffered from serious underlying diseases. Only one had received a COVID vaccine, and their underlying diseases contributed to their deaths.
The health authority said there are 48 city-and district-level designated hospitals, providing 25,000 beds, to treat COVID-19 cases in the city.
Among them, four receive child patients. They provide 500-plus beds, including some in child-parent wards.
"In addition to such hospitals' own staff, we've dispatched more than 16,000 healthcare workers, including over 1,000 from outside Shanghai, to the designated hospitals, aiming to reduce severe cases and fatality rates," said Zhao.