Biden's push on chips seen backfiring
Share - WeChat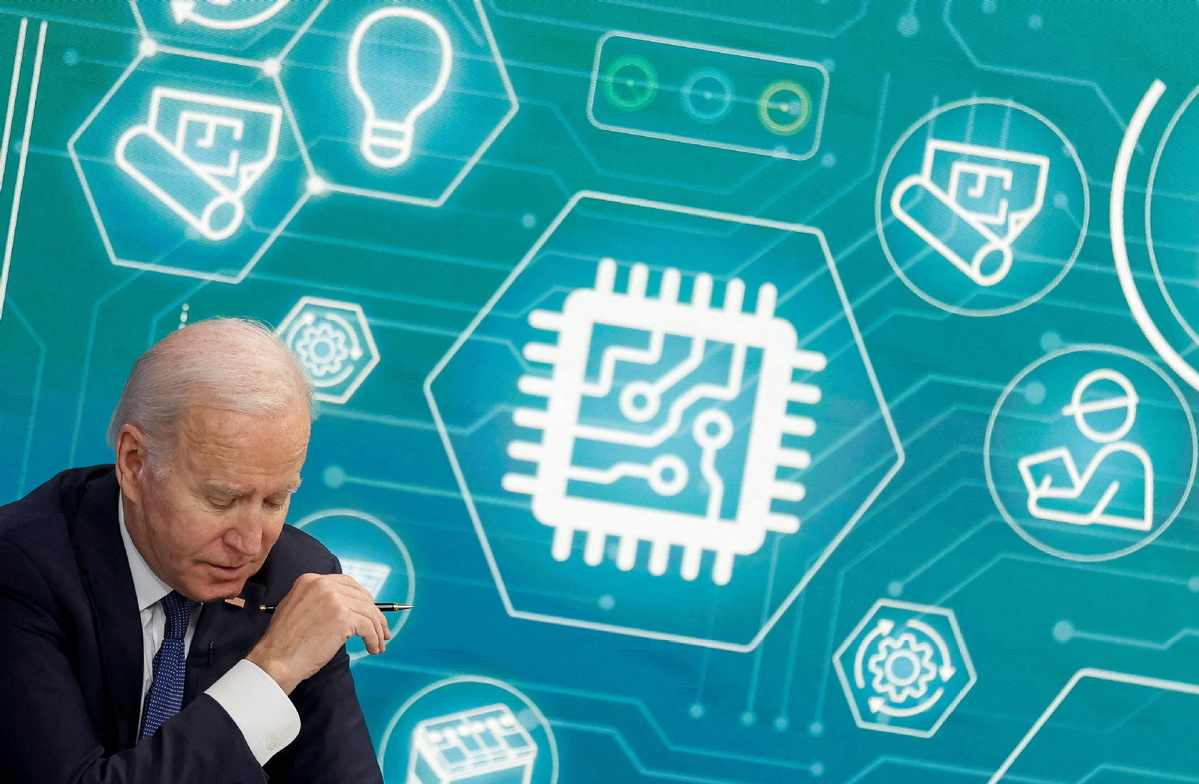 Bill provides for billions in spending, but experts see waste, global snags
The US Congress is being urged to pass legislation that would invest billions of dollars in the semiconductor industry to counter China, but experts are concerned the approach is too costly and would undermine global collaboration.
US President Joe Biden last week demanded that Congress swiftly pass the Innovation Act, saying it would "bring home jobs and power America's manufacturing comeback". The act includes $52 billion in government subsidies to boost US semiconductor production.
Lawmakers in the House of Representatives and the Senate are expected to hold their first formal meeting this week to work on rectifying differences in their two legislative versions, according to Reuters.
Supporters of the bill said the subsidies would help address the chip shortages, insulate the country from future supply chain disruptions in East Asia and counter China's tech rise.
"It is very difficult for government to intervene in technically very complex industries and very complex ecosystems and to do that effectively without radically disrupting," Melissa Griffith, director of emerging technology and national security at the Wilson Center, said in a webinar on Friday.
As for the Innovation Act, Griffith said: "I think we'd have more concerns to be worried, but we really don't know what that broader ecosystem is going to look like in terms of support going forward."
There might be "a window of opportunity" to limit China's growth in the short term, but it won't prevent China from becoming "a much stronger player" in the semiconductor over the long term, she said.
"East Asia has emerged as the chip-manufacturing hub and particularly the chip-manufacturing hub on leading-edge nodes," said Griffith. "It would be a waste of our money and our political effort (to build domestic manufacturing capacity) given that we compete across a wide variety of technologies," she said.
The semiconductor industry is a global ecosystem. Each segment of the semiconductor value chain has, on average, 25 countries involved in the direct supply chain and 23 countries involved in supporting market functions, according to a 2020 report by the Global Semiconductor Alliance and Accenture.
The researchers found components for a chip could travel over 40,000 kilometers before completion and a semiconductor product could cross international borders 70 or more times before finally making it to the end customer.
Global collaboration benefits not only individual companies but also the semiconductor industry, because it results in better products, fills critical business needs that can't be met locally and helps mitigate risks, said the report.
Morris Chang, the founder and former chairman of chip giant Taiwan Semiconductor Manufacturing Co, said the current US goals for domestic semiconductor manufacturing will be much more costly than projected.
'Expensive exercise'
US leaders should be aware that the current rush for reshoring could well overshoot and produce "high-unit cost" plants that will be "noncompetitive in world markets", he said in a podcast produced by the Washington-based Brookings Institution last month. "I think it will be a very expensive exercise in futility."
The idea of chip sovereignty has an instinctive appeal but it's "logistically unfeasible and prohibitively expensive", wrote Rakesh Kumar, a professor in the electrical and computer engineering department at the University of Illinois, in a recent article in Fortune.
The current global chip supply chains have been developed over decades, so it would take years or even decades to build replacement ecosystems, technologies and human resources in the US, he said.
Citing artificial intelligence chips, Griffith said not every chip needs to be made in the US, though some argue there's a national security rationale behind it.
First, it means "a lot of redundancy built into that supply chain at high cost", she said, and second, the innovation will suffer "if we radically hamstring that industry".
"When you start pulling apart a very global, very complex supply chain into very siloed pieces, you really curtail innovation," she said.