Makeshift hospitals within schools closed, disinfected as COVID-19 situation improves
Share - WeChat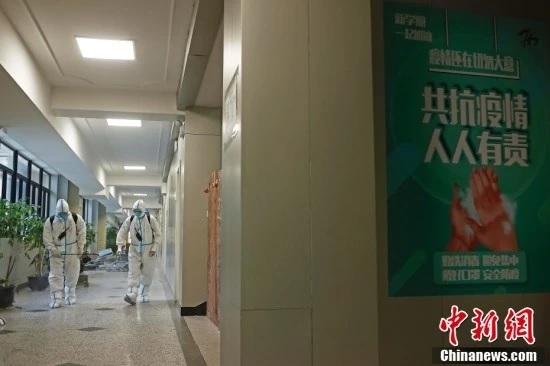 Makeshift hospitals set up within schools in Shanghai have gradually been closed following disinfection and safety evaluations as locally transmitted infection numbers continue to fall.
Shanghai Xijiao School, a school in Changning district to host a makeshift hospital, underwent a two-day disinfection which ended on Tuesday. Another round of disinfection will be carried out following an environmental assessment according to the report of local news portal the Paper.
The temporary makeshift hospital within the school housed over 300 patients from April 18 to May 5.
Shanghai will prioritize the closure of makeshift hospitals in school campuses as the city has effectively curbed the community transmission of COVID-19 in some districts, the municipal government said on Friday's press conference. According to related regulations, classrooms and school areas being used as makeshift hospitals will be disinfected by professional institutions.
According to Cai Enmao, deputy director of the Changning District Center for Disease Control and Prevention, disinfection measures vary depending on the environment. Hydrogen peroxide sprays are being used to disinfect the air while disinfectant wipes and mechanical spraying methods are adequate for most items and surfaces.
In addition, items such as curtains will be soaked or sprayed with disinfectant. Chlorine will be used for the treatment of places including toilets and sewers to ensure them free of the virus.
For corridors, medical workers will conduct on-site environmental testing, which includes nucleic acid sampling of surfaces, one to two hours after disinfection. A third-party testing organization will also assess the effectiveness of disinfection, Cai told the Paper.
"The whole process is supervised by experts to guarantee disinfection quality and standardization of procedures. On-site sampling and testing assessment are carried out at the same time. Analysis and more rounds of disinfection are required if standards are not met," he added.
In Baoshan district, the makeshift hospital at Luodian Middle School affiliated with Shanghai Normal University has undergone three rounds of cleaning and disinfection since May 5.
According to the school, environmental testing is now underway, and the fourth round of disinfection is expected to take place on May 15.