Farmers in Jiangxi become college tutors
Share - WeChat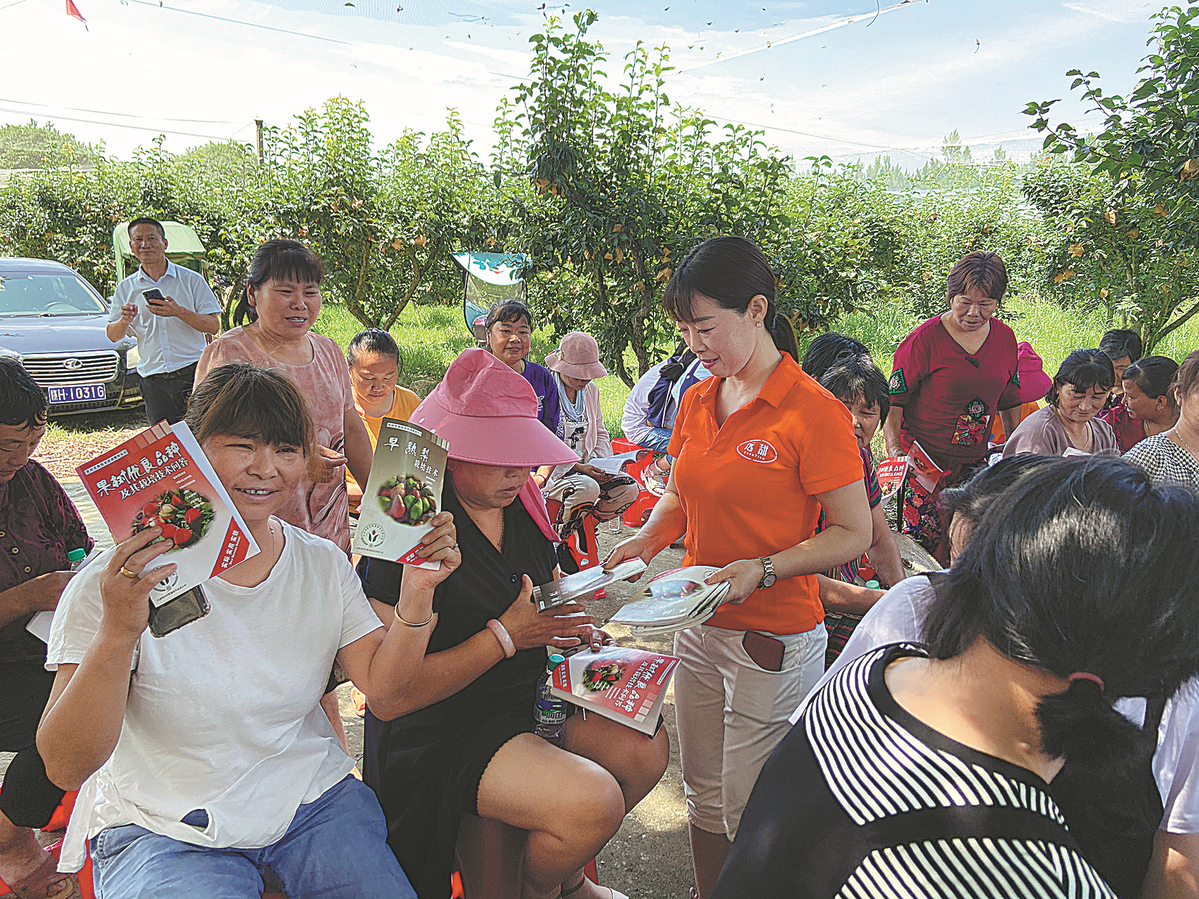 A farmer from Jiangxi province who was once a student of management has now become the teacher.
Wei Qiuxiang, 50, is passing along her knowledge of innovative agriculture after charting her own course nine years ago, when she wanted to learn how to grow her own business.
Wei, who is from Leping, a county-level city in Jiangxi, received her letter of appointment in March from Jiangxi Agricultural University and has given three lectures for the university's College of Continuing Education.
All of her students-more than 500-are farmers from across the province.
Since 2019, the college has invited 18 farmer tutors to spread their knowledge. They represent a new class of professional-grade growers and include the owners of large-scale farms, leaders of professional cooperatives and managers of agricultural companies.
They have shared their entrepreneurial experience in classrooms and carried out training in the field, delivering practical knowledge on planting, aquaculture and animal husbandry.
"I am a beneficiary of the innovation and reform," Wei said.
In the spring of 2013, she attended a two-year course on administrative management at Jiangxi Open University in Nanchang, which was part of a project the province promoted in 2011 to train specialized students-experienced farmers from rural areas.
As of the end of 2021, the province had invested 230 million yuan ($34.2 million) to train 63,000 high-caliber farmers who were willing to lead their rural peers on the road to prosperity.
Wei started her business by planting pear trees on 3.3 hectares of mountain land in Leping's Liantang village in 2001. She gathered her first harvest and had good sales in 2007-a success that induced other residents of Liantang to follow her lead.
To help more people achieve prosperity, Wei founded a cooperative focusing on planting pear trees in 2009.
"In 2013, I learned more about management, which brought many new ideas to transform traditional agriculture and help promote a new type of professional farmer," she said.
Currently, 113 farmers from nearby villages have joined the cooperative, which boasts around 140 hectares under cultivation, Wei said.
In 2018, Wei took part in another course at the university in Nanchang, where she gained more practical knowledge about planting and processing.
Other outstanding farmers, like Wei, have been selected since 2019 as tutors for innovation and entrepreneurship. Together with academic teachers, their lectures to farmer students have expanded, said Zhang Shuifa, deputy Party secretary of Jiangxi Agricultural University's College of Continuing Education.
"The first seven farmer tutors we invited in September 2019 were well received because their lectures were close to agricultural production and the needs of the students," he said. "So we launched a second round of appointments-11 tutors-in March and are planning courses for students in related agricultural majors across the university."
After taking a seven-day course at the college in September, Wang Yanping of Leping decided to change the planting structure of her orchard and vineyard.
"I had planted kiwi fruit and grapes on 6.7 hectares," she said. "In the training course, I learned that it was easier to manage the kiwis, which are less vulnerable to attack from pests and disease. They also have a higher price in the market."
So she swapped her grapes for kiwis.
"Experienced tutors like Wei Qiuxiang gave us a lot of help in planting technology, management and sales, and I hope to attend more such training courses in the future," Wang said.
Liu Xin, a senior student at the college, has made some key life decisions based on the experience of the farmer tutors.
"I have heard about these tutors, who have had different struggles in rural areas," Liu said. "I have decided to start my business in rural areas after graduation, and I hope to have a chance to get some lessons from them."