Lee scores sweeping win in HK vote
Share - WeChat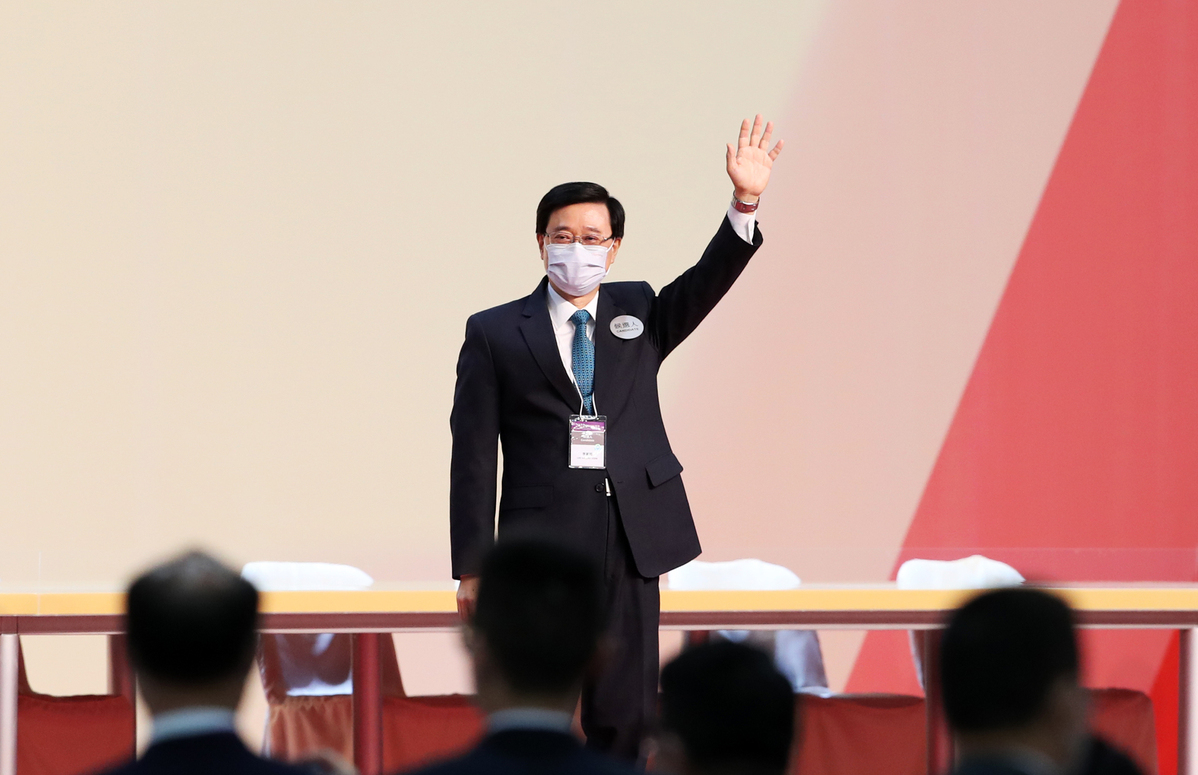 Chief executive-elect envisions inclusive society, chances for younger generation
John Lee Ka-chiu scored a resounding victory in the Hong Kong Special Administrative Region's election on Sunday, becoming the SAR's sixth-term chief executive-elect.
The former chief secretary won 1,416 votes, about 99 percent of the Election Committee members who cast their ballots, and far surpassing the threshold of 750 votes needed to win the election.
Lee is expected to take office on July 1, after being appointed by the central government, and will serve a five-year term.
Meeting with the media after winning the election, Lee said that in the next five years he will firmly safeguard the nation's core interests and the rule of law, and he will protect the city from internal and external threats to ensure its long-term stability.
Lee said he will prioritize tackling the most pressing issues-such as housing, healthcare and youth development-to build a caring, inclusive society, and to enhance upward mobility for the younger generation.
He vowed to proactively integrate the city into national development and expand its international connectivity to further consolidate its advantages and explore new opportunities.
Lee said he looks forward to starting a new chapter with Hong Kong communities and to building a caring, open and vibrant city that is full of hope, opportunities and harmony.
Hong Kong has accumulated many advantages since its return to the motherland, but internal frictions and external intervention brought chaos and hampered its development, he said.
Lee said that his government will be determined to confront the deeply entrenched issues that have faced Hong Kong for many years, take decisive steps and adopt efficient and effective actions to resolve them.
"I know there will be a lot of difficulties, but I still want to serve the city, as everything I have was given by the city," he said.
Going from being "a nobody" to his current position, Lee said, he got the rare opportunity to serve the city's communities.
He spoke of the election campaign as an "incredibly rewarding, inspiring and memorable experience", and he expressed gratitude to the people who have supported him and said that he is fully confident that he and his experienced team will lead the city toward a brighter future.
Lee stressed that his most urgent task is selecting proper candidates to form the new government.
Lee said he will invite capable and experienced patriots who have the passion and commitment to join his governing team.
Although he will take office in only two months, Lee said, he is confident that the city has many professionals who aspire to serve Hong Kong under the principle of "patriots administering Hong Kong".
He said his administration will work together with the Legislative Council to raise the city's governance capability.