Retirees in focus as new growth driver of tourism
Share - WeChat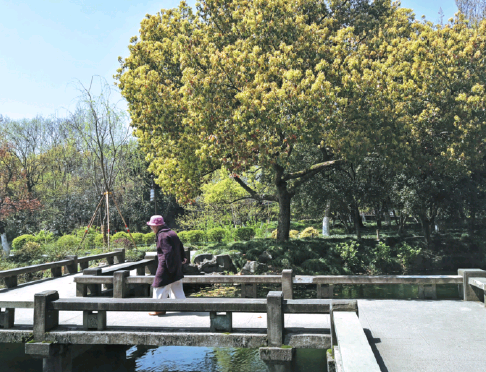 Both aged 61, a couple traveled across foreign countries by themselves using translation software, climbed snow-capped mountains in the northeastern province of Heilongjiang wearing crampons and drove 4,000 kilometers on a road trip, news website china.com.cn reported, commenting that they are living their post-retirement life like 20-year-olds.
The couple share their travel stories on the content-sharing platform of online travel agency Ctrip, under the account Muziyumuyi, which means Mu Zi and Mu Yi in Chinese. They have more than 2,700 followers.
With the aging of China's population, couples like them have emerged as important contributors to tourism. Tourism for the "silver generation" has drawn increased interest from tourism businesses as a new area of growth.
As of November 2020, Chinese mainland residents aged 60 and older totaled 264 million. The group accounted for 18.7 percent of the population, up 5.44 percentage points compared with 2010.
The average spend per senior traveler was around 3,000 yuan ($450) as of 2021. This was estimated to increase to more than 5,000 yuan in 2025, according to a report by Henan Daily based in Zhengzhou, Henan province.
By October 2021, the number of registered users aged 60 and above on Ctrip was up 22 percent year-on-year. The number of orders placed by senior users increased 37 percent over the first 10 months of 2020, according to china.com.cn.
"I have a lot of free time after retirement," a man surnamed Chang told Henan Daily. He and his wife took a Silk Road-themed railway tour in 2021 and enjoyed scenic sites such as Huoyan (Flaming) Mountain and Tianchi Lake.
"The long, slow journey of 16 days and 15 nights was very suitable for the elderly," Chang said. He added that he had made a list of the places he would like to visit as he wishes to travel around while he is healthy enough to do so.
"Senior tourism is not only beneficial to the physical and mental health of the elderly, but also a sign of the country's development and progress," said Gao Shunli, a researcher at the Tourism Research Centre of the Chinese Academy of Social Sciences.
He was speaking at the 2021 Academic Conference of the China Association of Gerontology and Geriatrics held in December, online news outlet ThePaper reported.
Senior tourism can give impetus to the development of elderly-related industries and serve as a new growth driver for the tourism industry, according to Gao.
Tour operators have been pondering how to increase their appeal to senior travelers.
"Being on the front line, we have clearly felt the changes in the senior tourism market," Fan Liang, director of product research and development at travel services provider Jianye Travel based in Henan, was quoted as saying by Henan Daily.
Fan said things like using apps are no longer a problem for some seniors, whose needs are becoming more diversified and personalized. A tourism business can no longer expect to attract senior customers by simply labeling their products as "senior-friendly".
Fan's view was echoed by Lei Yuping, vice-chairwoman of Henan-based tourism company Lushida.
She said travel agencies today are capable of assisting senior travelers during the trip, providing medical services and making commemorative photo albums, among others. In the future, they will look into services such as medical checkups, cultural experiences and social activities in a bid to make the trip more attractive.
Xie Xiaoqing, a senior researcher at a research institute affiliated with Ctrip, said senior travelers are paying more attention to the quality of experiences, as well as the cultural dimension of travel. To meet the demand of this huge consumer group, who possess both time and money, tourism businesses should develop related products in a more targeted and professional way to deliver better experiences to senior travelers.
Gao with the Tourism Research Centre noted, however, that it is not advisable to overestimate the development of senior tourism, which he considers to still be in its infancy.
"Senior travelers tend not to spend much on their trips and the development (of senior tourism) is unbalanced across different regions. But the conditions for accelerated development are maturing," Gao noted.