Ministry to shore up bottlenecks along transport infrastructure
Share - WeChat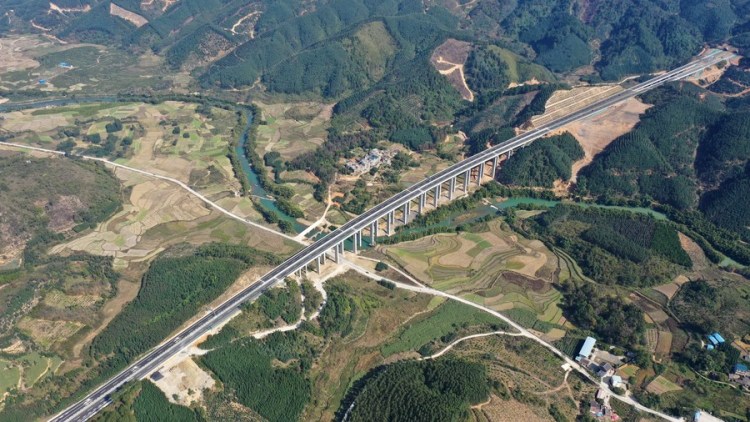 China will encourage investment in transport infrastructure construction, ensuring unimpeded logistics and helping solve the problems of enterprises to maintain a stable economy, a senior official from the Ministry of Transport said.
"Transportation and logistics are the arteries of the economy and important pillars to support people's livelihoods," Xu Chengguang, chief planner of the Ministry of Transport, told Xinhua News Agency.
China's transport sector operated smoothly in the first quarter of the year, with freight volume increasing by 1.5 percent year-on-year. Cargo handled at ports increased by 1.6 percent, and the sector's fixed-asset investment saw year-on-year growth of 9.8 percent.
However, since March, the latest outbreak of COVID-19 in China and the Ukraine crisis have brought challenges to the country's economy. The transport sector saw a drop in passengers and a logistics bottleneck, especially in cross-region freight transportation.
To tackle the problems, the sector will continue to invest in infrastructure construction, building a comprehensive transport network and promoting 102 major infrastructure and transport projects, Xu said.
From January to March, fixed-asset investment in the transport sector amounted to 636 billion yuan ($97 billion), up 9.8 percent year-on-year, according to the ministry.
The growth rate climbed 1 percentage point from the fourth quarter in 2021, providing effective support for stabilizing the macroeconomy, said Wang Songbo, an official with the ministry, at a recent news conference.
The majority of the funds went to road and waterway infrastructure construction, with investment in road construction rising 11.8 percent year-on-year to 481 billion yuan in the period.
Investment in waterway construction came in at 31 billion yuan from January to March, up 5.4 percent.
Xu said the sector will focus on bottlenecks to ensure unimpeded logistics, paying attention to key regions, key enterprises and to ensuring people's livelihoods.
The ministry has promoted the use of nationally recognized traffic permits and 24 provinces have adopted the use of them for truckers. The permit has a unified format, is recognized by local governments, is easy to apply for and valid at all checkpoints.
Other measures have been adopted such as establishing a white list for truckers, building more logistics transfer hubs, and setting up a white list system for key industrial and supply chain enterprises to meet the logistics needs of those companies.
Three additional hubs to transfer emergency supplies to Shanghai and nearby regions have been established to ensure people's livelihoods and the production of key industrial and supply chain enterprises.
Gridlocks in the national transport network have been eased but some problems still exist, such as barring trucks from regions categorized as medium and high-risk areas in some areas, Zhou Min, deputy head of the emergency response office from the Ministry of Transport, said at a news conference recently.
China has rolled out policies to relieve the burden on enterprises amid the epidemic, such as tax and rent deductions and reducing unemployment and injury insurance fees. It is also providing financial support such as continuing offering subsidies for the purchase of new energy vehicles and extending dates to repay loans.
The ministry will ensure State preferential policies are carried out in the sector and benefit enterprises.
The ministry will also guide passenger transport enterprises to develop new business, such as tailored services, Xu said.
Xinhua contributed to this story.