Wildlife snapper trains lens on plateau
Share - WeChat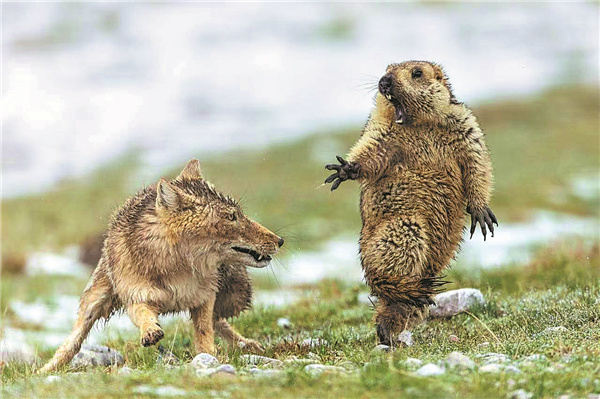 Dubbed the "roof of the world", the Qinghai-Tibet Plateau is often associated with snow-capped mountains, vast grasslands and a cold climate, but photographer Bao Yongqing has captured an entire wildlife paradise for the world to behold.
Bao, 56, won the prestigious title of wildlife photographer of the year in 2019 for his image, named The Moment, which captured a standoff between a Tibetan fox and a marmot.
The first Chinese photographer to receive the international honor, awarded annually by the Natural History Museum in London, Bao says he is happy to use his camera to bring the plateau to the world.
Bao was born in Tianjun county in Northwest China's Qinghai province. Part of the Qilian Mountain National Park, his hometown is ideal for capturing wildlife because of its rich biodiversity.
His odyssey with the camera began in 2012 when he was working at a local livestock company. As a hobby, he used to take pictures of animals in his spare time. However, thanks to the encouragement and influence of his photographer friends, it soon turned into a profession.