Diverse delights of Asian Games host city
Share - WeChat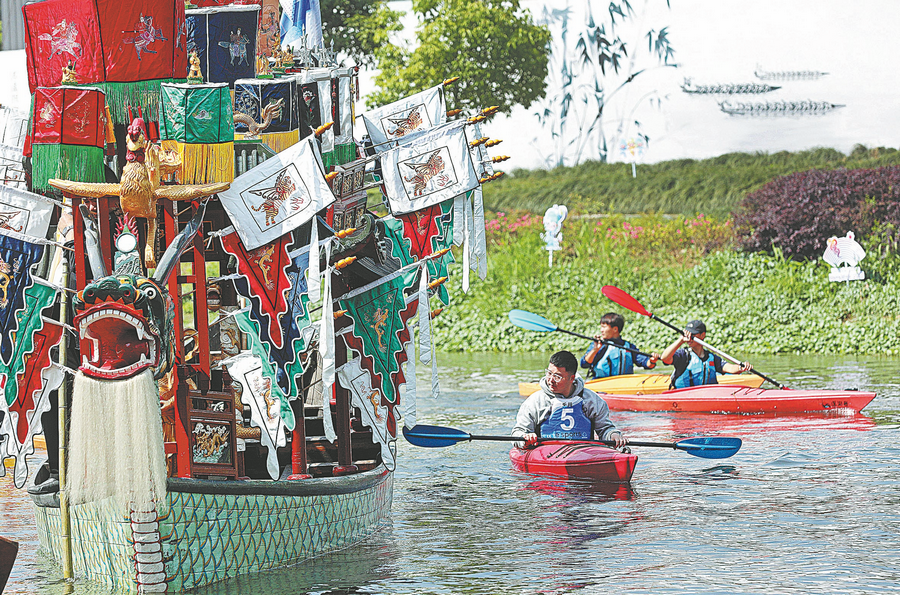 Day 2 Parent-child travel route recommended in Qiantang district
As many efforts have been made to sort out public cultural resources and bring back to life dormant areas, various visiting sites are proving popular for students and children to boost their awareness and carry forward an appreciation of cultural heritage.
For example, visitors can visit Wensli Xiasha Silk Industrial Park, Zhuoshang Clothing and Wahaha Industrial Park in Qiantang district for a day. Visitors can learn weaving techniques in the Silk Museum and experience activities such as picking mulberry leaves, and tying silk scarves here.
If you are interested in reading, Qiantang Study, close to the above-mentioned places, is a good choice and was rewarded as one of the 2021 Top 10 Most Beautiful Studies in Hangzhou.
It consists of a public lending area, children's activity space, exhibition hall and a cultural and creative display and sales space.
At present, there are more than 10,000 books in its collection, and visitors can avail of borrowing with ID cards, citizen cards, Alipay, etc. It also provides digital reading and audition experiences and also holds various cultural-themed activities.
Qiantang district will host several Asian Games competitions such as fencing, handball, roller skating and skateboarding, as well as some Asian Paralympic Games events, with a total of 72 gold medals to be rewarded here.
The skate park, especially, is well-received by young citizens. It consists of two major competition venues: street skateboarding and bowl skating.
Fang Xiaoying in Hangzhou contributed to this story.