Everybody's wild about the animal stars
Share - WeChat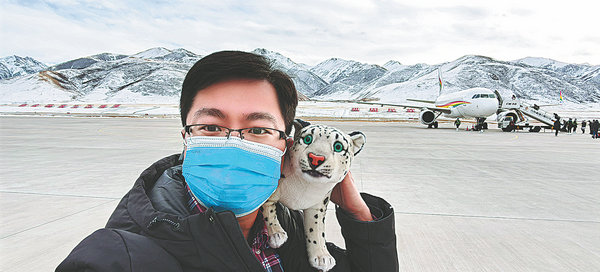 A small wildcat's flattened and rounded face, with ears set low on the sides of its head and gray fur interspersed with black dots, is Qi Xinzhang's profile picture on social media.
The adorable look of the cat-stocky build and fluffiness-makes it a favorite for visitors in the Xining Wildlife Park located on a mountain in the capital of Northwest China's Qinghai province.
The Pallas's cat, also known as manul, inhabits mountains and steppe grasslands, and its range includes high-altitude Central Asia. It is among the national protected animal species in China.
Internet viewers pour in when Qi, 38, deputy director of the park, live streams the animal's daily activities in the park through social media.
He manages to stream once a week, taking viewers on a tour of the park and dispensing his expertise relating to animal science and conservation. The park, with 42 keepers, is home to more than 1,100 animals of more than 100 species.
"It looks like a cat, and of a similar size," Qi said. "Its cute but grumpy facial expression makes people feel that it is always looking down on everyone. Young people love it."
Pallas's cats bred in captivity in Qi's park were cubs rescued from the wild due to injuries. The park also takes in the Qinghai Wildlife Rescue and Breeding Center, which rescues wild animals.
Most Popular