Coal, fracking on horizon as UK redraws energy plans
Share - WeChat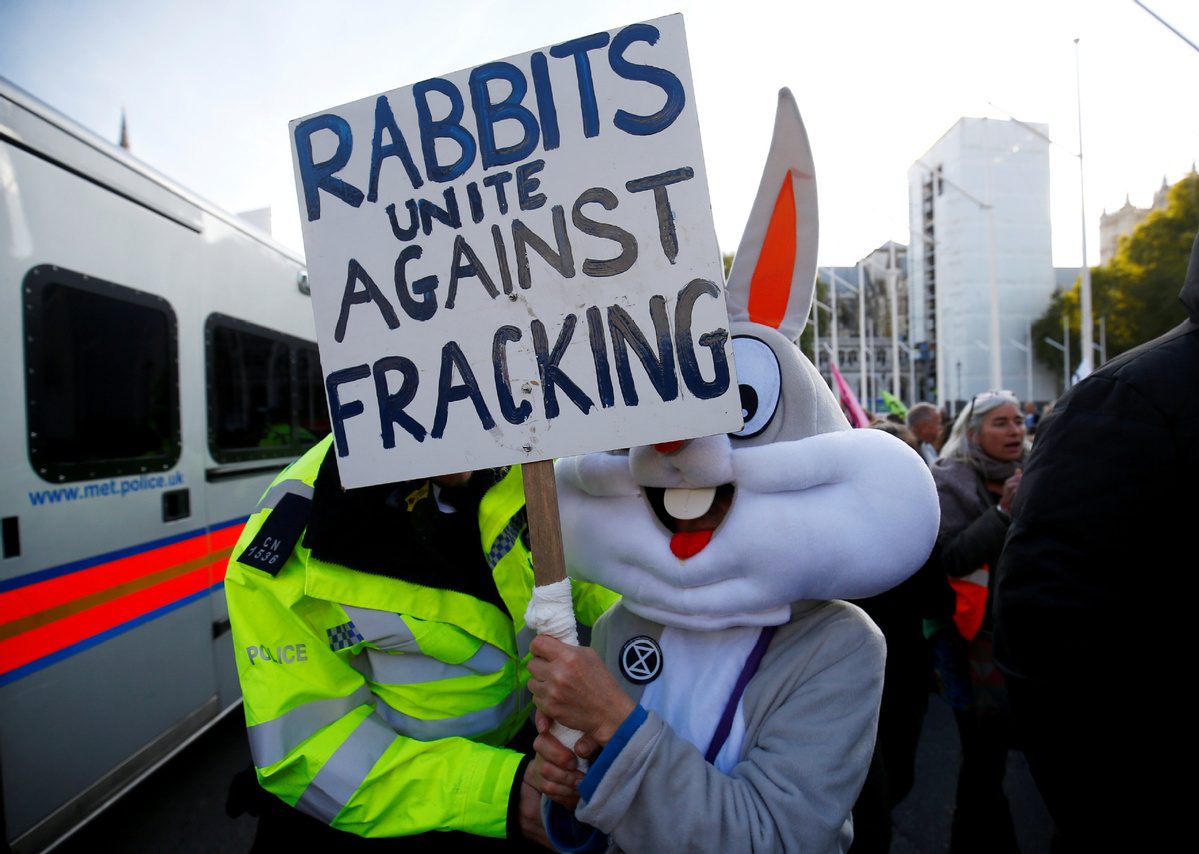 Once hailed as a prime mover on net-zero emissions commitments, the United Kingdom is redrawing its plans for homegrown fossil fuels in response to the hike in global gas prices and the crisis in Ukraine.
Britain's nascent fracking industry looked set to fizzle out entirely in February, when regulators instructed oil and gas company Cuadrilla to pour concrete and seal up the only two shale gas wells in the nation, which were mothballed after a 2019 fracking moratorium.
Fracking in the UK has proved complicated for an array of reasons, and, for many, persevering with the controversial method of drawing fossil fuel from the ground is at odds with the country's pledge to achieve net-zero emissions by 2050.
But Cuadrilla has now been told not to cap its wells for another year at least, since the UK is considering lifting the fracking ban. Prime Minister Boris Johnson then followed up in the recent Energy Strategy with plans to give the "fields of the North Sea a new lease of life" and greenlight new projects for offshore gas and oil.
The surprise moves kept coming this week, when reports emerged that the UK may soon get its first new coal mine in 30 years. If given approval early in the summer, British company West Cumbria Mining will set about extracting coal from beneath the Irish Sea, The Telegraph reported on Tuesday.
Environmentalists and opposition politicians have criticized this flurry of activity in the UK fossil fuel sector, which the government admits will do nothing to lower rapidly rising household energy bills.
Softening of rhetoric
Prime Minister Johnson added in the Energy Strategy that "net zero is a smooth transition, not an immediate execution, for oil and gas". This represents a softening of rhetoric from November, when the UK urged other nations to scale back new fossil fuel projects at the United Nations Climate Change Conference, or COP26, in Glasgow.
It appears that for Johnson and his Cabinet, security has risen above the green transition on the energy agenda, at least for now. Earlier this month, Business Secretary Kwasi Kwarteng said that the conflict in Ukraine meant that the government should "keep all possible energy generation and production methods on the table".
A return to fracking is controversial in the UK, which imposed a moratorium on the practice in 2011 and again in 2019 after drilling caused minor tremors. In the newly launched consultation, the government asked the British Geological Survey to report back on any "new developments in the science of fracking" that could "reduce the risk and magnitude of seismic events".
Stuart Haszeldine, a geologist at the University of Edinburgh, said this line of inquiry is unlikely to bear fruit.
"It's clear that there is no new evidence on fracking in the UK," Haszeldine said. "I expect that Cuadrilla will not argue fracking progress in science, but will argue that the felt effect of these tremors at the surface was very small."
In theory, fracking could bolster UK domestic gas production, which has not met overall demand since North Sea reserves entered a notable decline after the turn of this century. But estimates of how much gas resides below British soil vary hugely, from around 4 trillion cubic meters to 65 trillion cubic meters, depending on the study.
Optimistic estimates suggest that shale gas reserves are capable of meeting demand in the UK for around 40 years. But Haszeldine said that recent laboratory analysis of rock samples indicates that reserves would be depleted after just four years.
"Shale gas was likely generated during burial 280 million years ago," Haszeldine said. "That is a very long time ago, and the gas has leaked away through the very abundant fractures and faults of UK geology."
Haszeldine said that in order to access the remaining shale gas, thousands of boreholes will need to be drilled and become operational within the next decade.
"The UK has no suitable industry of deep drilling for horizontal holes and no high pressure fracking industry," Haszeldine said.
Danny Gross, an energy campaigner at Friends of the Earth, said that fracking is a waste of time and resources that could be used on less speculative technology.
"Renewable energy, alongside a massive program to insulate the country's inefficient homes, is the quickest and cleanest way to bring down soaring energy costs," Gross said.
Motive questioned
Some have questioned if the government's plans for new fossil fuel projects are partly politically motivated, as the energy crisis has provided ammunition to a group of 30 members of Parliament known as the Net Zero Scrutiny Group, which opposes the 2050 net zero pledge.
The group has risen in prominence after linking the cost-of-living crisis to environmental levies intended to help fund the green transition.
angus@mail.chinadailyuk.com