Valiant volunteer drivers pitch in to help Shanghai
Share - WeChat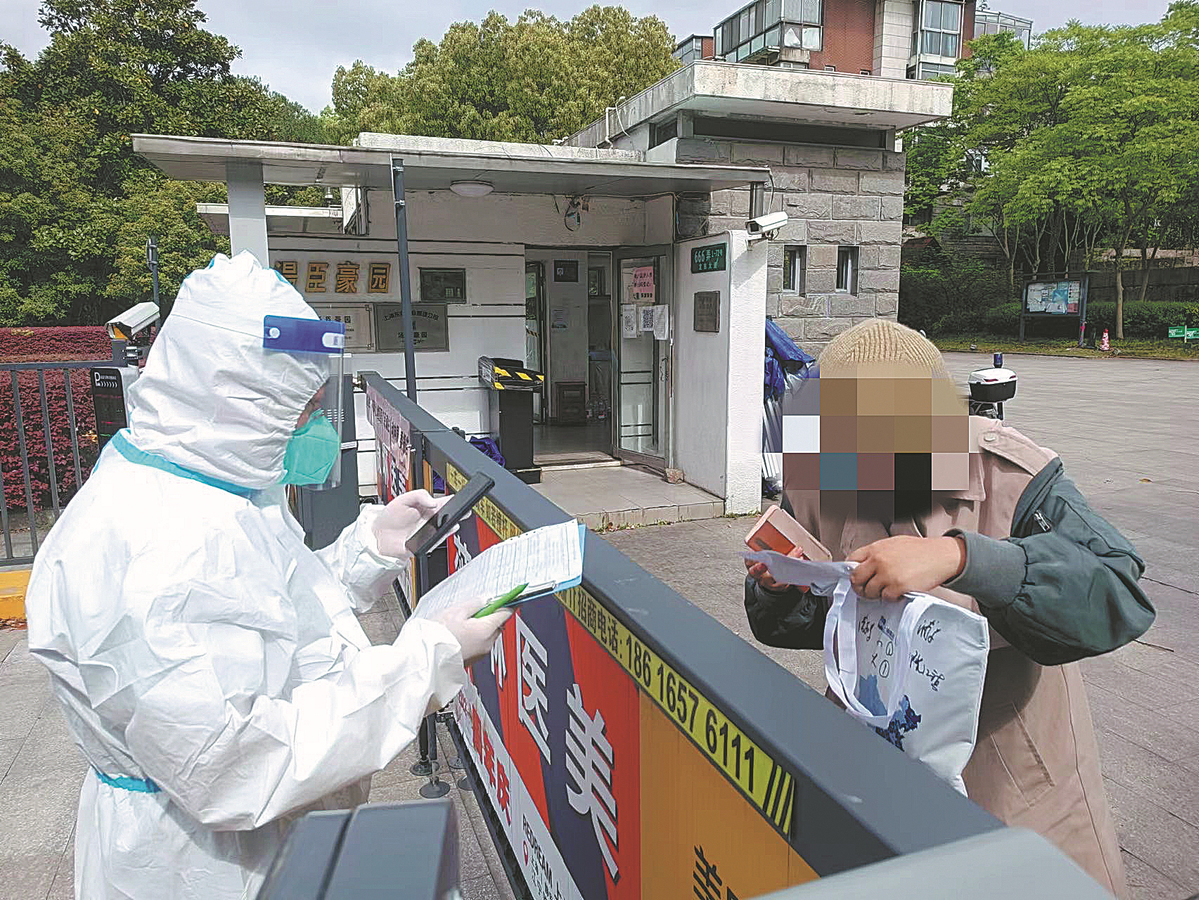 Team delivers lifesaving drugs to patients across city
Since early this month, Zhu Yang, 59, a senior drug development researcher at Shanghai Pharmaceuticals Holding Co, has also been acting as a courier delivering medicines-lifesaving ones in many cases-to patients in urgent need.
He and about 50 colleagues formed a volunteer drug delivery team, using their cars to ensure patients obtain medication during the lockdown imposed in Shanghai due to the recent COVID-19 outbreak.
The medication they deliver is usually innovative drugs, and in some cases "orphan drugs", which are used mainly to treat urgent and life-threatening diseases such as cancer.
Discontinued use of such drugs can be highly risky. For example, a hemophilia patient that stops using the medication may experience within hours that their blood does not coagulate, according to experts.
"For many such patients, taking these drugs is even more important to some extent than having meals," Zhu said, adding that this prompted him to join the volunteer team.
Pang Tingyu, vice-president of Shanghai Pharma Health Commerce Co, which is affiliated with Shanghai Pharmaceuticals Holding Co, said the team can deliver about 1,000 orders a day, ensuring that in most cases patients receive their medication a day after ordering it.
SPHC's Yiyao Pharmacy is the largest delivery platform in China for new, special and rare drugs. With services at hospitals in Shanghai interrupted due to epidemic control measures, many patients have turned to pharmacies to order medication.
Orders placed online have soared, with the Yiyao Pharmacy platform supplying some 80 percent of innovative drugs in the city.
The pharmacy used to have a team of 15 drug deliverers, but their ranks were reduced to just six after the lockdown was imposed, when individuals were required to stay home.
The platform asked for support from its parent company, other platforms in the industry and partners to see if any workers were willing to join a team delivering lifesaving drugs to patients. Numerous acceptances were received, with the team comprising some 50 members around April 10.
Their delivery range covers the entire city, with the most-distant orders being placed in suburban districts such as Jinshan and Chongming, which require round trips of three hours or more from downtown areas even though there is less traffic on the roads due to the lockdown.
Pang said many people used to require such drugs during hospital treatment, but due to the lockdown, the number of patients at home has far exceeded those in hospital.
"The distance traveled by delivery drivers, and the frequency of their trips, both increased. Before the lockdown, if they delivered the drugs to patients at hospitals, they could complete perhaps 10 orders at a time. But now, they have to make delivery runs to 10 patients' homes," she said.
Xiang Enliang, general manager of an innovative and special drugs division at SPHC, said volunteers were not recruited from outside to deliver such medication, which must usually be kept in cold chains throughout the entire process. This was because such deliveries are especially important and no mistakes can be made.
Tricky work
Zhu, the senior drug development researcher, was the first to start working on the team every day. Like many other volunteers, he has worked nonstop on a daily basis, delivering an average of 20 orders.
Every day, each volunteer driver usually delivers drugs in the same area of the city. Zhu, who led a team to develop a drug to treat bird flu in 2005, for which he received a national model worker award, said he always picks up orders received from patients on the city's outskirts, frequently working from 8 am to 8 pm.
After Zhu receives orders, colleagues on his research and development team help him work out the best route to save time.
The volunteers-men and women-live in a storage area at the pharmaceutical platform. Before they set out to deliver orders, they pack a drink and snacks. They also try to go to the washroom before they depart, as they have to wear protective suits while they work.
Fu Qiuyan, a volunteer and deputy general manager of quality management at Shanghai Pharma, said that to avoid inconvenience, she only drinks a little water after getting up every morning.
The volunteers said the lockdown has made their delivery work challenging.
Zhu said, "As many streets are blocked and fenced off, and compounds and villages only leave one entrance due to epidemic control measures, sometimes it can take more than an hour to reach a destination that is close by on a GPS map."
On Monday, as volunteer Liu Guolong was on his way to make a delivery to Chongming Island, 100 kilometers from the downtown area, Shanghai was hit by a rainstorm. Many roads to the island were blocked and Liu, a manager at Shanghai Pharma's information technology center, got a flat tire.
After asking police for help, he found an auto repair shop, but it had no replacement tire. He finally got his car back on the road at around 7 pm.
Pang said, "Liu was driving in Chongming on a dark, stormy night. We persuaded him to return, but not before he insisted on delivering the 10 drug orders to patients."
Liu said: "It was nearly 11 pm when I delivered the last orders. I remember one customer, a middle-aged woman who needed drugs for her husband. She said it was finally her lucky day that she had obtained the drugs after searching for them on various channels.
"One elderly woman even laid out vegetables, milk and snacks for me when she learned that I hadn't eaten all day."
Liu added that he didn't have any "lofty intentions" when he joined the volunteer team. "I just want to help the city when it is in difficulty and also be a role model to my two children, who are at middle school," he said.
The volunteers said that in most cases, patients keep thanking them after they receive their drugs, but sometimes they ask why they cannot obtain a drug with a more recent production date.
"If they are hesitant about accepting the drugs, the volunteers contact our office, and we help check with the manufacturer to see if there are newer batches available in Shanghai and elsewhere in the country," Pang said.
She added that checks are made to see if patients have sufficient drugs on hand before replacements are provided.
Women's role
Xiang, a division manager at SPHC, said about one-third of the volunteers are women, who have shown resilience to stress and a steely determination to do their job.
"We usually suggest that they initially work at headquarters. Some volunteer to join the delivery team later, where they quickly excel at their work. They play an important role in ensuring the platform provides high-quality service throughout its work procedures," Xiang said.
Yang Yan, deputy general manager of SPHC's branch in Jiaxing city, Zhejiang province, who became a volunteer on April 2, said the delivery work sometimes requires all her strength.
For example, she once had to deliver two or three large and heavy boxes of medication to one patient.
"If there have been any COVID-19 infections within the past seven days at the building a patient lives in, he or she cannot come to the compound gate to fetch the medication, according to epidemic control protocols," Yang said.
If a compound is locked down, Yang said the delivery drivers leave the medication on a shelf at the community gate, reminding the patient to collect it as soon as possible.
"As some targeted therapies are expensive, we ensure that they are not lost throughout the delivery process and that they reach patients safely and as quickly as possible," she said.
Many of the volunteers, including Yang and Fu, hold managerial positions. In addition to dealing with tight work schedules, they devote their spare time to delivering the drugs. Sometimes they even drive to deliver medication while chairing virtual meetings.
Fu said: "I just wanted to do something meaningful to help others. By taking drugs to patients, some of whom are clearly worried, I feel I am playing a valuable role, and I get a sense of excitement when the delivery is made."
Volunteer Shen Jialin calls patients to confirm their orders before the couriers leave to deliver the drugs.
She said that while many patients say they are going to run out of drugs soon, or that their supplies are already exhausted, they always express deep gratitude.
"They often remind the volunteers to protect themselves carefully throughout the delivery process," said Shen, a manager at Shanghai Pharma's medicine research and development center.
Liu, the volunteer, said: "Driving through the streets during the lockdown in Shanghai, we have witnessed the city and its residents making various efforts and sacrifices to abide by the dynamic zero-COVID policy. We firmly believe the city will recover and that life will return to normal soon."