It's time to heed the voice of the youth
Share - WeChat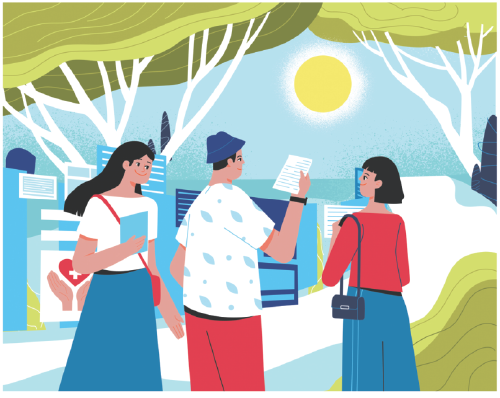 The voice of the youth should be heard, especially in these times when the global landscape is changing at a rapid pace. True, while some young people have chosen to "lie flat", opting out of the race to build a better career, most youths are still striving for a better life and are becoming the main force in global communication in the era of social media.
In particular, the potential of Generation Z, that is, those born between 1995 and 2009, should not be underestimated. As the first social generation to have grown up having access to the internet and portable digital technology, Gen Z has been dubbed "digital natives" and accounts for about 24 percent of the world's population.
In order to bridge the global divide between countries, people need to learn about different cultures and the characteristics of the youth in different countries, and find the best way to establish and continue intercultural communication amid rising complexities and uncertainties across the world.
Compared with other generations, Gen Z sees social media as the best source of news and best channel to connect with each other.
Given these facts, China should develop new communication channels and help Chinese youths to develop new communication skills to better publicize Chinese culture among their counterparts in other countries.
The greatest wealth and strength of any nation is its youth. So the leadership needs to create international exchange programs to enhance the youths' individual and social development, because those who participate in such activities are more likely to meet with and befriend youths from other countries and cultures, which could influence the rest of their lives.
A good example of such programs are the people-to-people exchange events the Chinese Communist Youth League Central Committee organizes every year which allows foreign students to attend seminars and engage in different activities, even live with a host family to better understand Chinese culture.
Currently, online programs are organized to help Chinese and foreign youths feel connected amid the COVID-19 pandemic. Therefore, innovative ideas need to be used to boost international exchanges for Gen Z, so that they can promote traditional Chinese culture across the world during the pandemic.
The key to establishing good communication with adolescents is to talk in a way they are familiar and comfortable with. It is important to provide them with down-to-earth information, tell exciting stories, and help them develop a deep affection for Chinese culture and solve the cultural communication problem.
Foreign students studying in China, too, can help promote Chinese culture across the world, not least because they have a relatively good understanding about China and can deftly use social media, and their expressions can be more easily understood and appreciated by youths of other countries.
Besides, Gen Z is more likely to understand and appreciate different world views. Yet it needs to know the real conditions of China and other countries to realize the difference between theory and practice.
Chinese adolescents should also be encouraged to travel and communicate with their peers to develop a deep affection for the motherland, which in turn will prompt them to foster cultural exchanges.
The world is undergoing unprecedented changes and some Western countries have been desperately trying to contain China. As such, China, after having ended the era characterized by poverty, foreign invasions and bullying, now needs to take measures to stop the West from "scolding" it any further.
In other words, China should take advantage of the younger generation and social media to tell its stories and make its voice heard globally.
The author is a member of the All-China Youth Federation and director of the Institute for Dialogue of World Civilizations at Huaqiao University.
The opinions expressed here are those of the writer and do not necessarily represent the views of China Daily and China Daily website.
If you have a specific expertise, or would like to share your thought about our stories, then send us your writings at opinion@chinadaily.com.cn, and comment@chinadaily.com.cn.

Most Viewed in 24 Hours
China Views