Dynamic zero-COVID policy remains an effective response
Share - WeChat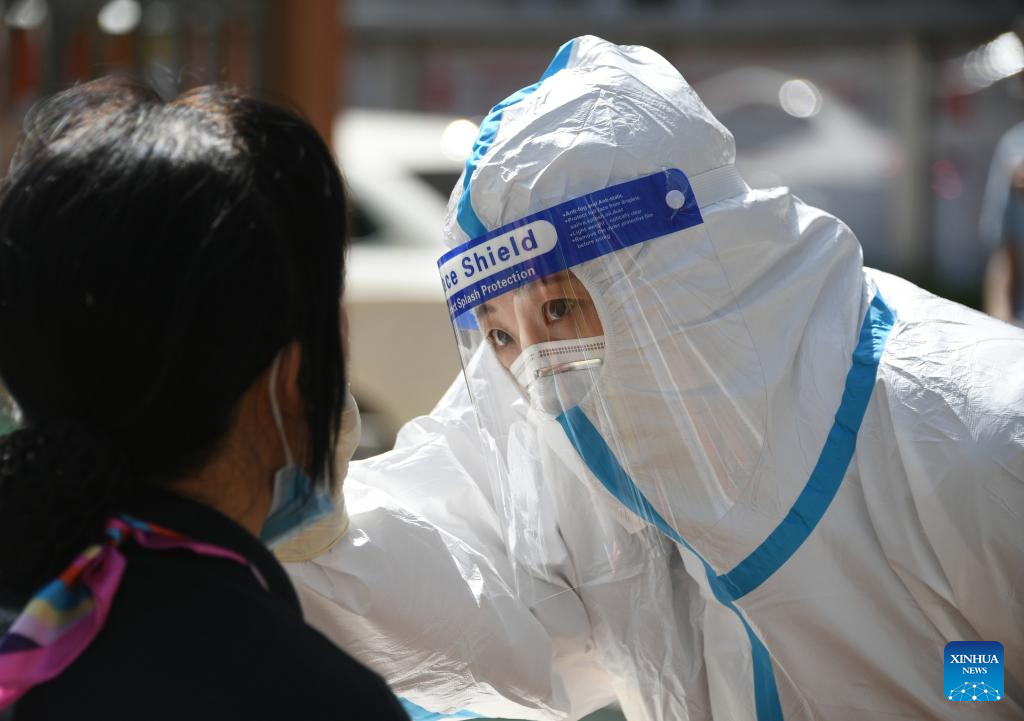 The world has been grappling with waves of COVID-19 and its variants over the past two years, with response measures changing multiple times as case numbers rise and fall, often leaving people confused about which guidelines to follow.
Against this ever-shifting background, China has consistently enforced a policy and has been effective in stemming widespread infections and saving hundreds of thousands of lives. The successful hosting of the 2022 Beijing Winter Olympics amid a pandemic speaks volumes about the efficacy of this strategy.
The latest community outbreaks in Shanghai, however, have led some to question whether it is time for China to ditch the policy. Western media are quick to report rising cases as evidence of an outdated strategy. Their conclusion? Continuing the zero-COVID policy is a mission impossible given extensive infections worldwide, and China should lift all restrictions as many other countries have and rely on natural infection and vaccines to achieve herd immunity among its people. It is also asserted that adhering to the policy is unscientific and unnecessary and runs counter to the idea of keeping in step with times as eradicating the virus is unattainable when most countries have opted to "co-exist" with it.
While some Chinese might find this kind of argument credible, their interests are better served by taking a closer look at the reality. The case numbers in Shanghai have stabilized lately and are trending downward, evincing the resilience of the zero-COVID policy. What is also worth noting is that the current policy is a dynamic clearing strategy geared toward localized precision response and recovery, which is a significant improvement upon its practice early in the pandemic. The evolution of the policy demonstrates its capacity to change with the demands of the time. To quit a strategy that still works does not sound like a well-informed decision.
Just because everyone else is dropping guard does not necessarily mean it is wise to follow suit. The herd immunity approach as practiced by most developed countries has yet to stand the test of time. Its track record can at best be described as disappointing as the hitherto nearly one million death toll of the United States – the leading champion of this approach -- attests. Furthermore, the approach is plagued by vaccine hesitancy among key segments of society, breakthrough cases despite full vaccination, and the appearance of new variants that may evade existing vaccines altogether. It appears that frequent cross infections – the process herd immunity theorists have hoped would help people achieve herd immunity -- have enabled the novel coronavirus to mutate faster than we can muster enough immunity to thwart it.
Given the lackluster performance of the herd immunity approach and the high degree of mutability of the novel coronavirus, the best defense remains a two-pronged strategy: building up people's immunity through vaccination programs while doing all one can to cut off transmission, the very approach China implemented from day one.
The benefits of China's zero-COVID policy? It allowed the country to quickly contain an outbreak, eliminate infections, and restore people's lives and economic activities in the shortest possible time. As a result, China is the only country that has posted positive economic growth for two years running since early 2020. It has shipped more vaccines and medical supplies than any other country has promised or delivered. It remains the most vibrant manufacturing hub of global supply chains despite earlier attempts to limit trade with or divert manufacturing away from it on security grounds.
Contrary to popular belief, the idea of herd immunity did not originate in science; it is more a choice made for political expedience than a policy born of science. Early in the pandemic, COVID-19 cases in Britain skyrocketed. To prevent the disease from overwhelming the country's public health system Prime Minister Johnson came up with herd immunity as his government's emergency response. Throughout the pandemic resistance to masking mandate, social distancing and vaccination – things that health authorities and medical experts believe provide effective protection against COVID-19 – persisted in many developed countries such as the US, Canada, and France. In Canada, Freedom Convoy truckers forced government to lift virtually all restrictions in March, leaving the fight against the virus to chance.
But what if the odds are stacked against us? So many questions remain unanswered about COVID-19 – its long-term health effects on people, its ability to evade detection, and its chains of transmission with each new variant – that leaving things to herd immunity looks like a gambler's bet. Tuning in on CBC Radio on the daily commute and listening to doctors talking about these unknowns and recommending caution, this author often finds it incredible that much of the developed world – the governments and a big swathe of their people – is putting its faith in one path and one outcome.
And what about the moral dimension of herd immunity few seem to have thought about? Even if herd immunity does work in the end – I sincerely hope it does for my selfish reasons – those who die of natural or breakthrough infections in the process may never have had a say in the matter even if they may not agree to this policy choice. It reminds me of the devastation smallpox brought to many native American communities following European contact. It is estimated that the disease killed nine out of 10 Native Americans who never developed immunity against it.
China's policy so far remains an effective safeguard against uncertainty and human-induced tragedy. It buys mankind time to develop new vaccines and treatments while reducing the chances of the virus mutating. It puts people's lives first instead of politicians' careers. We may eventually end up co-existing with COVID-19, but "peace" is achieved not by prematurely letting down one's arms but by learning how to fend off the foe effectively. From a diversity perspective, China's approach offers us as an extra layer of protection against the virus; should herd immunity fail we have at least one recourse to fall back on. So let us wish China's zero-COVID policy well for our own good.
The author teaches in Canada. He writes on current affairs.
The opinions expressed here are those of the writer and do not necessarily represent the views of China Daily and China Daily website.
If you have a specific expertise, or would like to share your thought about our stories, then send us your writings at opinion@chinadaily.com.cn, and comment@chinadaily.com.cn.
Most Viewed in 24 Hours
China Views