Tough steps needed to cut COVID-19 transmission
Share - WeChat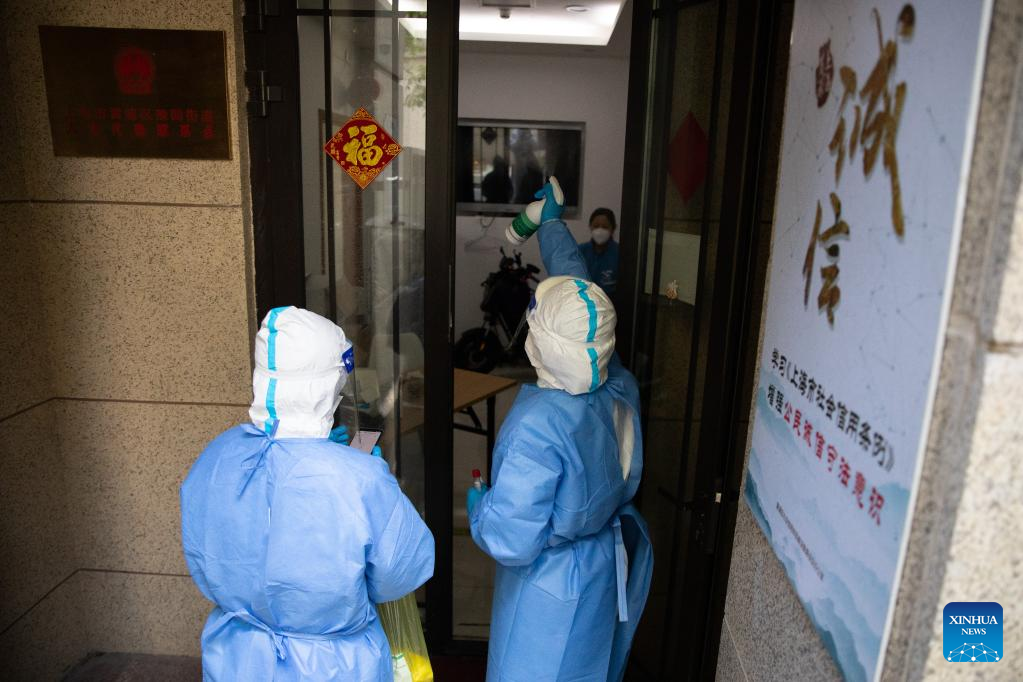 China has entered a new stage in its fight against the COVID-19 epidemic that calls for earlier detection and faster action to cope with the rapidly spreading Omicron variant, said Ma Xiaowei, minister of the National Health Commission.
Faced with the highly transmissible Omicron strain, the country should roll out the strictest, most thorough and resolute measures to coordinate comprehensive steps and cut transmission in the shortest possible time, he wrote in a signed article published on Monday.
Relaxing COVID-19 disease control measures will threaten to stretch the country's unevenly distributed medical systems too thin and hurt its large number of elderly and vulnerable people, he said.
In the article, Ma made it clear that China has entered the fourth stage of its battle against the disease. The first three phases covered the epidemic centering in Hubei province; exploring and implementing regular disease control measures; and initiating the dynamic zero-COVID strategy.
While urging unswerving adherence to the dynamic zero-COVID strategy, Ma said upgraded measures are needed in the current stage, such as adding antigen tests to mass screening campaigns and expanding the capacity of quarantine facilities and makeshift hospitals.
The article was published in Study Times, a newspaper administered by the Party School of the Central Committee of the Communist Party of China. It comes at a time when China is battling a severe wave of COVID-19 outbreaks fueled by the highly infectious Omicron variant, and its economic powerhouse of Shanghai has confronted weeks of surging infections.
As the recent epidemic triggered debates over the rationality of persisting with the dynamic clearance approach, Ma said it is essential to take a clear-cut stand against erroneous thoughts such as "coexisting with the virus" or "the novel coronavirus is becoming flu-like".
"We must continue to improve our disease control measures and achieve the goal of cutting transmission in communities in the most determined, resolute and comprehensive manner," he said. The fundamental goal of adopting the dynamic zero-COVID policy has always been safeguarding the health of our people, he added.
Given that China has the world's largest population, but uneven development across vast amounts of land and a shortage of overall healthcare resources, easing disease control measures in the face of frequent COVID-19 cases would take a heavy toll on people's lives, as well as social and economic development, he said.
"If we abandon prevention efforts and relax treatment measures, China's medical systems will be overwhelmed and the health of its large number of people with underlying illnesses, the elderly, children and pregnant women will be at risk," he said.
"Such consequences will not be accepted by our people, nor will it be allowed to happen under the leadership of the Party and government," he said.
Shanghai reported seven COVID-19 deaths on Monday, following three deaths announced on Sunday. The 10 people who died were between the ages of 60 and 101, unvaccinated and suffered from serious underlying ailments such as heart disease, diabetes and cerebral hemorrhaging, according to the city's health authorities.
Advanced measures needed
According to data released on Tuesday, the Chinese mainland had 3,297 locally transmitted new COVID-19 cases and 18,187 local asymptomatic cases on Monday.
Wu Liangyou, deputy director of the commission's Bureau of Disease Prevention and Control, said on Tuesday the most recent wave of the epidemic has begun to stabilize, but the cross-regional spread of the virus remains serious, and achieving the goal of dynamically clearing cases remains an arduous task.
In the article, Ma, the minister of the National Health Commission, stressed the need to tailor disease control toolkits to cope with the current strain of Omicron, which is transmitted in a faster and more covert way than the Delta strain, its predecessor. Because a large proportion of those infected by the Omicron strain are asymptomatic, China's monitoring defense against COVID-19 should be strengthened, he said.
"In addition to fever sentinel clinics, mass screening of key groups and quick reporting, we should make full use of rapid and convenient antigen tests and integrate that method with nucleic acid testing," Ma said.
As Omicron can lead to a spike in new cases in a short time, Ma said the shortage of quarantine sites and temporary hospitals, the most acute problem at the moment, must be addressed.
Only when sufficient isolation facilities are available, and all patients with asymptomatic and mild cases are admitted to makeshift hospitals, can effective control of Omicron outbreaks be attained while guaranteeing a smooth and consistent provision of normal medical services, he said.
To relieve the burden on healthcare systems requires the timely triage of COVID-19 patients, Ma said. He specified that people who show pneumonia-like symptoms and suffer from chronic diseases, particularly when they are elderly or children, should be admitted to designated hospitals.
"Mild and symptom-free cases should be received by makeshift hospitals, and patients who have recovered should return home for self-isolation, so as to prevent them from taking up daily hospital resources," he said.
Meanwhile, Ma stressed, heightened attention should be given to meet people's normal medical and healthcare needs.
"General hospitals, children's hospitals and maternal and childcare health centers should provide regular services as usual (during a local outbreak)," he said, adding that special channels in locked-down areas should be provided for people in need, including those with chronic diseases or in critical condition.