Technology makes Xinjiang farming more efficient
Share - WeChat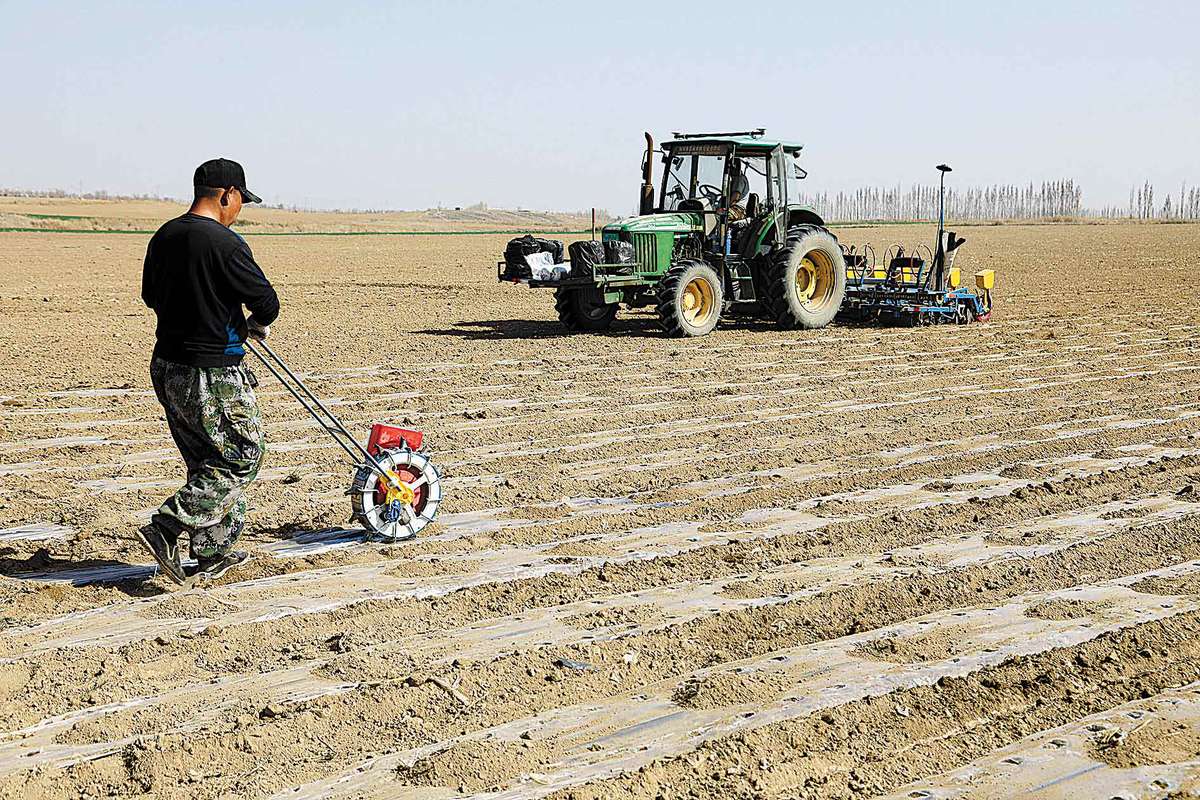 With the help of technology and automated agricultural machinery, spring plowing in the Xinjiang Uygur autonomous region this year has become more efficient, and the cost of labor has been significantly reduced, farmers and farming experts said.
At a farm in Yuli county in the Bayingolin Mongol autonomous prefecture, farmers at Zhongwang cooperative have been using tractors equipped with the Beidou Satellite Navigation System to sow cotton since April 3.
Using the Beidou system to plant cotton has already become a common practice in Xinjiang. It helps farmers plant faster and ensures the cotton can also be picked with machinery during the harvest season, said Guo Shixue, head of the technological support department of the cooperative.
"We are planting 4,400 hectares of cotton and 200 hectares of wheat this year. The degree of mechanization in cotton sowing is about 95 percent, while it can reach 98 percent when we plant wheat. The use of automated agricultural machinery has significantly cut the cost of labor," Guo said. "In fact, we don't even need drivers for the tractors because they can be autopiloted. We only keep them behind the wheel for safety purposes."
A tractor equipped with the Beidou system can plant 8 hectares of cotton a day, while reaching the same daily target would require at least 30 people working non-stop. Also, it's difficult to guarantee the quality of sowing, he said.
Eni Wupur, director of the county's agricultural machinery technology promotion center, said the degree of mechanization in the farming sector in Yuli has reached 98 percent. The county plans to plant more than 66,600 hectares of cotton this year, which is about the same as last year. "We will continue to promote the use of automated and intelligent agricultural machinery to make cultivation more efficient."
Xinjiang produced 5.13 million metric tons of cotton in 2021, which accounted for 89.5 percent of China's total. This year, the region plans to produce more than 5 million tons of cotton, according to the department of agriculture and rural affairs of Xinjiang.
By April 6, sowing on 337,000 hectares of farmland in the region had been completed, an increase of 33,000 hectares year-on-year, which means that the speed of spring plowing has increased. Besides cotton, more than 100,000 hectares of spring wheat and corn have been planted so far, an increase of over 26,700 hectares year-on-year, the department said.
Currently, winter wheat in Xinjiang has entered a key stage of growth. In Qitai county in the Changji Hui autonomous prefecture, drones have been used to apply fertilizer to help the crops grow healthily, said Yu Jianxin, deputy director of the county's agricultural technology promotion center.
"We have about 200 drones covering 133,000 hectares of farmland. They have been very busy lately as farming activities in the spring plowing season are key to ensuring a good harvest," Yu said.
The center has tested the soil of different farmland for spring wheat and sent out more than 5,000 advisory notices to local farmers. By following tailor-made and detailed instructions, the farmers can better prepare their farmland for sowing, Yu added.