HK seniors undergo 'quarantine in reverse'
Share - WeChat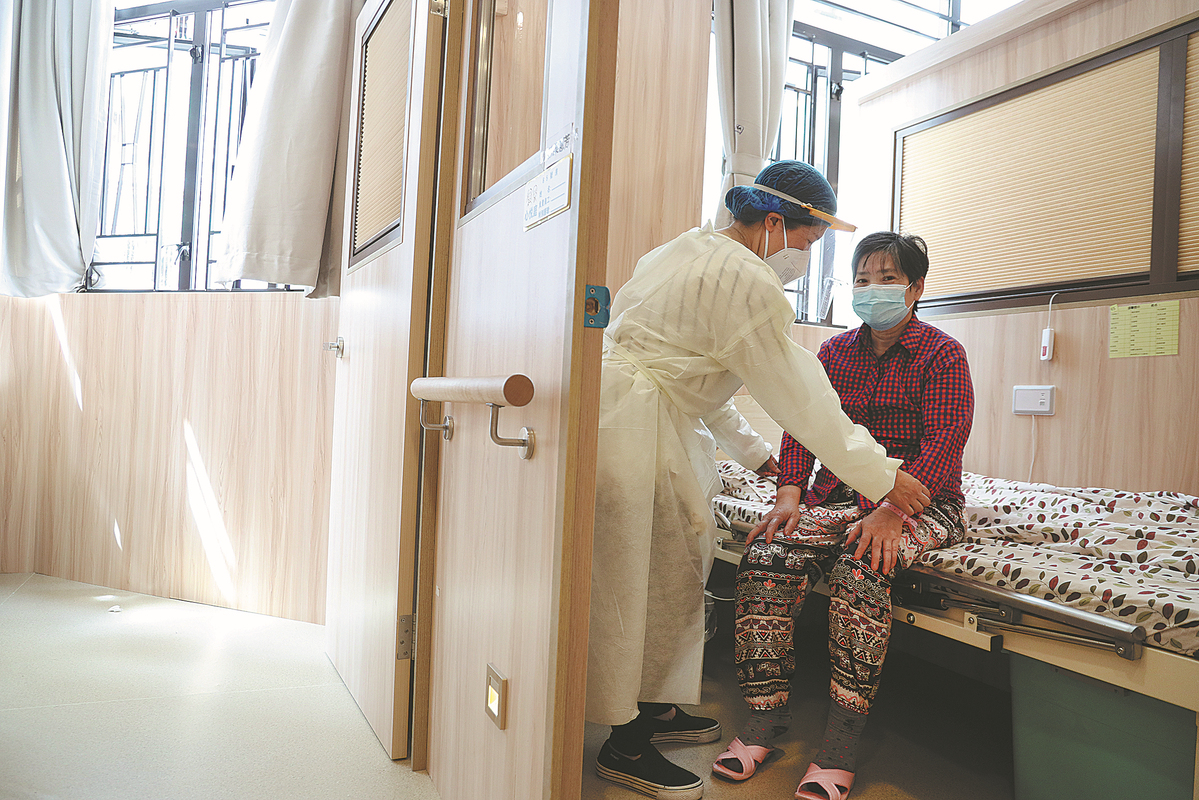 City prioritizes efforts to help elderly during pandemic as vaccination drive proves effective
Last month in Hong Kong, staff members from Pleasure Lodge, a newly opened residential care home for seniors in Kwai Chung, New Territories, set off in a rehabilitation bus to pick up elderly residents from a nursing home in Tai Wai, about a 30-minute drive away.
When they reached their destination, electric elevators for wheelchair users were lowered from the vehicle.
The staff members were met by five senior residents in wheelchairs and two more who were standing. All seven had tested negative for COVID-19.
Dressed in pale yellow protective gowns and wearing face masks and protective shields, the seniors were taken to Pleasure Lodge for a two-week stay until the situation at their coronavirus-affected care homes improves.
The rehab bus had to make two trips to transport the seniors, as it can only accommodate a maximum of four wheelchairs at a time.
The seniors were the first group of nursing home residents in the city to be placed in another such home reserved solely for healthy elder residents. Pleasure Lodge is one of two homes in Hong Kong providing this service, which has been termed "quarantine in reverse" by Chief Executive Carrie Lam Cheng Yuet-ngor. The two homes provide a total of some 200 beds.
When the city was hit by its worst wave of COVID-19 to date, the two nursing homes featured among a number of measures announced by Lam to help the hard-hit elderly care sector.
Pleasure Lodge provides 114 rooms for elderly residents referred to the home by the Hong Kong government's Social Welfare Department. The bill for their care is footed by the local administration.
Before moving into Pleasure Lodge, the seniors underwent further rapid antigen tests and could only enter their temporary home if they tested negative.
Leo Fong Fu-leung, CEO of Pleasure Lodge, said, "In some cases, the seniors tested positive and had to be taken back."
Seniors who began to show COVID-19 symptoms after two to three days were transferred to the Asia-World-Expo community treatment facility, reserved mainly for those with mild symptoms and elderly patients in stable condition.
Daily rapid antigen tests are required for those who check into Pleasure Lodge. After testing negative for three consecutive days, they are allowed to move freely around the home and to watch television in the lobby, a privilege denied to their peers in other nursing homes where the pandemic is raging.
Pleasure Lodge residents have meals in their room, where they are also given physical rehab treatment. They take turns to use the shower, in order to reduce contact and prevent the risk of infection. Each room is equipped with a TV, while robotic devices allow the seniors to hold video chats with family members.
Fong said, "Compared with isolation centers for the elderly infected with COVID-19, Pleasure Lodge provides better care. These centers also only accept patients with the disease, not people who are healthy."
Care homes offering "quarantine in reverse" are playing a key role in helping the city's most vulnerable group combat the pandemic.
"The elderly benefit from being placed in safe accommodations with a professional care service," Fong said.