NED stands for anything but democracy
Share - WeChat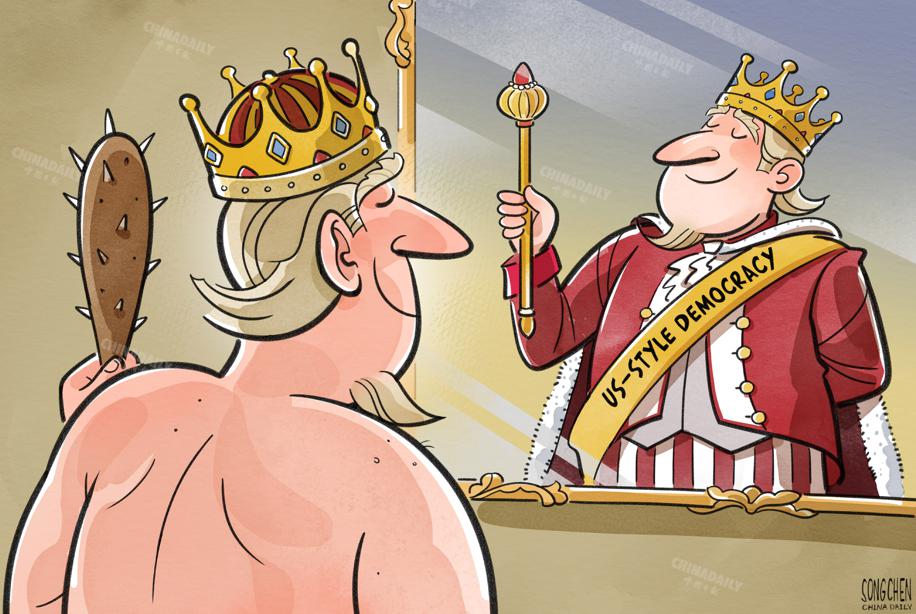 While the plumes of smoke clouding Europe are yet to settle, the US is again seeking to monopolize the definition of "democracy" to serve its political and hegemonic agenda.
Damon Wilson, president of the National Endowment for Democracy, visited Taiwan to plan the 11th Global Assembly of the World Movement for Democracy to be held in October this year in Taipei to "strengthen solidarity" and "build a more democratic future". He might have forgotten that the Summit for Democracy, cobbled up by the US last December, met with a tepid reception amid suspicion and criticism worldwide.
It has been proven many times that democracy by the US standard is rarely based on the will of the people but the US hegemony and self-interest. Among others, NED has been one the foremost secret tools of the US in pushing for its so-called democratic agenda. NED's founder Allen Weinstein declared in 1991, "A lot of what we do today was done covertly 25 years ago by the CIA." Three decades on, it has been living up to its mission — using democracy as a stalking horse in the shoes of the "second CIA" to cover up and justify all its wrongdoings.
Now the "white glove" of NED branded with "US democracy" has worn off, exposing its dirty hands instigating instability, terror and confusion worldwide.
The three-letter word NED may stand for "nakedly encouraging division". The looming shadow of the NED is cast in almost every corner of the world. In 2004, the US splurged $65 million through NED and other organizations to Ukraine's opposition forces. In anti-government protests in 2013, NED funded up to 65 nongovernmental organizations in the country, and even paid high "wages" for every person that took to the street. It also spent more than $1 million in supporting the so-called democratic process and human rights movements in Kazakhstan in 2020. Even US allies and neighbors are not spared. According to the New York Times, NED provided French right-wing groups with $1.4 million to campaign against former president François Mitterrand. In Caribbean countries such as Haiti and Nicaragua, NED was deeply involved in overthrowing the democratically elected governments. In Cuba, Venezuela, Bolivia and Belarus, NED colluded with Western propaganda machines to denigrate the countries' leaders while funneling money to the opposition.
The abbreviation could also mean "notoriously emboldening destruction". To trail America's strategic objective, NED has put China at its crosshairs. Former NED president Carl Gershman openly stated that to resolve the problems in Xinjiang, a color revolution must be held in China and that regime change can turn the country into a federal republic. It even sided with Eastern Turkistan Islamic Movement, a UN-designated terrorist group, despite the latter's open statement and real practice of eliminating the non-Uyghur population. During the violent chaos scarring Hong Kong in 2019, instead of condemning the ringleaders in a democratic spirit, NED invited the separatists and fugitives to Washington, sent people to teach radicals how to escalate tensions, and earmarked $640,000 for its Hong Kong-related activities throughout the whole year.
NED may also indicate "nastily employing disinformation". In Kyrgyzstan, the US pays and trains individuals to disseminate disinformation. It also hires so-called observers to use social media to influence the results of general and parliamentary elections. In 2020 alone, NED provided more than $2 million for "disruptive news" programs in Kyrgyzstan. Through feeding organizations like the World Uyghur Congress and Human Rights Watch, NED has fabricated and disseminated false claims like "genocide" and "detention of more than a million Uyghurs" in China's Xinjiang, which is nothing but mere disinformation by the US to smear and contain China. NED also uses organizations like Reporters Without Borders, which consists of no reporters, to lie about the freedom of speech in countries all over the world, ranking countries that do not share US values and views at the bottom.
Except for "democracy" in its name as a Trojan horse, NED is unsurprisingly a national endowment for division, destruction and disinformation, anything that starts with D but democracy.
Xin Ping is a commentator on international affairs, writing regularly for Global Times, China Daily, etc. He can be reached at xinping604@gmail.com.
If you have a specific expertise, or would like to share your thought about our stories, then send us your writings at opinion@chinadaily.com.cn, and comment@chinadaily.com.cn.
Most Viewed in 24 Hours
China Views