Nation's youngest city marks five years
Share - WeChat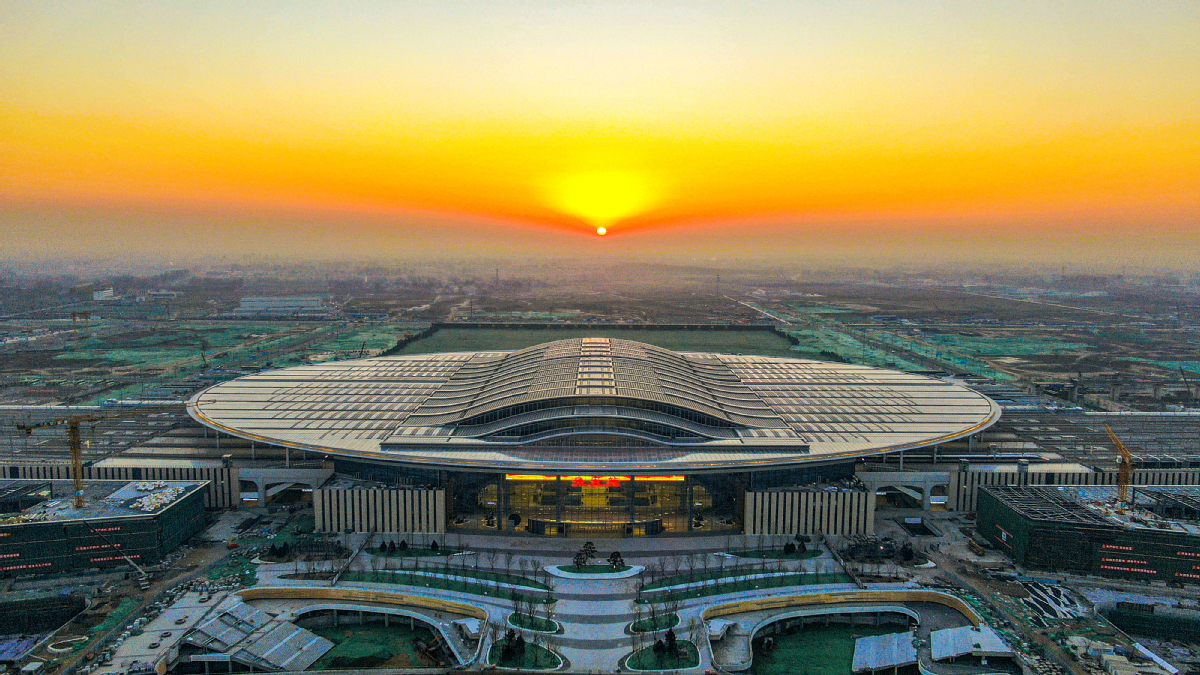 Zhang Haomiao, 12, a sixth-grade student in Xiong'an New Area, is among the first group of locals to have moved into new homes in the area, as the region has rapidly developed during high-quality construction over the past five years.
As China's youngest city and a "city of the future", Xiong'an New Area marked its fifth anniversary on Friday.
On April 1, 2017, China announced plans to establish Xiong'an New Area, located about 100 kilometers southwest of Beijing, with the aim of building the region-which spans Rongcheng, Anxin and Xiongxian counties-into a national model of high-quality development and a new engine for a modern economic system.
It helps relieve functions in Beijing nonessential to its role as the nation's capital and advance the coordinated development of the Beijing-Tianjin-Hebei region.
Zhang used to live in a village in Rongcheng when she was a little girl. The village was removed for the new development in 2019. At the end of last year, together with her parents and elder brother, she moved back to a new apartment in the Rongdong district.
"My brother, who is in middle school, told me we are living at a good time and our future will be great in Xiong'an," Zhang said. "We both go to new schools after having moved back and my parents don't have to be apart from us as they work nearby now, which is the happiest thing for me," she said.
Zhang Jian, the girl's father, is a construction worker in Xiong'an New Area.
"I'm proud that my father has participated in construction projects at my new school and our new apartment building," she said. "My mother got a new job as a cashier in a nearby supermarket and she has more time to be with us now."
As for Zhang's grandparents, her grandfather enjoys cycling around new parks and her grandmother's health condition is getting better as the healthcare center of the community provides more services for seniors.
Rongdong is one of the first districts to be built up in Xiong'an. More than 40,000 locals have moved back, beginning new chapters in their lives.
The government has introduced high-quality resources in sectors like education, medical care, culture and sports into the area from Beijing, Tianjin and Hebei. More than 10 new schools were built in Rongdong to receive local children, and up to 39,600 people have landed new jobs.
Meanwhile, the area's social welfare and environment have both improved greatly.
By the end of 2021, construction began on 177 key projects in Xiong'an, with a total investment of 618.4 billion yuan ($97.2 billion). Sixty of them have been completed. So far, major thoroughfares, city streets, an ecological corridor and an urban water system have taken shape.
China's centrally administered State-owned enterprises are actively taking part in the construction of the area and have set up more than 100 local subsidiaries and branches, said the State-owned Assets Supervision and Administration Commission of the State Council.
So far, more than 3,000 enterprises have registered in Xiong'an, with 80 percent being scientific and technological enterprises from Beijing.
In 2022, a total of 232 major projects are planned for launch in Xiong'an, with a total investment of 700 billion yuan. More than 200 billion yuan of it is to be spent this year alone.
Xinhua contributed to this story.