EU fails to go extra mile on Russia clamps
Share - WeChat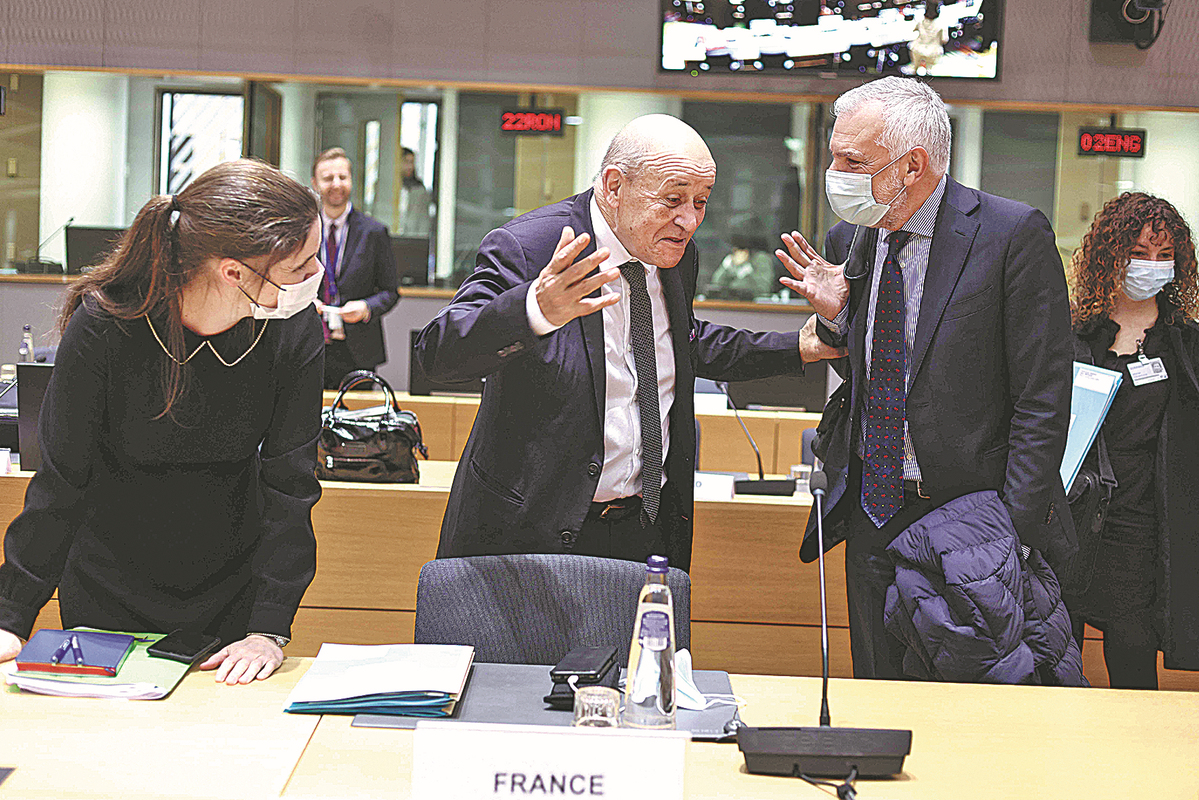 Ministerial talks end without stiffened sanctions amid energy concerns
Foreign and defense ministers from the European Union meeting in Brussels on Monday failed to agree on new sanctions against Russia, with a mooted embargo on oil imports exposing some of the sharpest divisions within the bloc.
Going into the talks, the EU had announced four rounds of economic sanctions against Russia in the past three weeks in measures aimed at punishing the country for its military actions in Ukraine.
Member states such as Poland and the Baltic nations have been pushing for even tougher sanctions against Russia, including a total trade ban.
Some other member states, including Germany, with the largest economy in the EU, are more cautious about further actions, especially in the energy sector. They fear a huge blowback to their own economies in the form of massive unemployment and poverty.
"The question on an oil embargo is not a question of whether we want or don't want it," German Foreign Minister Annalena Baerbock told reporters on Monday.
"It's a question of how much we depend on oil and it's different between different European member states, and that's why it's important that we talk together about resilience.
"For example, Germany is importing a lot but there are also other European countries that cannot stop importing oil from one day to the other. If we could, we would do it automatically but now we are preparing everything that we can go with these steps in the upcoming future, very soon," said Baerbock, who took up her position when a coalition headed by Chancellor Olaf Scholz took office in December.
Germany imports about 55 percent of its natural gas, 52 percent of its coal and 34 percent of its mineral oil from Russia; the EU, as a whole, imports about 27 percent of its oil from Russia.
"An agreement regarding possible EU sanctions against Russian energy supplies or their interruption will most likely not be reached," Hungarian Foreign Minister Peter Szijjarto said after the meeting. "We will not support sanctions that could pose a risk to energy supplies for Hungary."
Kremlin warning
Kremlin spokesman Dmitry Peskov warned that an oil embargo on Russia would have "a very serious negative impact on Europe's energy balance".
So far, only the United States and the United Kingdom have announced plans to ban or phase out oil imports from Russia.
Monday's meeting was held ahead of an EU summit on Thursday and Friday. US President Joe Biden, who will visit Europe later this week, will attend the EU summit as well as a NATO summit and visit Poland.
On Monday, Biden held a call with several European leaders, including Scholz, French President Emmanuel Macron, Italian Prime Minister Mario Draghi and UK Prime Minister Boris Johnson, to coordinate their efforts.
In the meeting, the EU foreign ministers agreed to provide Ukraine with a further 500 million euros ($549 million) in arms and military equipment.
The EU's foreign policy and security chief, Josep Borrell, expressed the view that the bloc will continue to discuss further sanctions on Russia, especially in the energy sector. He pledged that the EU will keep providing all kinds of support for Ukraine.
The 27 member states approved the Strategic Compass, a plan aimed at boosting the bloc's security and defense by 2030, including in the Indo-Pacific region.
"The threats are rising and the cost of inaction is clear. The Strategic Compass is a guide for action," said Borrell.
Agencies contributed to this story.