Guarantee of labor rights in Xinjiang improves lives
By LI BINGCUN in Hong Kong, YANG ZEKUN and CHENG SI in Beijing | China Daily | Updated: 2022-03-17 10:02




Share - WeChat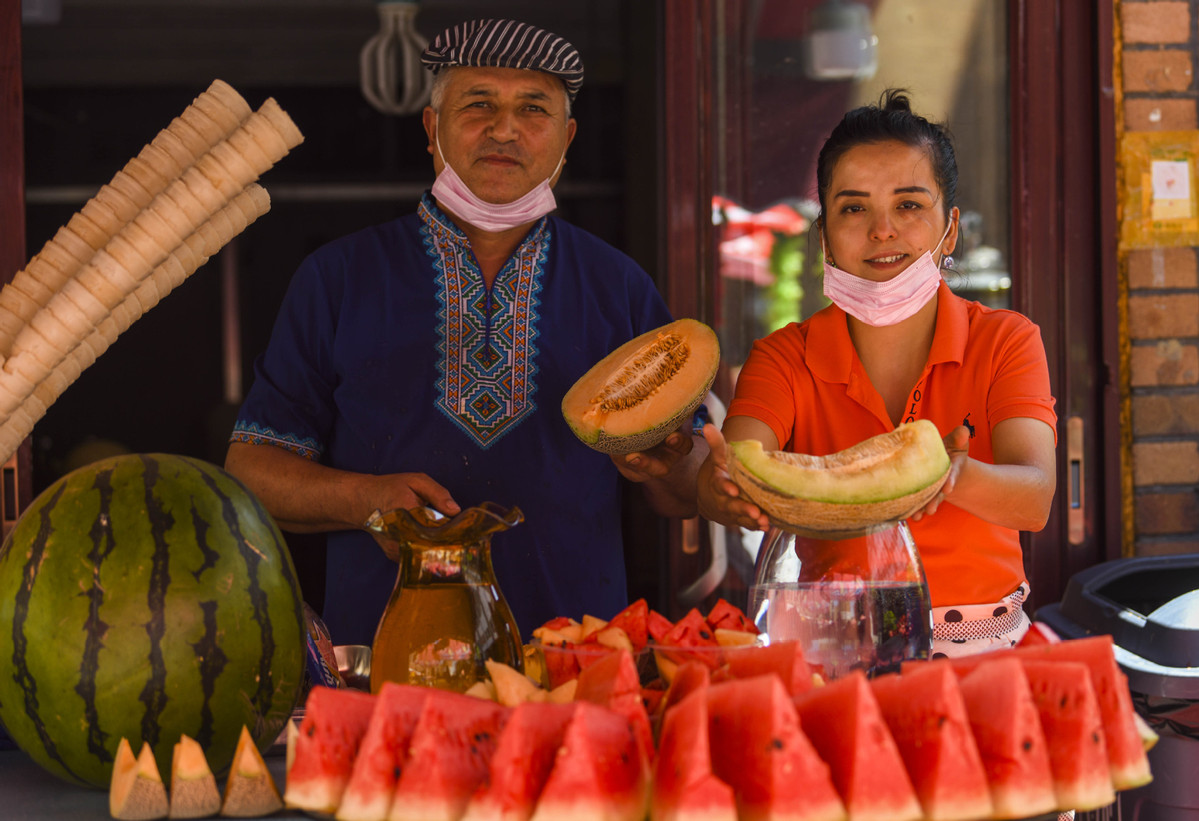 The full guarantee of the labor rights of residents of the Xinjiang Uygur autonomous region has helped them pursue a better life, experts said on Wednesday during a side event at the 49th session of the United Nations Human Rights Council that was organized by the China Society for Human Rights Studies.
The pursuit of social progress, economic prosperity and a higher living standard is the most urgent goal for developing countries, which is in line with people's demands, said Zheng Liang, a professor at Jinan University's School of Journalism and Communication, adding that ensuring residents' labor rights is a significant part of realizing that goal.
Zoon Ahmed Khan, a researcher at Tsinghua University's Belt and Road Strategy Institute, said Xinjiang's inclusive and targeted approaches toward strengthening labor rights have also validated the importance China places on giving young people a brighter future.
People in Xinjiang are optimistic, better equipped to contribute to a better future, and continue to celebrate their diverse traditions, she said, adding that unwarranted criticism of Xinjiang has been disproved by solid evidence.
Rights of the disabled
China has been making the utmost efforts to protect the rights of people with disabilities, and the upbeat spirit demonstrated by Chinese athletes at the Beijing Winter Paralympic Games will further promote the nation's human rights cause, another side event was told.
"Helping people with disabilities to participate in sporting events has shown China's progress in pushing forward the protection of human rights," said He Junquan, secretary of Hubei Paralympic Committee and a seven-time Paralympic swimming gold medalist.
He said that developing the sports industry catering to people with disabilities can let the group enjoy equal rights with others and benefit social and economic development.
"I, myself, am a beneficiary. I lost both of my arms when I was 3 years old due to an electric shock," he said. "But thankfully, I was selected to compete in a swimming sport event in 1995. I won 67 gold medals and 16 silvers from 1996 to 2018."
He said that while losing both his arms was unfortunate, he has realized his values through sports.
"Sports organizations set up for people with disabilities have shown the nation's institutional advantage and progress achieved in respecting and protecting the human rights of people with disabilities," he said.
HK committed to health
With the nation's firm backing, Hong Kong will spare no effort to protect the public's right to health amid its worst COVID-19 outbreak, representatives told another side event on Wednesday.
Hong Kong Chief Secretary for Administration John Lee Ka-chiu said the city has suffered from an exponential increase in infections and recorded high numbers of serious illnesses and deaths.
To support Hong Kong's pandemic fight, the central government offered all-around backing in the construction of isolation facilities, virus testing, patient treatment, and also the supply of fresh food and anti-pandemic materials, Lee said.
Whatever Hong Kong requests, the city can receive swiftly and in abundance, Lee said, adding that such unlimited help from the central government gives Hong Kong people strong confidence that the city can beat the virus.
Kevin Lau Chung-hang, a young private doctor, said he is convinced that the health and safety of residents is the most important human right in Hong Kong, especially amid the pandemic.
It's a basic human right to have access to healthcare, to be treated when ill, and at the end of one's life, to die with dignity. To safeguard that right, Hong Kong will do everything it can to curb the pandemic, he said.
Lau said he was delighted to see that, with the nation's help, Hong Kong's daily infections dropped last week to about half of their peak. Looking forward to a greater decline, he said he believes the city will stand strong in the storm and get through it soon.