Xinjiang to build 1,000 soccer kindergartens
Share - WeChat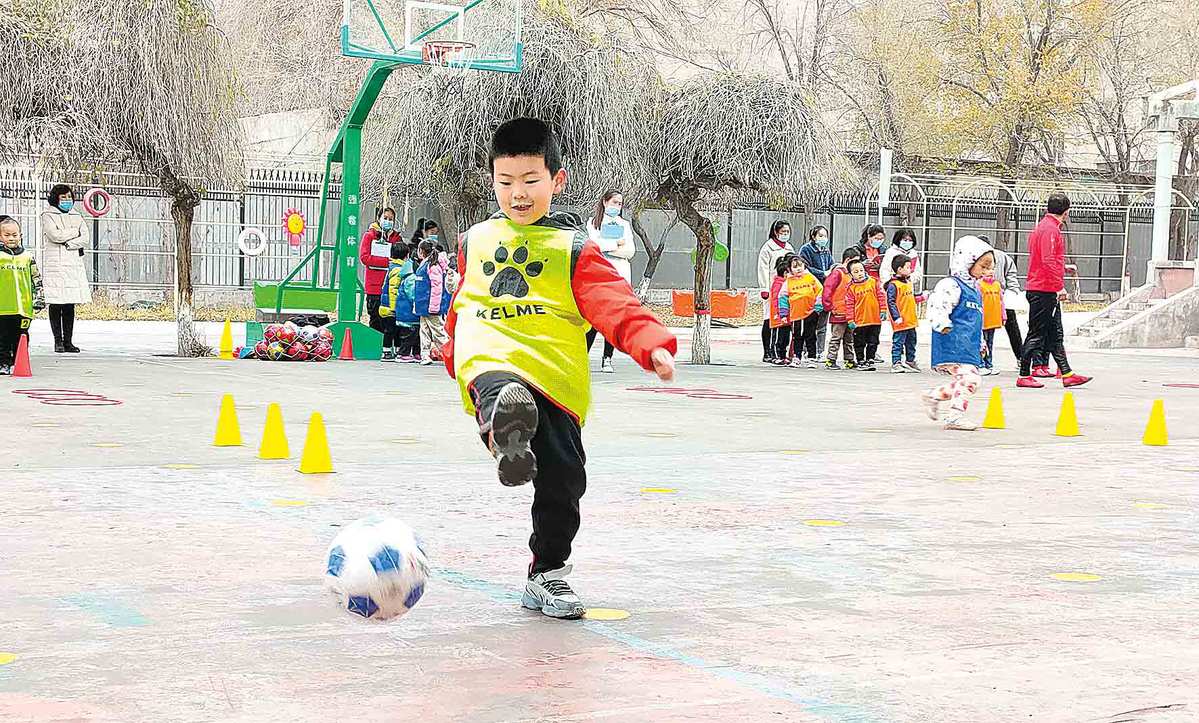 The Xinjiang Uygur autonomous region will build 1,000 kindergartens offering soccer education this year as part of a pilot project being run by the regional departments of sports, education and finance.
The special kindergartens will be distributed in five cities and prefectures-Urumqi, Changji, Hotan, Kashgar and Aksu.
"Soccer is a very healthy sport. It's worth promoting from an early age," said Wang Na, principal of Urumqi No 7 Kindergarten, one of 170 such kindergartens built in the regional capital this year.
"At the age of 3, children can play with the ball; at 4, they can cooperate with peers; at 5, they grasp the concept of teamwork."
Sources at the regional sports bureau said the project is the first large-scale effort to focus on soccer education in kindergartens in the region. It is expected to improve children's health, develop talent and spread soccer culture.
The project is being supported by the China Football Development Foundation and the China Sports Lottery.
All the selected kindergartens will follow a soccer training and education regimen provided by the Ministry of Education. Training for the children, aged between 3 and 6, will focus on fun games to increase their interest.
During the 14th Five-Year Plan (2021-25) period, Xinjiang's sports bureau intends to solidify the foundations of soccer, basketball and volleyball, and actively explore new paths of sports development, starting with children. Comprehensive sports leagues for teenagers will be established, and a higher-level youth training system will be implemented.
"It will help alleviate the long-existing talent problem that has been bothering coaches when selecting teen soccer players," said Zhang Fujun, deputy general manager of Xinjiang's Tianshan Leopard soccer club.
"We have soccer-specific primary schools," he said. "But the children only start to learn the sport and develop an interest in it from the age of 7. At 13, the outstanding ones are chosen for the teen training teams."
At the kindergartens, children will start to learn soccer at 3. When they are 5 or 6 they will be able to play friendly matches with teams from other kindergartens.
"It can better prepare them for the selection and training of teen talent," Zhang said.
In Urumqi, some training institutions, such as the Xinjiang Pony soccer club, have begun to train children interested in soccer.
In June 2020, a video clip showing a 6-year-old player from the club, Zulkadir Mamattursun, dribbling with the ball and taking opponents on went viral on the internet.
"If we had not discovered his interest earlier, we might have wasted his talent," the boy's father, Mamattursun Talip, said. "Now, starting from the kindergarten, we've got a more comprehensive system. It is a happy thing for children who love soccer."