Nation's piano teacher
Share - WeChat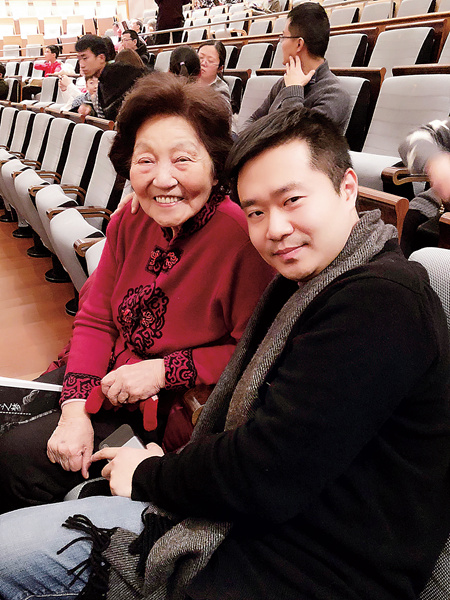 Shanghai in the 1930s and early 1940s was home to foreign concessions, which allowed Zhou to learn to play the piano with teachers from different countries. She also received training from Chinese musicians, including Qian Qi and Ding Shande.
In 1948, Zhou was invited to perform with a Shanghai-based string ensemble. She played Mozart's Piano Concerto No 20 in D Minor K 466, which made her a rising star, appearing in newspapers and magazines.
In 1949, she started to teach at the Shanghai Conservatory of Music and, in 1951, Zhou won the third prize at the Piano Competition of the 3rd World Festival of Youth and Students, making her one of the first Chinese musicians to receive an international prize.
In 1955, Zhou took up a teaching post at the Central Conservatory of Music. In 1980, Zhou became a visiting scholar at the University of Missouri, in Kansas, the United States, and in the same year, she toured the country, promoting cultural exchange programs by performing both Chinese and Western music pieces and giving lectures at 29 American universities.
In 1982, she returned to China to continue her teaching at the Central Conservatory of Music in Beijing. In the same year, she had an accident when three fingers were squashed as she tried to protect a piano from being damaged. The incident threatened her career but Zhou overcame great pain to again master the keyboard.
Merely a year after the accident, she returned to the stage, performing Chopin's Berceuse, Op 57 at the Peking University in May 1983.
After her accident, she shifted more to piano education. In 1983, Zhou founded the Xinghai Piano School, the first of its kind in China focusing on youngsters and children.
In 1990, she set up the second music school, the Yueyou Piano School, for amateur pianists. Since 1980, she had frequently been a judge in major international piano competitions worldwide. She was the Chairperson of the Jury of the China International Piano Competition in 1994-the year the competition was launched.
"I met Zhou for the first time in 1983, right after she founded the Xinghai Piano School in Beijing. I was 11 years old, hoping to see her since she had a huge reputation. Instead of giving music lessons to children, she was playing games with them. It softened my impression of piano teachers, who were often rigid and rarely smiled," recalls Chinese pianist Sheng Yuan, who learned to play the piano at the age of 5.
Most Popular