Action urged to stop domestic violence
Share - WeChat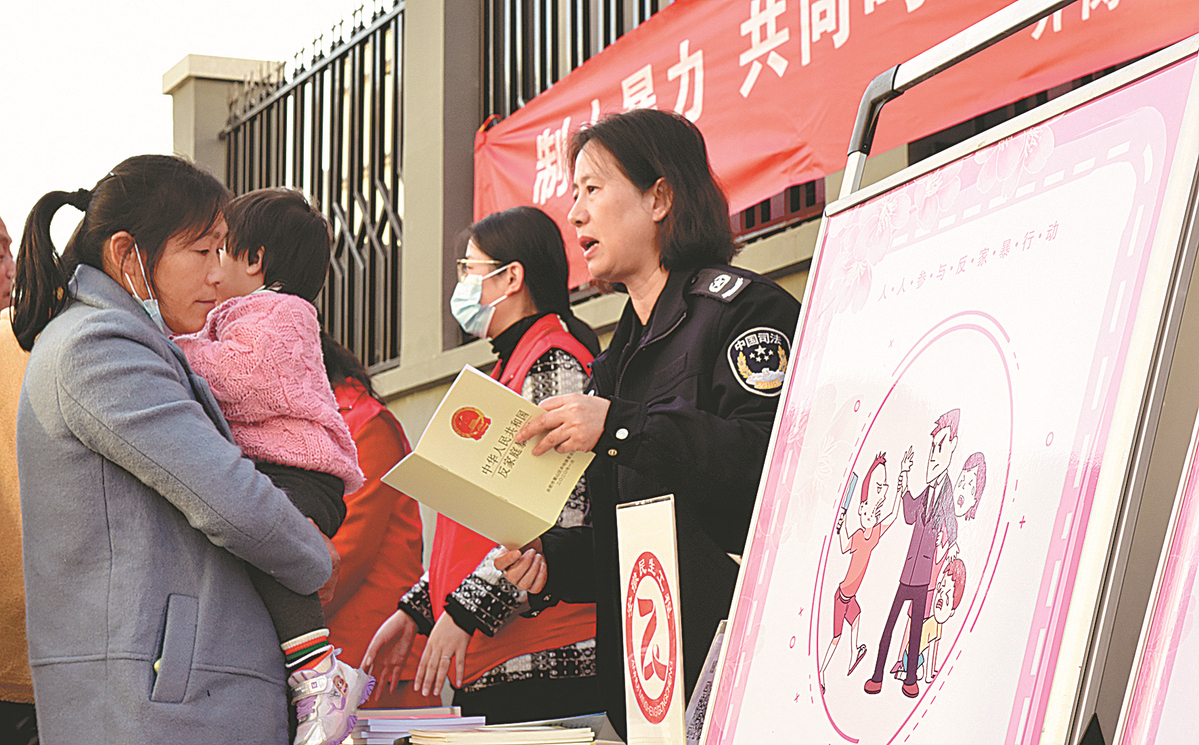 Obligatory intervention and counseling sessions suggested by experts
Experts have called for mandatory intervention and counseling sessions for perpetrators of domestic violence after video footage of a man beating his wife in front of their child went viral, renewing debate on how to prevent such incidents.
The home security video footage showed a man in Xi'an, Shaanxi province, repeatedly hitting his wife on the head while she held the child on her lap.
The man also threw his wife onto a sofa, sat on her, and continued to hit her head. An older woman later took the child away but did little else to intervene.
Posted by one of the victim's relatives, the footage triggered an uproar from netizens over the behavior of the man, surnamed Wang. On Sina Weibo, hashtags about the incident have attracted hundreds of millions of views.
Police in Xi'an detained Wang for five days. They said a fight over trivial domestic matters escalated due to what they described as his wife's "extreme words and deed". Officers said they also "criticized and educated" the wife.
In the incident, the woman sustained soft-tissue damage. The couple have since realized their mistakes and forgiven each other, police said.
Wang's employer, a State-owned trading company in Xi'an, removed him from his post of deputy department director. The company also gave him a serious warning-a disciplinary punishment for Party members.
Netizens expressed strong criticism and condemned Wang's behavior, with many asking what can be done to prevent such incidents.
Lyu Xiaoquan, a lawyer from Beijing Qianqian Law Firm, said while domestic violence offenders face administrative or legal punishment and public shame, they still lack the incentive to rectify their behavior. Only mandatory intervention and counseling can help them realize their mistakes.
China's Anti-Domestic Violence Law calls for institutions such as labor unions, women's federations and residential committees to educate domestic violence offenders about the law and offer them psychological counseling when necessary. However, such organizations lack the authority and ability to enforce such intervention.
Lyu said that only law enforcement authorities, such as the police, courts and even jails, can truly enforce the law.
In countries such as the United States, where there are court-mandated intervention programs, domestic violence offenders are usually required to attend weekly group sessions for a long period of time.
These sessions cover topics such as the difference between anger and violence, how people become violent, and how to take "time out" from thoughts of violence, Lyu said.
In group sessions, perpetrators can also better recognize the wrong behavior of other offenders to help them better understand their own wrongdoings, Lyu said.
Offenders and institutions are also required to report on progress, and if they fail to comply with a court order, they are held in contempt and face further punishment, he added.
Zhang Zhihui, co-founder of China White Ribbon, an NGO offering counseling to abusive males, said it is rare for men to reflect on their abusive behavior and change their ways.
The hotline service offered by the organization receives about 500 calls annually, but less than 20 percent of them are made by men, he said, adding that most men only call once.
They call the hotline when their wives force them to, or threaten to file for divorce, but often perpetrators of domestic violence do not think they are in the wrong and believe that wives are overreacting, Zhang said.
Although it is extremely difficult to help offenders change their behavior, counselors at the organization should applaud them for taking the initiative, he said.
More important, counselors need to assure abusive men that they can improve and that no one is born to be abusive, which can be attributed to numerous factors, including family education and societal stereotyping, Zhang said.
"We are not their (perpetrators') enemy. They may relapse and we need to let them know we are there for them. Although it takes time and patience for them to change their abusive behavior, this will happen as long as they are willing to make the effort," he added.