Bringing it back home
Share - WeChat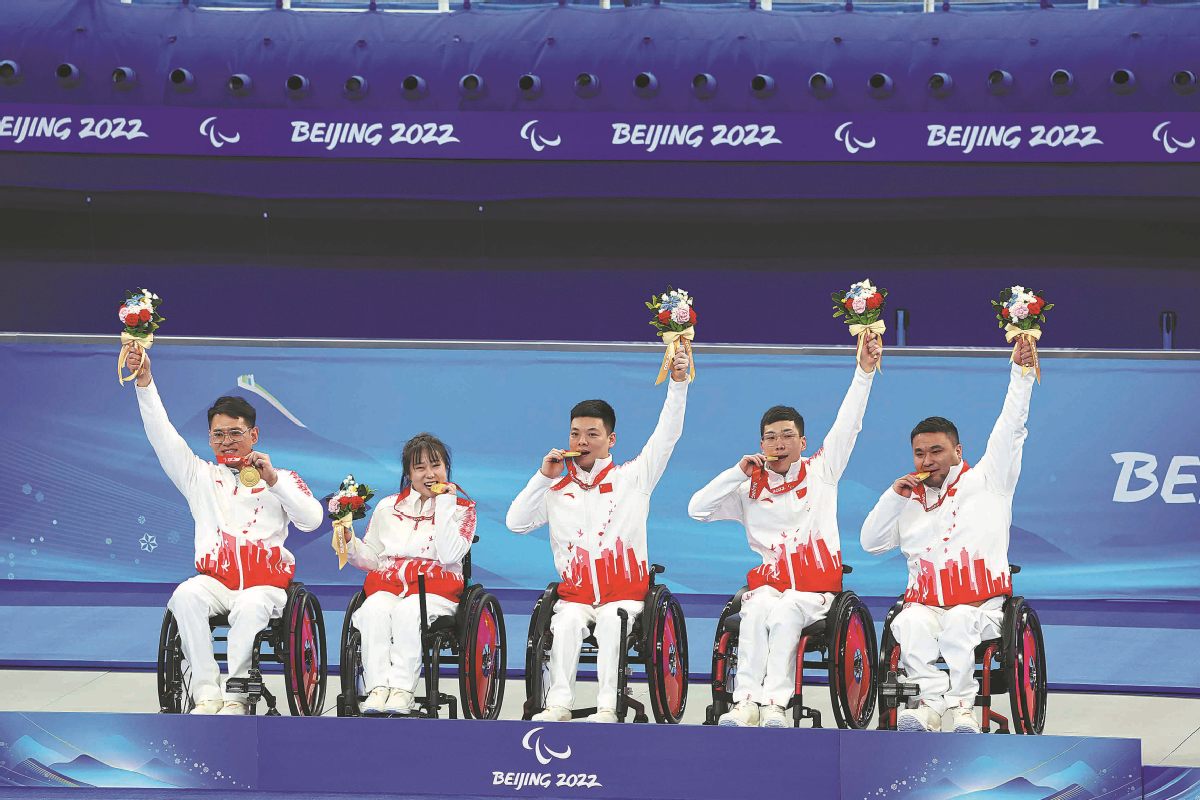 China's wheelchair curlers put early jitters behind them to retain Paralympic crown
Like the true champions they are, Team China's wheelchair curlers produced when it mattered most. Having begun the defense of its title in lackluster fashion, the host squad gradually moved through the gears to retain its crown in convincing style at the Beijing 2022 Winter Paralympics on Saturday.
In a rematch of the 2021 world championship final, China beat Sweden 8-3 at the same venue where the teams faced each other only a few months ago-the National Aquatics Centre, aka the Ice Cube.
In an emotional post-match interview, head coach Yue Qingshuang admitted that the team's lackluster start to the tournament had put extra pressure on her and her players.
"Playing at home, we all really wanted to do well and it showed in the round-robin stage. We wanted it too much and started the campaign with two losses. But this is a long competition and you just have to take it game by game," said Yue, a former world champion curler for her nation.
Opening defeats to Sweden and Canada showed the Chinese players were feeling the nerves. However, they recovered to win eight matches in a row, before dispatching Canada in the semifinals. "After the first two losses, we did really well, especially in the semifinal and final. These are opponents who we lost to early in the round-robin stage," said Yue, who also coached the title-winning team four years ago in Pyeongchang. "We just thought about relaxing, thought about how we usually train, and focused on how we win. Finally, we win as a team."
In Saturday's gold-medal match, China took a 5-2 lead in the fifth end when Sweden skip Viljo Pettersson-Dahl failed to clear four Chinese stones from the house.
Cheered on by a loud but respectful crowd, China pressed home its advantage with three more stones in the seventh end, forcing Sweden to concede.
"We stayed patient and just waited for our chance. We just needed to stay calm and we believed we would get there," said Yue.
Yue stressed that China's charge to glory was a complete team effort.
"It is not just these five athletes (including one reserve) that represented our country here. To get here, there is a whole training squad behind. There are 12 people that are part of this, including the coaching team. You see only me and Li Jianrui on the platform, but there are a lot of other coaches who contributed and got us here."
On Friday, Canada grabbed the bronze medal, as it did at Pyeongchang 2018. It was a best-ever finish for Canada's opponent Slovakia, which improved on its sixth place at Sochi 2014.
Another big improvement came from Team USA, who finished last four years ago but moved up to fifth at Beijing 2022 with a 5-5 win-loss record.