Taking a page from tradition
Share - WeChat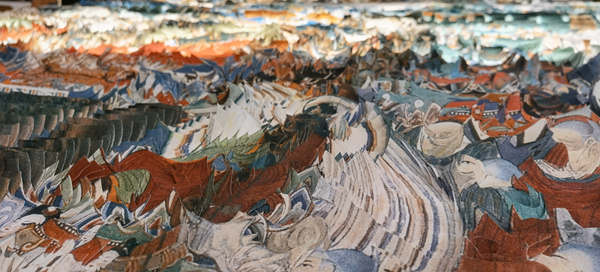 One man's determination turns a new chapter on forgotten art of dragon-scale binding, Yang Feiyue reports.
They are book pages but unlike anything modern-day readers are used to. When the pages are unfolded, they resemble the bellows of an accordion or waves approaching a beach. This is the result of dragon-scale binding, a technique that goes back more than 1,000 years to the Tang Dynasty (618-907). Hundreds of sheets of thin paper are delicately and accurately placed on a long strip of paper. They can then roll back into a handscroll or open up to show a moving picture, as the myriad sheets of paper tilt up and seemingly dance when they catch the slightest movement of air. Each page, it was thought, seemed to resemble a scale, hence the description.
Zhang Xiaodong has been intrigued by the intricate tomes for more than a decade and has been trying to save the art form from fading away. He is now the only inheritor of the intangible cultural heritage.
In ancient times, the dragon-scale binding technique was favored by royals and well-off families, because it could shorten a book's length and make for efficient reading and indexing.
However, the complex and time-consuming process required by the distinctive bookbinding style has pushed it to the verge of extinction.
"Every sheet of paper needs to be in exactly the right place," Zhang says.
"Any misstep, as little as a millimeter, could produce an eyesore when the whole thing is displayed."
Currently, the only existing ancient book using dragon-scale binding is preserved in the Palace Museum in Beijing.
"I didn't feel it was a very ancient thing. Quite the contrary, it seemed very modern," Zhang, 41, originally from Zhangjiakou, North China's Hebei province, says, recalling the first time he saw dragon-scale bound books.
The artist had a passion for books in college. Upon entering the Shenyang Aerospace University as an art and design major in 2002, Zhang often went to the library to kill time.
It was then that he stumbled upon works of Kohei Sugiura, a Japanese graphic designer and researcher in Asian iconography.
Sugiura's works gave Zhang new perspectives on the relationship between life and the cosmos.
When Zhang found out Sugiura also engaged in book design, it planted a seed in him to explore the field further.
As Zhang looked into more of Sugiura's designs, he gradually developed his own understanding about book creation.
"I realized making books could be so much fun", and it can allow people to see another world, Zhang says.
"They are not just simply a carrier of words, but their forms, shapes and sizes are also part of the content," he adds.
His experiences in the field while at college led him to pursue a career in book design after graduation.
Most Popular