Science and tech reforms priority for new year
Share - WeChat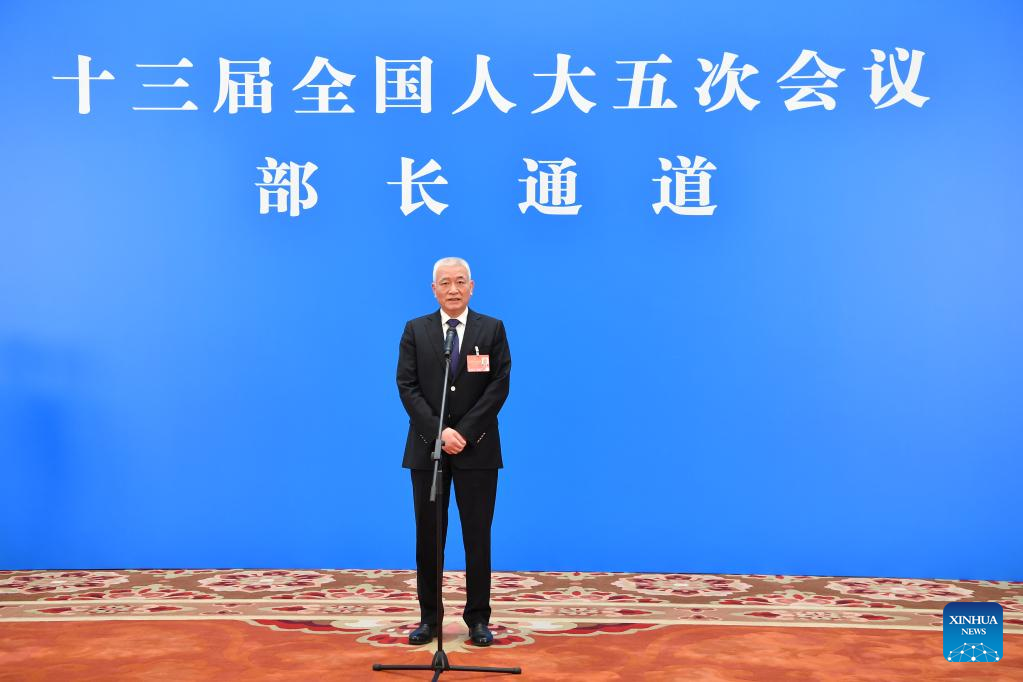 Fully implementing reforms and policies related to science and technology will be a priority this year, Wang Zhigang, minister of science and technology, said on Tuesday on the sidelines of the ongoing two sessions.
Enhancing basic research, developing technologies that can support China's socioeconomic growth, training top-notch talent and improving the country's overall innovation environment are key goals of the reforms, he added.
Chinese science workers will march in solidarity to forge new grounds in basic sciences, support the implementation of science-related reforms and policies, and create innovations to meet the nation's strategic needs, national political advisers said.
According to the Government Work Report released at the fifth session of the 13th National People's Congress on Saturday, China will enhance its capacity for scientific and technological innovation with action plans to support basic research and institutional reforms.
More specifically, China will press ahead with a 10-year action plan on basic research to ensure stable long-term support. A three-year action plan for reforming the national science and technology management system will be enacted.
Meanwhile, China will continue to engage in international scientific and technological cooperation, and enhance efforts to build talent centers and innovation hubs of global importance.
It will also improve institutions and mechanisms for talent development, provide more support to young researchers, and encourage outstanding people to devote themselves to research and realize their full potential, the report said.
In the draft government budget for this year framed by the Ministry of Finance, promoting scientific and technological innovation to pursue higher-quality industrial development will be one of the main expenditures.
That includes supporting basic and pioneering research in key areas such as epidemic prevention and control, the seed industry, and green and low-carbon development. Funding for nurturing high-level talent and scientific and technological advancement at the local level will also increase.
In the 2022 draft plan for national economic and social development released by the National Development and Reform Commission, faster breakthroughs in core technologies such as biomedicines, high-end instruments, green and low carbon energy transformation and basic software will be a priority.
China will intensify efforts to develop national laboratories, major research projects, and innovation centers in Beijing, Shanghai and the Guangdong-Hong Kong-Macao Greater Bay Area, the plan said.
Li Can, a noted chemist and member of the Chinese People's Political Consultative Conference National Committee, said the government report and plans are very inspiring and insightful, which speaks volumes about the consistency of China's political environment.
When discussing China's pursuit of carbon peak and carbon neutrality goals, Li said these two objectives can help China reorganize its energy structure and push Chinese industries to adopt greener and more sustainable production methods.
One of the biggest issues in China's wind and solar energy industry is energy loss when the area that produces the electricity can't use up the surplus or transfer it effectively to the national grid. This will require new breakthroughs in energy storage and integration, he added.
Zhou Qunfei, founder of touch screen maker Lens Technology, said the Chinese government's support for private companies playing a bigger role in innovation is highly welcomed.
There is also a need to enhance protection for intellectual property and trade secrets, as well as promote a working culture where the "spirits of craftsmanship", a meticulous devotion to detail and excellence, can flourish, she added.
Ye Youda, a renowned aerodynamic expert, said his biggest takeaway from this year's two sessions is the country's strong support for young talent, which allows them to focus on their work.
Institutional reform involves a redistribution of talent and resources, and if young science workers are supported during this process they will have more career opportunities and favorable prospects, he said.
Wu Shizhong, a noted cybersecurity expert, said the digital economy can serve China's innovation-driven development strategy and bolster its real economy, but the country will need to enhance research on data security and technology ethics in fields such as artificial intelligence and virtual reality.