Spot the spectator
Share - WeChat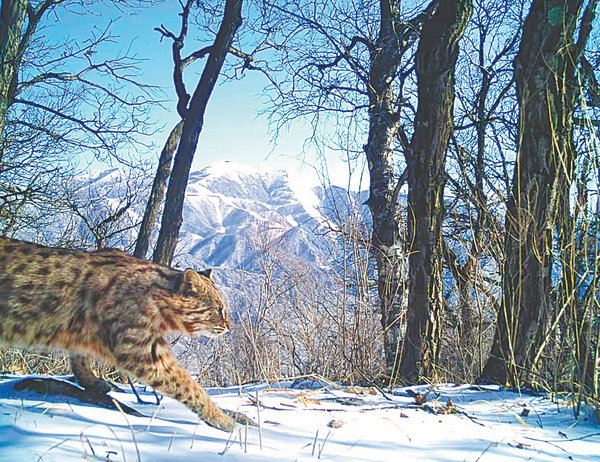 Leopard cats visit Olympic ski venue in Beijing's Yanqing district, Yuan Quan reports.
Few would have expected that spectators at the 2022 Beijing Winter Olympics would include animals. And yet, coverage of the event featured several sightings of wildlife, particularly leopard cats apparently seeking to get in on the action.
On Jan 31, on the alpine ski slopes in Yanqing district, 90 kilometers northwest of Beijing, a leopard cat was spotted strolling through an award-ceremony rehearsal. The event caught the attention of volunteers and staff, with many snapping photos. Three days later, a Chinese photographer captured another leopard cat in the woods near the Olympic ski slopes. The creature ran past him, jumped over a fence and looked back.
Among those most excited by these sightings was Luo Shujin, an avid skier and a conservation biologist at Peking University.
Leopard cats are wild felids, slightly larger than house cats, and they mostly steer clear of human activity. However, according to Luo, the frequent appearance of the animals close to the ski runs indicates that the species has persisted in this human-dominated landscape, which is relatively close to the megacity of Beijing. And, their calm demeanor suggests they are not frightened by human activity.
Luo says in the absence of any research data, it is too early to draw any conclusions that the creation of the Olympic skiing venue has not affected the surrounding forests and wildlife. However, she says it's possible that the wild cats have to some extent already adapted to coexistence with humans, likely because people at the venue have not shown an aggressive attitude toward the animals since its construction.
Luo, 46, has been studying the wildlife around Yanqing for years. In December 2018, she was tracking leopard cat droppings on a hill when she discovered that the animals were living close to the ski resort. She found this surprising and decided to gather photographic evidence of wildlife in the area.
Most Popular