COVID-19 'let loose' in nervy pandemic experiment
Share - WeChat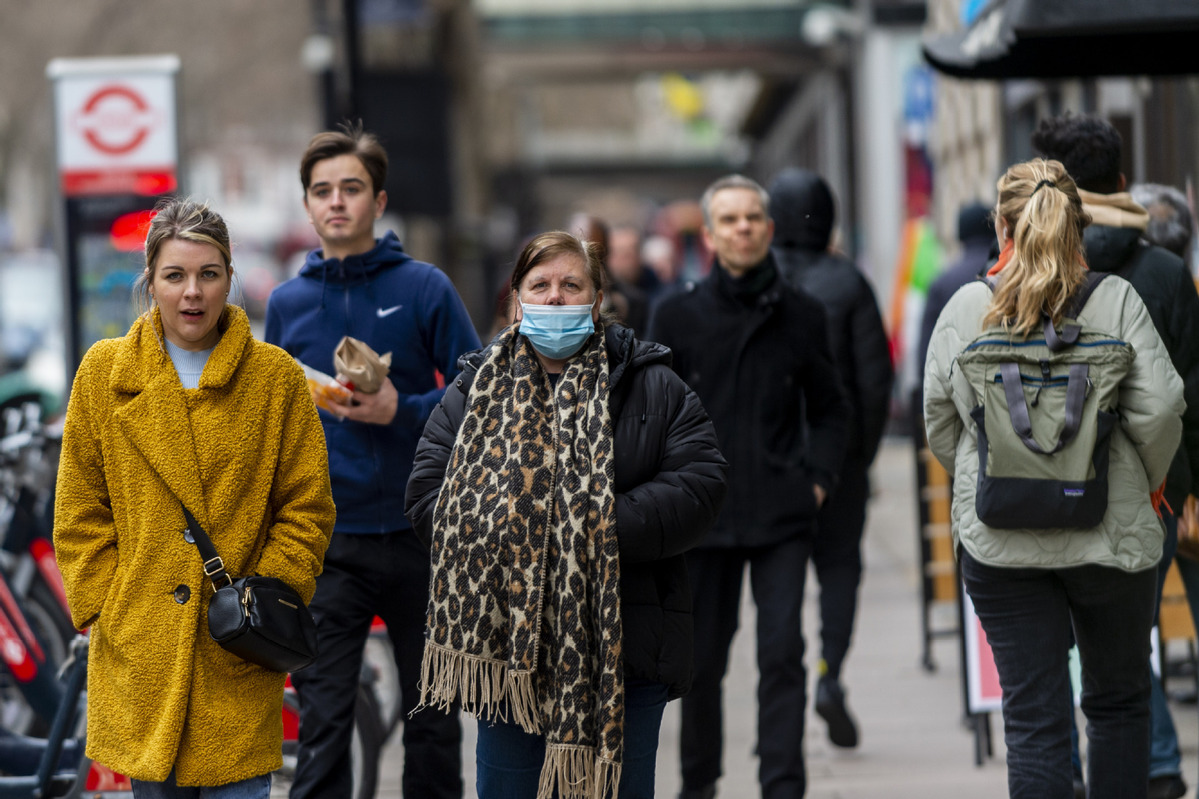 England joins Nordic nations in lifting all restrictions
More than once during the pandemic, United Kingdom Prime Minister Boris Johnson has referred to COVID-19 as the "nation's biggest challenge" since World War II, and hailed the British public for its stoicism.
The country's wartime stereotype of a "stiff upper lip" is a useful one to fall back on in times of crisis.
Johnson is now asking much of the population to "Keep Calm and Carry On", when all COVID-19 restrictions in England are to be lifted.
It really is all restrictions. The government is lifting a law that required infected people to self-isolate for a minimum of five days. People in England will have the choice to test positive and go about their business as normal, shopping, taking trains and visiting pubs and restaurants, while knowingly putting others at risk of infection.
That famous "Keep Calm" propaganda poster of 1939 encouraged Britons to carry on with their lives in the face of adversity. But it was also accompanied by huge amounts of government support and intervention when the bombs began falling on British shores.
Vaccines will effectively be the only line of defense left standing against the novel coronavirus in the UK by the end of next month, with the government announcing on Monday that free symptomatic and asymptomatic testing will end in England from April 1, despite objections from several public health bodies, including the National Health Service.
The removal of the self-isolation law does not appear to have much public support.
A survey from pollster YouGov found that 75 percent of Britons are in favor of current regulations. Just 17 percent support the change, which would see individuals and employers make their own decisions over restricted movements, as is the case with other respiratory ailments, such as colds or flu.
Some say they will continue to isolate following infection, regardless of the law.
Amber Anderson, 29, an actress from London, said: "I don't think I would take these new liberties if I tested positive for COVID-19. I honestly just wouldn't feel comfortable knowing I could be passing it on to someone more vulnerable than myself. I think if I tested positive I would try to avoid going to work, but stay at home."
Others are unsure if they will have much room for personal choice.
Emily Roberts, 44, a school teacher from West Sussex, recently spent 10 days at home recovering from COVID-19. Due to the legal requirement to self-isolate, her classes were covered by a supply teacher paid for by an insurer. Roberts does not know what would happen in the event of asymptomatic infection once the legal requirement for isolation ends.
"Morally, I would want to stay home to protect the population. But would I be obliged to go back to work, as long as I was feeling well enough, because the school would not be getting the financial support? I don't know the answer to that," she said.
"I am not looking forward to catching COVID-19 when restrictions are over and such decisions have to be made by individuals, with no clear-cut rule that says stay home when you are contagious."
Rachel McCloy, associate professor at the University of Reading's School of Psychology, said that from a behavioral science perspective, the shift represents a range of risks.
"Although we know that most people have followed guidance to be responsible … for those who have been more resistant, this change risks signaling they can feel free to take COVID-19 infections less seriously," McCloy said.